Harsh Vardhan released Annual TB Report 2020 prepared by Central TB Division; 14% rise in TB patients in 2019
On June 24, 2020, Ministry of Health and Family Welfare's (MoHFW) Union Health Minister Dr Harsh Vardhan and its Minister of State (MoS), Ashwini Kumar Choubey launched the Annual "India TB (Tuberculosis) Report 2020" through a virtual event which is released by Central TB Division (CTD), MoHFW . The salient feature of 2020 report is that for the first time CTD introduced a quarterly ranking on TB elimination efforts by all the states and UTs.
In accordance with the report, there were around 24.04 lakh TB patients in 2019, a 14% increase in as compared to the year 2018.
It should be noted that the sustainable goal of eradicating TB globally is 2030, but the Indian government is committed to achieve this target in the country by 2025.
In this regard, the programme has been renamed from the Revised National Tuberculosis Control Program (RNTCP) to National Tuberculosis Elimination Program (NTEP). 14 committees have been constituted at national level to provide technical guidance for programme implementation.
The Minister also released a Joint Monitoring Mission report, a manual on Direct Benefit Transfer to TB patients under NIKSHAY system, a Training Module, and the quarterly newsletter NIKSHAY Patrika.
Following table shows the best performing states and UTs as per report:
Rank
State
Larger states with more than 50 lakh population
1
Gujarat
2
Andhra Pradesh
3
Himachal Pradesh
Smaller states with less than 50 lakh population
1
Tripura
2
Nagaland
Union Territory
1
Dadra and Nagar Haveli
2
Daman & Diu
Key achievements listed in the report:
-There has been a reduction in the number of missing cases to 2.9 lakh cases as against more than 10 lakhs in 2017.
-Private sector notifications increased by 35% with 6.78 lakh TB patients notified.
-Due to easy availability of molecular diagnostics, the proportion of children diagnosed with TB increased to 8 percent in 2019 compared to 6 percent in 2018.
-Provision of HIV testing for all notified TB patients increased from 67 percent in 2018 to 81 percent in 2019.
-Expansion of treatment services has resulted in a 12% improvement in the treatment success rate of notified patients. For 2019 it is 81% compared to 69% in 2018.
-More than 4.5 lakh DOT (Directly observed treatment) Centers provide treatment covering almost every village across the country.
-Near-complete on-line notification of TB patients have been achieved through the NIKSHAY system. NIKSHAY also expanded the provision of four Direct Benefit Transfers (DBT) schemes of the programme:
Nikshay Poshan Yojana (NPY) to TB patients
The incentive to Treatment Supporters
An incentive to Private Providers and
Transport incentive to TB patients in the notified tribal areas
About NIKSHAY
NI-KSHAY-(Ni=End, Kshay=TB), a web enabled patient management system for TB control under the NTEP is developed and maintained by the CTD in collaboration with the National Informatics Centre (NIC), and the World Health Organization (WHO) Country office for India.
It is used by health functionaries at various levels across the country both in the public and private sector, to register cases.
It also functions as the National TB Surveillance System and enables reporting of various surveillance data to the Government of India.
Static :
World Tuberculosis Day– March 24
2020 theme– It's Time
TB Campaign (India)– TB Harega Desh Jeetega
NITI Aayog & ITF Launch Decarbonizing Transport Project in India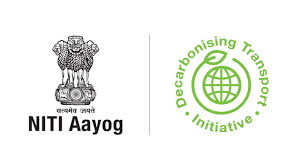 On June 24, The NITI (National Institution for Transforming India) aayog and the International Transport Forum(ITF) of OECD (Organisation for Economic Co-operation and Development) launched the 'Decarbonizing Transport in Emerging Economies' (DTEE) project in India.
ITF Secretary General Young Tae Kim and NITI Aayog CEO Amitabh Kant inaugurated the launch. The launch was held through a webinar in the presence of Ministry of Housing and Urban Affairs Secretary D.S Mishra, and Ministry of Road Transport and Highways Joint Secretary Priyank Bharti.
Key Highlights:-
The project designs a tailor-made transport emissions assessment framework for India.
The Five year project helps India in developing a pathway towards low-carbon transport system through development of modelling tools and policy scenarios.
The Collaboration on "Decarbonizing Transport In India" project is an opportunity to further strengthen the relationship between India and the ITF.
DTEE:-
The DTEE project would help India change its climate ambitions to actions.
It supports transport decarbonisation across different world regions. India, Argentina, Azerbaijan, and Morocco are current participants.
DTEE is a collaboration between the ITF and the Wuppertal Institute, supported by the International Climate Initiative of the German Federal Ministry for the Environment, Nature Conservation and Nuclear Safety.
NOTE:-
The Transport sector of India is the third most greenhouse gas emitting sector (max contribution from Road transport).
13% of total CO2 emissions in India is from the transport sector.
ITF:
India is a member of ITF since 2008
Secretary General: Young Tae Kim
Headquarter: Paris, France
Motto: "Global dialogue for better transport"
Static:
NITI aayog CEO: Amitabh Kant
Minister of Road Transport and highways: Nitin Gadkari
Jitendra Singh e-Inaugurates "Puneja Bridge" & "Devika Bridge" in J&K
On 24th June 2020, Union Minister of State (MoS) (Independent Charge) Development of North Eastern Region (DoNER), MoS PMO, Personnel, Public Grievances & Pensions, Atomic Energy and Space Jitendra Singh inaugurated Jammu and Kashmir's "Puneja Bridge" in Doda district and "Devika Bridge" in Udhampur district over a virtual platform.
Key People:
DG, BRO, Lt Gen Harpal Singh, Municipal Commissioners and DCs of Udhampur and Doda, Members of Civil Society and BRO.
Devika Bridge:
i.10 meter long is built to ease the traffic congestion and to meet the development requirements of the Udhampur town area.
ii.This will provide a smooth passage for the Army convoys and vehicles.
iii.The bridge was constructed in about 1year time span by the Border Roads Organisation (BRO) amid the lockdown due to COVID-19 and labour shortage..
iv.The estimated cost of building the bridge is Rs 75 Lakhs.
Puneja Bridge:
i.The 50-meter-long Puneja bridge is built over the Puneja stream on the Bhaderwah-Basholi-Pathankot national highway under construction.
ii.The bridge was built by 114 RCC of the Border Roads Organisation (BRO) in 36 months
iii.The estimated cost of building the bridge is Rs.4 crore.
Bhaderwah-Basholi-Pathankot national highway:
This 185 Km long highway is strategically important in the defence point of view which will provide an alternate route to connect Doda, Kishtwar and Ramban districts without entering Jammu and Udhampur via Lakhanpur.
Key Points:
i.The BRO has constructed around 200 bridges in this region in the past 4-5 years which includes the Atal Setu Cable Bridge.
ii.Other development projects undertaken in the past 5-6 years in this region are, medical and engineering colleges, radio station, National Institute for High Altitude Medicinal Plants, besides numerou road and bridge projects.
About Ministry of Development of North Eastern Region:
Minister of State– Jitendra Singh
Headquarters– New Delhi
About J&K
Lt Governor– Girish Chandra Murmu
Capital– Jammu (winter), Srinagar(summer)
Cabinet approvals on June 24, 2020
On June 24, 2020, Union Cabinet chaired by the Prime Minister, Narendra Modi has given its approval to the following proposals:
–Cabinet approves declaration of Kushinagar Airport in Uttar Pradesh as an International Airport
The Union Cabinet has given its assent for the declaration of airport in Uttar Pradesh's (UP) Kushinagar as an international airport. The reason behind this move is to provide improved connectivity to Kushinagar, an important Buddhist pilgrimage site, located in the north-eastern part of UP. The town has pilgrimage sites in Lumbini, Shravasti, Kapilvastu nearby it. A little farther, it has sites in Sarnath and Gaya.
It is to be noted that Gautama Buddha attained Mahaparinirvana after his death at Kushinagar.
A 3-km-long runway strip has already been made. Now, even a big aircraft of Airbus can land at the airport.
About UP:
Chief Minister (CM)– Yogi Adityanath
Capital– Lucknow
Governor– Anandiben Mafatbhai Patel
Union Cabinet Approves Term Extension Of Commission To Examine Sub-Categorization Of OBCs till Jan 31, 2021
Cabinet has approved the further extension of the term of the Commission formulated under Article 340 of the constitution to examine the issue of Sub-categorization of Other Backward Classes (OBCs), by 6 months i.e. upto January 31, 2021 from earlier July 31, 2020.
The Commission is likely to make recommendations for the benefit of communities in the existing list of OBCs which have not been able to get any major benefit of the scheme of reservation for OBCs for appointment in Central Government posts and for admission in Central Government Educational Institutions.
Background:
In October 2017, the commission was instituted under the chairmanship of Justice (Retd.) G. Rohini. However, the Commission required some more time to submit its report due the errors appearing in the existing Central List of OBCs. Hence the Commission had sought extension of its term, up to 31st July 2020. But due to the nationwide lockdown the commission needed further extension up to 31.1.2021, which is now approved by the Cabinet.
–Historic Reform: Private sector participation in Space activities approved
In a major reform, the Union Cabinet has approved the participation of the private sector in the entire range of space activities, including planetary exploration missions. This information has been revealed by Minister of State (MoS) for Prime Minister's Office (PMO) Jitendra Singh. The Department of Space comes under the PMO.
As a part of this approval, the newly-created Indian National Space Promotion and Authorisation Centre (IN-SPACe) will guide private enterprise participation in space activities and the use of the country's space infrastructure.
Also, the Public Sector Enterprise (PSE) 'New Space India Limited (NSIL)' will endeavour to re-orient space activities from a 'supply driven' model to a 'demand driven' model, to ensure optimum utilization of our space assets.
This approval is on the lines of the announcement by Finance Minister Nirmala Sitharaman about opening up of the space sector for private entities.
Benefits:
-Acceleration of growth in space by enabling Indian Industry to be an important player in global space economy.
-Provide opportunity for large-scale employment in the technology sector and India becoming a global technology powerhouse.
-These reforms will allow Indian Space Research Organisation (ISRO) to focus more on research and development activities, new technologies, exploration missions and human spaceflight programme.
About NSIL:
Headquarter– Bengaluru, Karnataka
Chairman-Managing Director CMD)– G. Narayanan
About ISRO:
Headquarter– Bengaluru, Karnataka
Chairman– Kailasavadivoo Sivan
–2% Interest Subvention approved on prompt repayment of Shishu Loans under PMMY for 12 months
The Cabinet has also approved a scheme for interest subvention of 2% for a period of 12 months to all Shishu loan accounts under Pradhan Mantri Mudra Yojana (PMMY) to eligible borrowers w.e.f. June 01, 2020 till May 31, 2021. The estimated cost of the Scheme is approximately Rs 1,542 crore and will be implemented through the Small Industries Development Bank of India (SIDBI).
Eligibility: The scheme will be extended to loans outstanding as on 31st March, 2020; and not in Non-Performing Asset (NPA) category, as per Reserve Bank of India (RBI) guidelines, on 31st March 2020 and during the period of operation of the Scheme.
Key Points:
-The interest subvention would be payable for the months in which the accounts are not in NPA category including for the months that the account becomes a performing asset again, after turning NPA.
– The move is aimed at helping the Micro, Small and Medium Enterprises (MSMEs) amid COVID-19 crisis and will also incentivize people who will make regular repayments of loans.
About PMMY:
Launched on April 8, 2015 the scheme provides loan up-to 10 lakhs to the non-corporate, non-farm small/micro enterprises. The loans provided under PMMY are classified as MUDRA (Micro Units Development & Refinance Agency Ltd) loans. The loan coverage is classified under these three products.
Shishu: Covers loan up-to 50, 000.
Kishore: Covers loan from Rs 50,000 and up to Rs. 5 lakhs.
Tarun: Covers loan from Rs 5 lakh and up to Rs. 10 lakhs.
The loan is provided by commercial banks, Regional Rural Banks (RRBs), Small Finance Banks (SFB), MFIs (Micro Finance Institutions) and NBFCs (Non-Banking Financial Institution).
Click Here to read more about PMMY
–Cabinet approves establishment of Animal Husbandry Infrastructure Development Fund worth Rs. 15000 cr
On the lines of the 20 Lakh cr Atma Nirbhar Bharat Abhiyan stimulus package, the Cabinet Committee on Economic Affairs (CCEA) has approved setting up of Animal Husbandry Infrastructure Development Fund (AHIDF) worth Rs. 15000 crore to incentivize MSMEs and private companies participation in the animal husbandry sector .
Earlier, the centre has approved the Dairy Infrastructure Development Fund (DIDF) worth Rs 10,000 crores for incentivizing investment by the cooperative sector for the development of dairy infrastructure.
Key Points:
-Government of India will provide 3% interest subvention to eligible beneficiaries.
-There will be a 2 years moratorium period for repayment of loan with 6 years repayment period thereafter.
-The central government will also set up a Credit Guarantee Fund of Rs 750 crore to be managed by National Bank for Agriculture and Rural Development (NABARD) which would provide credit guarantee to the projects which are covered under the MSME defined ceilings. Guarantee Coverage would be up to 25% of the Credit facility of the borrower.
Beneficiaries:
The AHIDF would provide incentive infrastructure investments in dairy, meat processing and animal feed plants. The eligible beneficiaries under the scheme would be Farmer Producer Organizations (FPOs), MSMEs, Section 8 Companies, Private Companies and individual entrepreneurs with only 10% margin money contribution by them. The balance 90% would be the loan component to be made available to them by scheduled banks.
About NABARD:
Headquarters– Mumbai, Maharashtra
Chairman– G R Chintala
–Cabinet approves additional investment of US$ 121.27 mn by ONGC Videsh Ltd. for development of blocks A-1 and A-3 of Myanmar
The CCEA has approved additional investment of US$ 121.27 million (about Rs.909 crore) by ONGC Videsh Ltd (OVL) towards further development of blocks A-1 and A-3 Blocks of Shwe oil & gas project in Myanmar.
OVL, the overseas arm of state-owned Oil and Natural Gas Corp (ONGC), had picked up a stake in the Shwe Project in Myanmar in 2002, as part of a consortium of companies from South Korea, India and Myanmar. The firm has invested USD 722 million in the project till March 31, 2019.
The participation of Indian PSUs in oil & gas exploration and development projects in neighbouring countries is aligned with India's Act East Policy.
About OVL:
Chairman & Managing Director (CMD)– Shashi Shanker
Headquarter– New Delhi
–Urban, multi-State cooperative banks to come under RBI supervision
The Cabinet has approved an ordinance to bring nearly 1,482 urban and 58 multi state cooperative banks under the Reserve Bank of India's (RBI) supervision. Therefore, RBI's power applied to scheduled banks, will now apply for cooperative banks as well. This information has been revealed by Union Minister of Information and Broadcasting Prakash Javadekar.
It will give an assurance to 8.6 crore depositors, who have saved Rs 4.84 lakh crore in these banks, that their money will stay safe.
Key Points:
-Currently, these banks come under dual regulation of the RBI and the Registrar of Co-operative Societies (RCS).
-The move has been taken after several instances of fraud and serious financial irregularities, including the major scam at the Punjab and Maharashtra Co-operative (PMC) Bank in 2019. Finance Minister Nirmala Sitharaman also announced the government's intention to bring co-operative banks under the RBI's supervision in Budget 2020.
About Reserve Bank of India (RBI):Headquarters– Mumbai, Maharashtra
Formation– 1 April 1935
Governor– Shaktikanta Das
Deputy Governors– 4 (Bibhu Prasad Kanungo, Mahesh Kumar Jain, Michael Debabrata Patra, one is yet to be appointed).
MSDE & IBM Joins Hands to Launch SkillsBuild Reignite and Skills Build Innovation Camp
On June 24, 2020, Directorate General of Training (DGT), under the aegis of the Ministry of Skill Development & Entrepreneurship (MSDE) and Technology giant IBM (International Business Machines Corporation) India Private Limited,have jointly launched free digital learning platforms 'SkillsBuild Reignite' and 'SkillsBuild Innovation Camp' to provide more new resources to job seekers and business owners in India through BharatSkills learning platform (https://bharatskills.gov.in) of DGT.
Skills Build Reignite:
This initiative has been launched to facilitate free online coursework such as financial management, business strategy, digital strategy, legal support & advice to job seekers and entrepreneurs with the aim to help them take their careers as well as businesses forward.
Under this learning platform, Personal coaching for entrepreneurs, mentoring to help small businesses establish or restart their small businesses again as they begin to focus efforts to emerge from the situation arising from the coronavirus (COVID 19) pandemic.
SkillsBuild Innovation Camp:
It is a 10-week training program, under which 100 hours of structured learning will be provided to learners interested in gaining practical project experience to boost their learning & aims to build their network as well as increasing their employability.
These students will go through the design thinking process, with expert facility guidelines including IBM volunteers and instructors. After undergoing this learning process, students will use strategic methods to prepare their problem statements, solve complex problems more quickly, and design an innovative user experience and tell compelling stories.
About Ministry of Skill Development and Entrepreneurship:Headquarters– New Delhi
Cabinet Minister- Mahendra Nath Pandey
Virtual conference of the Russia-India-China trilateral hosted by Moscow, Russia
On June 23, 2020, the Russia-India-China (RIC) Foreign Minister-level virtual conference was held following the cross border clash between Indian and Chinese troops in Galwan Valley in Ladakh on June 15, 2020, where India lost 20 Army personnel. It was the biggest ever confrontation between the two sides after a gap of 45 years. The conference was hosted by Russian Foreign Minister Sergey Lavrov, Moscow, Russia.
From Indian side, External Affairs Minister Subrahmanyam Jaishankar participated in the meet. Chinese Foreign Minister Wang Yi and his Russian counterpart Sergei Lavrov were the other two participants of the conference.
Russia has urged both the countries to resolve the border row through talks.
Notably on June 22, 2020 Defence Minister Rajnath Singh left for Russia on a three-day visit to attend a military parade in Moscow on June 24 to commemorate the 75th anniversary of victory of the Russian people in the Second World War.
About Russia:
Capital– Moscow
Currency– Russian Rouble
President– Vladimir Vladimirovich Putin
About China:
Capital– Beijing
Currency– Renminbi
President– Xi Jinping
COVID-19 Widened Educational Divide: 2020 UNESCO's GEM Report on Inclusion and Education: All Means All
On 23rd June 2020, The United Nations Educational, Scientific and Cultural Organization's (UNESCO) Global Education Monitoring (GEM) Report Team launched its 2020 Report on Inclusion and Education: All Means All, assessing the progress towards the Sustainable Developments Goal 4 on education and other SDG agendas related to education.
Key Points:
i.The report focuses on providing an resilient and equal society to those who are left behind.
ii.The report estimates that around 40% of low and lower-middle income countries have not provided any support to the disadvantaged students during the lockdown due to COVID-19 situations.
iii.The efforts made to continue the learning amid pandemic has worsened the exclusion and around 91% of students across the globe are out of school in April 2020.
iv.The report states that when the schools reopen, 17% of low and middle-income countries are planning to recruit more teachers, 22% to increase class time, and 68% to introduce remedial classes.
Substitute methods:
i.To provide lessons amid lockdown the poor countries opted for radio and television lessons, 55% of low-income, 73% of lower-middle-income and 93% of upper-middle-income countries adopted for online learning platforms.
ii.The students and teachers who do not have access to internet, equipment, skills and working conditions are facing difficulties in using the adopted platforms that rely on the technology.
Inequitable Foundations:
i.The GEM report team of UNESCO has launched a new website, PEER to provide information on Laws and policies regarding education in the countries around the world.
ii.The report states that the practice of education segregation enforcing stereotyping, discriminations and alienations are still followed in many countries.
iii.Laws in a quarter of all countries require children with disabilities to have a separate educational setting rising to more than 40% in Latin America, Caribbean and Asia.
About UNESCO:
Director-General– Audrey Azoulay
Headquarters– Paris, France
Pakistan remains in Financial Action Task Force's Grey list
On 24th June 2020, the Financial Action Task Force(FATF) in its 3rd and final plenary meeting under the Chinese Presidency of Xiangmin Liu over a virtual platform, retained Pakistan on the grey list till October 2020, for failing to prosecute and penalise terrorist financing in the country before the deadline fixed by FATF .
Note: Germany will take over the presidency of the FATF from July, 2020 for a year.
Key Points:
i.In the FATF meeting in February 2020, Islamabad was told that all the deadlines have expired and if failed to prosecute and penalise terrorist financing by June 2020, the global terrorist financing watchdog will take action.
ii.In the Paris plenary FATF expressed their concern at Pakistan's failure to complete its 27point action plan before the deadline that ended in September 2019.
iii.If Pakistan fails to comply with FATF directive by October 2020 the country will be put under "Black List".
Grey List:
i.The countries on the grey list will have difficulties in getting financial aid from the IMF, World Bank, ADB and European Union.
ii.The inclusion in grey list servers as a warning that the country may enter black list 
Black List:
i.Non-cooperative countries or a Territories (NCCTs) are put in black list.
ii.Currently countries like North Korea and Iran are under black list
Indian Economy will Shrink by 4.5% in 2020, Global Economy will Come Down to -4.9%: IMF
On June 25, 2020,The International Monetary Fund (IMF) in the June 2020 update "A Crisis Like No Other, An Uncertain Recovery" of its flagship World Economic Outlook (WEO), has predicted that the Indian economy will have a big 4.5 % contraction in 2020 and it will come down to a historic low.
This historical decline will be the lowest level since 1961 due to the Coronavirus (covid-19) epidemic, its prevention measures and slowdown of economic activity.
Expects a Silverline:
However, it is predicted that in 2021 the country will return to the fast track and that year it may see a strong economic growth of 6.0 %.
Global Growth:
At the same time, the IMF has reported a global growth rate of negative 4.9 % in 2020,which is 1.9 % points lower than the estimate made in April 2020 World Economic Outlook (WEO) forecast. For 2021, growth rate is expected to be 5.4 %.
China only country to see positive growth:
The coronavirus (COVID-19) epidemic has had more negative effects in the first half of 2020. In China, where recovery continues from the first quarter's decline, the growth rate is estimated at 1 % in 2020.
Previous Estimates:
Let us know that in the year 2019, India's growth rate was 4.2 % & 2020 IMF's latest estimate of India's 2020 estimate is -6.4% less than it's the April forecast. The projected growth rate of 6% in 2021 is -1.4% less than its April forecast.
About International Monetary Fund (IMF):Headquarters– Washington, D.C., United States(US).
Managing Director (MD)- Kristalina Georgieva
Chief Economist– Gita Gopinath
Republic of Mali Grant the Project Management Consultancy Contract of 500 MW Solar Park to NTPC 
On 24th June 2020, The Republic of Mali awarded the Project Management Consultancy (PMC) contract for the development of a 500 MW solar park in Mali to NTPC Limited (formerly known as National Thermal Power Corporation Limited). In the event chaired by RK Singh, Minister of State for Power and President of International Solar Alliance (ISA), Sekou Kasse, Ambassador of Mali handed the award letter to Gurdeep Singh, Chairman & Managing Director (CMD) of NTPC.
Note:
The event was hosted by the ISA in the Ministry of Renewable Energy, New Delhi in the presence of Director General ISA- H.E Upendra Thripathy, Secretary (Power)- Sh. Sanjeev Nandan Sahai and Secretary(MNRE)- Sh. Indu Shekhar Chaturvedi and Secretary (Economic Relations) Sh. Rahul Chhabra
Initiatives by Republic of Mali:
i.To support the electricity requirements of their citizens, the Republic of Mali has taken various initiatives with more focus on Solar power and its applications.
ii.This development of solar projects is expected to boost the socio-economic growth of Mali.
Related works of NTPC:
i.The ISA endorsed NTPC as a PMC in 2019 through a competitive process for member countries to get the services of NTPC.
ii.The Republic of Togo awarded NTPC with a similar PMC for the development of 285 MW Solar Park in Tago.
iii.The NTPC has the installed capacity of around 62,110 MW and is experienced in setting up Solar projects and handling solar programs like National Solar Mission in India.
iv.In the next 2 years the NTPC plans to establish 10,000 MW of Solar parks in ISA countries.
About International Solar Alliance (ISA):
Director General– Upendra Tripathy
Headquarters– Gurugram, Haryana
About NTPC:
CMD– Gurdeep Singh
Headquarters– New Delhi
About Republic of Mali:
Capital– Bamako
President– Ibrahim Boubacar Keïta
Prime Minister– Boubou Cisse
Currency– West African CFA franc
Priyanka Chopra & Anurag Kashyap Named Among 50 Ambassadors for 45th Edition of TIFF 2020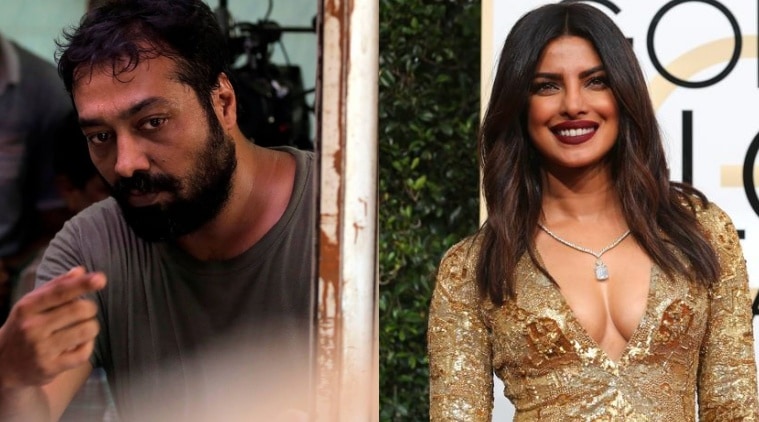 Actor Priyanka Chopra and Filmmaker Anurag Kashyap named among the 50 ambassadors for the 45th edition of Toronto International Film Festival(TIFF) 2020, which is to be held virtually. The festival will take place from September 10-19 with physical screenings and drive-ins, digital screenings, virtual red carpets, press conferences and industry talks.
This is the 1st time TIFF will launch a digital platform for the festival, offering new opportunities to connect with audiences beyond Toronto.
TIFF has partnered with Shift72 to develop the online platform.
Other ambassadors
Ava DuVernay, Taika Waititi, Nicole Kidman, Martin Scorsese, Nadine Labaki, Alfonso Cuarón & Tantoo Cardinal among others.
Gist about the 45th edition of TIFF 2020
i.The selection for 2020 comprises 50 new feature films, 5 programmes of short films, interactive talks, film cast reunions, and Q&As with cast and filmmakers.
ii.The significant titles to screen include Ammonite, directed by Francis Lee (United Kingdom); Another Round, from director Thomas Vinterberg (Denmark); Bruised, the debut film from director Halle Berry (USA) among others.
iii.For the 1st five days of the event, films will be screened in physical theaters through socially-distanced screenings.
iv.The international cultural events, including Cannes and Tribeca film festivals, have been cancelled due to the pandemic.
About TIFF:
The event acknowledges and celebrates outstanding contributors in the film industry. TIFF began its journey  in 1976.
Headquarters– Toronto, Canada
Artistic Director & Co-Head– Cameron Bailey
Executive Director & Co-Head– Joana Vicente
Former England Women Cricket Captain Clare Connor Becomes the 1st Female President of Marylebone Cricket Club in 233 years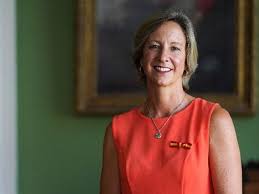 Former England Women Cricket Captain Clare Connor(43 year old), an all-rounder, becomes the 1st female president of Marylebone Cricket Club(MCC) in 233 years. Her tenure will begin on October 1, 2021, and will end on September 30, 2022. She will succeed Kumar Sangakkara.
She is current head of women's cricket in the England and Wales Cricket Board (since 2007).
Key Points
i.The current MCC president, Kumar Sangakkara who is the 1st  non-British MCC president, nominated Clare Connor through video link from his native Sri Lanka during an annual general meeting on June 24. He is a former Sri lankan cricketer.
ii.The tenure of MCC Presidents is for a year but Kumar Sangakkara's term is set to be extended by a further 12 months due to pandemic. He assumed the post in 2019.
About MCC:
Headquarters– London, United Kingdom.
Health Ministry & Indian Red Cross Jointly Launches 'eBloodServices' App to Order Blood
On June 25, 2020, In order to save the needy from anemia in the midst of the coronavirus (COVID-19) epidemic, Union Health Minister Dr. Harsh Vardhan has launched 'eBloodServices' mobile app developed by the ERaktkosh team of C-DAC (Development of Advanced Computing) India for easy access to blood needed for transfusion.
The mobile app is an initiative of the Indian Red Cross Society (IRCS) with the aim of 'Safe blood saves lives' will be available in entire Delhi-NCR initially.
How the mobile app will work?
Needy people can register on this app and know where they will get blood as the availability of blood will be visible right in their phone.
They can demand up to 4 units of blood & the blood banks of the Indian Red Cross Society will wait for them for 12 hours. The order will be diverted to the next patient only after the original recipient fails to collect it within 12 hours.
Benefits:

This app will help bring transparency in the blood donation programme and reduce the trouble of those in dire need of blood.
Red Cross blood bank's other initiatives:
Red Cross blood bank had launched blood donation camps by sending mobile blood collection units to various localities in and around Delhi NCR.
It has also provided pick and drop facility to voluntary blood donors.
About Ministry of Health and Family Welfare:Headquarters– New Delhi
Minister of State- Ashwini Kumar Choubey
About Indian Red Cross Society (IRCS):Headquarters– New Delhi
Bengaluru's Kempegowda International Airport becomes the 1st airport in India to get AWMS at both ends of the runway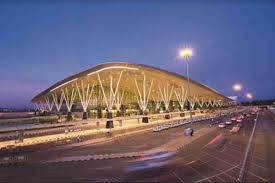 Kempegowda International Airport, Bengaluru(KIAB/ BLR Airport) becomes the 1st airport in India to get an indigenously-developed Aviation Weather Monitoring System (AWMS) at both ends of the runway. AWMS is installed by Bangalore International Airport(BIAL). The technology is developed by Bengaluru-based CSIR-National Aerospace Laboratories (NAL).
Features of AWMS
The AWMS sensor has been installed on a 10 meters mast which is a 1st of its kind, designed by NAL.
It has many unique features including eco-friendly, light weight & has a life span of over 60 yrs. The sliding mechanism enables easy maintenance .
Drishti Transmissometers
i.In addition to AWMS, BIAL has also installed 4 Drishti Transmissometers to measure the Runway Visibility Range (RVR). The Drishti Transmissometers is developed by NAL, in association with the Indian Meteorological Department(IMD) .
ii.With this, BAIL has installed 6 Made in India RVRs at both runways.
iii.Drishti transmissometers help pilots with accurate runway visual range & is known for its precise reporting. It is suitable for all categories of airports that include CAT I and II, and CAT III A & B and also has the capacity to measure RVR down to 25 meters.
Integration of AWMS & RVR
i.The authorities have announced that there will be an integration of AWMS & RVR. After this integration the data collected will be displayed on a single screen.
ii.The web-enabled feature will allow the data to be accessed and maintenance to be carried from any location.
About NAL:
Headquarters– Bangalore, India
Director– Jitendra J Jadhav
India to be World's First Country to Use Drone Mounted ULV Sprayer for Locust Control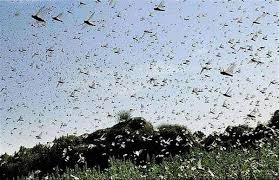 Under the Make in India initiative the Department of Agriculture, Cooperation & Farmers' Welfare (DAC&FW) has initiated to develop a vehicle mounted ultra-low volume (ULV) sprayer for locust control to reduce the limitations of importing equipment.
Note: India is the first country in the world to control desert locusts using drones.
Vehicle Mounted ULV:
i.This initiative is led by the Mechanization and Technology Division of DAC&FW with a sprayer prototype developed by Indian manufacturer.
ii.The initial trial of the sprayer has been conducted in Ajmer and Bikaner districts of Rajasthan and is awaiting approval for commercial launch.
Limitations:
The ground control vehicles with sprayers can spray up to a height of 25-30 feet and the tractor mounted sprayers have difficulties in reaching tall trees and areas with less accessibility.
Aerial Spraying:
i.The Ministry of Civil Aviation (MoCA) approved the Directorate of Plant Protection, Quarantine & Storage, Faridabad (DPPQ&S) for Drone operations for locust control on 21st May 2020 to cover the limitations of the Vehicle mounted ULV.
ii.The Central Insecticides Board approved the Standard Operating Procedure of aerial spraying of insecticides by drones, airplanes and helicopters on 22nd May 2020.
Key Points:
i.Currently the Micron Sprayers, of United Kingdom(UK) is the supplier of Vehicle mounted sprayer to India.
ii.In February 2020, India has placed an order for 60 sprayers and till date has received only 15 sprayers and the remaining 45 units will be supplied within a month period.
iii.Two firms have enlisted to provide drone service for locust control and have conducted trials in Jaipur (Rajasthan) and Shivpuri (Madhya Pradesh).
iv.To ensure effective locust control, After the Empowered committee's recommendations, 5 companies are issued 5 drones each and the service has started in Barmer, Jaisalmer, Bikaner, Nagore and Phalodi (Jodhpur) district of Rajasthan with deployment of 12 drones.
About Ministry of Agriculture and Farmers' Welfare:
Union Minister– Narendra Singh Tomar
Ministers of State– Purushottam Rupala and Kailash Choudhary
About Ministry of Civil Aviation (MoCA):
Minister– Hardeep Singh Puri
International Day of the Seafarer 2020: June 25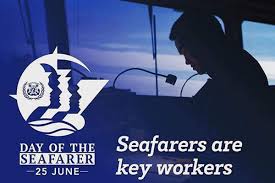 The International Day of the Seafarer is observed annually on June 25 as a tribute to the Seafarers and sailors who are essential to global trade and transport. The day aims to raise awareness about the dangers of sea travel, like piracy. This year marks the 10th edition.
About 2020 Campaign- Seafarers are key workers
i.The 2020 campaign is: #SeafarersAreKeyWorkers & the aim is to raise awareness of their work in response to the pandemic and to thank them for their contribution.
ii.The campaign calls on Member States to acknowledge seafarers as key workers and also to provide them the support, assistance and travel options during the pandemic.
iii.The campaign also encourages everyone to treat seafarers with the respect and dignity they deserve.
Webinar
To support the campaign, a webinar on the theme "Seafarers are key workers: Essential to shipping, essential to the world" will be held online on June 26, 2020.
The webinar aims to address issues of seafarers in regard to the pandemic, including crew changes and repatriation.
Background
i.The day was 1st introduced in 2010 by the International Maritime Organization (IMO).
ii.The day was established through a resolution by the Conference of Parties that held in Manila, Philippines, in June 2010 which adopted the International Convention on Standards of Training, Certification and Watchkeeping for Seafarers(STCW), 1978.
iii.Now, the Day has been included in the annual list of United Nations Observances.
iv.The 1st Day was observed on June 25, 2011.
Significance of the day- IMO discusses issues like sailor rights at foreign ports and also about the safety of sea travel.
Seafarers on COVID-19-​ Seafarers play a vital role in maintaining the flow of vital goods, such as food, medicines and medical supplies.
About IMO:
Headquarters– London, United Kingdom
Secretary General– Kitack Lim
World Vitiligo Day 2020 – June 25
25th June of every year is observed as World Vitiligo Day as a campaign to raise awareness about vitiligo and to recognise the challenges, bullying, social neglect and psychological trauma  faced by the people who have this disease. 
Key Points:
i.The day was created by the non-profit organizations VR Foundation of USA and VITSAF of Nigeria and the first World Vitiligo Day was held on 25th June 2011.
ii.A petition  is made to the United Nations to recognise June 25th as World Vitiligo Day.
Vitiligo:
i.Vitiligo is an autoimmune condition which causes irregular white patches on the skin due to the damaged skin pigment cells.
ii.Vitiligo doesn't have any cure but change in food habits and lifestyle can help to restore the pigment in the cells and prevent the condition from worsening.
Tripura gov launches Mukhyamantri Matru Pushti Uphaar Scheme to Provide Nutrition Kits to Pregnant and Lactating Women
On June 25, 2020 Tripura government has launched Mukhyamantri Matru Pushti Uphaar scheme to provide nutrition kits to pregnant and lactating women. The scheme is a part of the state's efforts to fight malnutrition and maternal mortality. The scheme was announced by state Minister for Social Welfare and Social Education Santana Chakma.
The government expects to incur an expenses of about Rs 8 crore annually for this scheme.
The scheme will be in addition to the Pradhan Mantri Matru Vandana Yojana (PMMVY) under which Rs 5000 each was given to 58,996 beneficiaries, after the birth of their first child.
About Mukhyamantri Matru Pushti Uphaar scheme
i.Nutrition kit- Each nutrition kit will cost Rs 500 & will have food items and grocery supplies, such as peanuts, soya beans, mixed pulses, jaggery and ghee.
ii.Test– Pregnant women will be tested 4 times in nearby Primary Health Centers (PHC) and the kit will be given after each test .Nutrition kit will be given after each test as per the Matru Pushti Uphaar scheme.
iii.Beneficiaries– Around 40, 000 women will be benefited under the scheme.
Revised guidelines
As per the regulations till now the children who suffer from severe acute malnourishment (SAM) were given 4 eggs per week.
As per the revised guidelines 6 eggs per week and 20 gram(gm) jaggery & 200 Milliliters(Ml) milk will be provided six days every week.
About Tripura:
National Parks- Clouded Leopard National Park, Bison National Park.
Wildlife Sanctuary(WLS)– Sepahijala WLS, Trishna WLS, Gomati WLS, Rowa WLS.
Andhra CM Jagan Mohan Reddy Launches YSR Kapu Nestham Scheme for Women of Kapu
On 24th June, YS Jagan Mohan Reddy launched the Kapu Nestham scheme by keeping his pre-poll promise to provide financial support of Rs 75000/- for a period of 5 year (Rs 15000/- per annum) to women of Kapu community.
The objective of the scheme is to financially empower Kapu women by enhancing their livelihood and living standards with financial assistance.
Key Points:-
Women in the age group of 45-60 belonging to Kapu Community are benefited with this scheme.
In a period of Five years(from March 2020 to March 2024) an eligible woman will get a sum of Rs 75000.
About 354 crore is distributed to over 2.36 lakh womens belonging to Kapu, Balija, Telaga and Ontari communities and having rice cards.
The amount will be deposited in their bank accounts every month.
Around 23 lakh people of the Kapu community are benefited with Rs 4,470 crores by the YSR government under different schemes(Amma Vodi, Vasati Deevena, Vidya Deevena, Vahana Mitra, Chedodu, Videsi Vidya Deevena and the Kapu Nestham).
Eligibility:-
Permanent residents of Andhra Pradesh state can avail of the scheme benefits.
The applicant must belong to the below poverty line, and income per month should be Rs 10000/- and Rs 12000/- in rural and Urban areas.
Applicants whose Family member is a Government employee or pensioner is not eligible to apply.
No family member should pay income tax.
Portal: http://navasakam.ap.gov.in/
About Andhra Pradesh:
Capital: Amaravati
Chief Minister: YS Jagan Mohan Reddy
Kapu Corporation:
Chairperson and MLA: J Raja
Govt of Maharashtra Appoints Sanjay Kumar as Chief Secretary & Ajoy Mehta as Principal Advisor to CM
On June 25, 2020 Maharashtra government has appointed Sanjay Kumar as its Chief Secretary. He will take up the charge on July 1. He will succeed Ajoy Mehta who will retire on 30 June. Ajoy Mehta has been named as the Principal Advisor to the Chief Minister(CM) Uddhav Thackeray & will take this position on July 1.
Sanjay Kumar will hold the post of the Additional Chief Secretary in the housing department till his term ends on February 28, 2021. He also holds the additional charge of the home department.
Key Points
i.Sanjay Kumar is the 1984 batch Indian Administrative Service(IAS) officer
ii.Ajoy Mehta is the 1984-batch IAS officer. He assumed the office as the chief secretary on May 10, 2019 & was supposed to retire on September 30, 2019, but received a couple of term extensions.
About Maharashtra
Capital– Mumbai
Governor– Bhagat Singh Koshyari