PM Modi inaugurates Kosi Rail Mega Bridge and 12 other Railway Projects in Bihar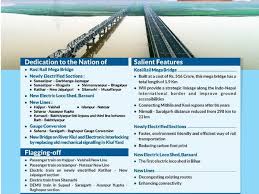 On 18th September, 2020 Prime Minister Narendra Modi inaugurated the historic Kosi Rail Mahasetu (mega bridge) in Bihar.
Other projects including a new railway bridge on the Kiul River, two new railway lines, 5 Electrification projects, Bihar's first Electric Locomotive Shed at Barauni and 3rd Line Project between Barh-Bakhtiyarpur in Bihar through video conference.
Bihar Chief Minister Nitish Kumar, Phagu Chauhan, Governor of Bihar, Minister of Railways, Piyush Goyal were present during the inauguration.
Kosi Rail mega bridge:
i.The mega bridge is 1.9 kms long and has been completed at a cost of Rs. 516 Crores connecting Mithila and Kosi region.The opening of the bridge will fulfill the 86 year old dream of the people of Bihar.
ii.The bridge would reduce the rail distance between Nirmali and Saraigarh from the present 298 kilometers to 22 kilometers. It is also a strategically important project as it is situated near the India-Nepal border.
iii.The Kosi Mega Bridge was sanctioned by the Government of India during 2003-04, it was completed during the COVID-19 Pandemic with the participation of the migrant labourers.
Background:
A meter gauge link was built in 1887 between Nirmali and Bhaptiahi (Saraigarh), but it was washed away due to the heavy flood and Indo Nepal earthquake in 1934.
Quick Overview of Other Inaugurations
Flagging of Demu Train: The Prime Minister flagged off an Diesel-Electric Multiple Unit (DEMU) Train from Supaul Railway Station on Saharsa-Adampur-Kupaha section.
Inauguration of Two New Railway Lines:
i.The Two new inaugurated railway lines are Hajipur-Ghoswar-Vaishali section, Islampur-Natesar section.
ii.He also inaugurated the Karnauti – Bakthiarpur link bypass and 3rd Railway Line between Barh-Bakthiarpur.
iii.The new railway lines will increase the ease of coal transportation to National Thermal Power Corporation (NTPC) Barh from Banadag siding in Jharkhand. It will also decongest the Delhi-Howrah Trunk route.
Railway Electrification Projects:
i.The list of Railway electrification projects which were inaugurated include Muzaffarpur-Sitamarhi sections, Katihar- New Jalpaiguri, Samastipur-Khagaria, Bhagalpur-Shivnarayanpur and Samastipur-Jaynagar sections.
ii.The electrification of Katihar-New Jalpaiguri will ensure railway connectivity to North East states on Electric traction. It will boost the economy of NE states and bring the Northeast Frontier Railway at par with other electrified railways.
Inauguration of Kiul Bridge and Kiul Yard:
i.The 150-year old Kiul Bridge has been rebuilt to provide seamless traffic.
ii.The Kiul Yard has been remodeled by replacing the old mechanical lever frame with an electronic interlocking system.
iii.The trains will be able to run at the speed of 125 kilometers per hour on this entire route.
iv.Electronic interlocking will ease the movement of trains on the main line from Howrah-Delhi, and would make the route faster and safe.
Bihar's first Electric Locomotive Maintenance Shed
Bihar's first and only Electric Locomotive Maintenance Shed in Barauni was inaugurated by the Prime Minister.
Recent Related News:
i.On 18th August 2020, Flipkart signed a Memorandum of understanding(MoU) with Indian Institute of Technology (IIT) Patna to support the industry focused applied research in the fields like Artificial Intelligence(AI), Natural Language Processing(NLP) and Machine Learning(ML).
ii.On August 2, 2020 Bihar Chief Minister Nitish Kumar released a book titled, "Siyasat Mein Sadasyata" authored by Bihar Assembly Speaker Vijay Kumar Choudhary. It is compiled and edited by senior journalist Arvind Sharma and its preface has been written by another senior journalist Vinod Bandhu.
About Bihar:
Dam – Kohira Dam (Kohira River) & Nagi Dam (Nagi River)
Lakes – Kanwar Lake (Garhpura), Muchalinda Lake (Mocharim Bodhgaya), GhoraKatora Lake (near Rajgir)
Hardeep Singh Puri Inaugurated India's first General Aviation Terminal at Delhi Airport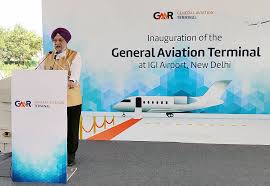 On September 17, 2020, Minister of State (MoS) Hardeep Singh Puri, Ministry of Civil Aviation inaugurated India's first General Aviation Terminal at Indira Gandhi International (IGI) Airport, Delhi to handle the flight operations and movement and processing of passengers flying through of private jets or chartered flights.
• It was built at a cost of Rs150 crore over one-and-a-half years by Bird ExecuJet Airport Services Private Limited, a joint venture between Bird Group and ExecuJet Aviation Group, an international business aviation company based in Switzerland's Zurich Airport.
• This terminal can handle Code C type aircraft, which are 50-seater charter aircraft and the biggest in their category.
• It should be noted that flight operations of private jets are classified under the "general aviation" category.
Key Points:
-It will be guarded by Central Industrial Security Force (CISF)
-Currently, India has more than 100 general aviation aircraft and more than 300 non-scheduled operators registered with the Directorate General of Civil Aviation (DGCA).
About Directorate General of Civil Aviation (DGCA):
Director General– Arun Kumar
Headquarters– New Delhi
National Jal Jeevan Mission, Ministry of Electronics & Information Technology (MEITY) launch ICT Grand Challenge

On September 18, 2020 Ministry of Electronics & Information Technology (MEITY) in partnership with National Jal Jeevan Mission (NJJM), Department of Drinking Water and Sanitation, Ministry of Jal Shakti has launched ICT (Information & Communication Technology) Grand Challenge for Development of 'Smart Water Supply Measurement & Monitoring System' to be deployed at the village level.
The ICT grand challenge will invite proposals from Indian Tech start-ups, MSMEs (Micro, Small, Medium Enterprises), Indian Companies for the solution.
Supporting Agencies:
The Challenge is supported by Centre for Development of Advanced Computing (C-DAC), MEITY Startup Hub & Software Technology Parks of India (STPI)
'Smart Water Supply Measurement & Monitoring System'
i.The programme emphasizes on service delivery at household level i.e regular water supply in sufficient quantity and of specified quality using modern technology.
ii.The modern technology will automatically monitor and capture service delivery data to ensure the quality of services.
Key Points of ICT Grand Challenge:
i.The Grand Challenge aims to make use of the Internet of Things (IoT) technology to create a smart rural water supply ecosystem. It will provide support at ideation stage, prototype development stage and deployment stage.
ii.The pilot project will be conducted at 100 villages. Incubation and Marketing support will be provided by MEITY & Jal Jeevan Mission (JJM).The Approved solution will be listed in the Government e-Marketplace portal.
Awards & Recognitions:
The winner will get a prize amount of Rs. 50 Lakh and two Runner-ups will be provided a prize amount of Rs. 20 Lakh Each and funding will be provided for 4 teams at the product deployment stage.
Jal Jeevan Mission:
Jal Jeevan Mission (JJM) aims to provide Functional Household Tap Connection (FHTC) to every rural house by 2024.
Recent Related News:
i.The Ministry of Jal Shakti(MoJS) has launched a new version of the India Water Resources Information System (India-WRIS) with new functions and features. It is open to the public, and accessible through the web portal www.indiawris.gov.in.
ii.On May 29,2020, Ministry of Jal Shakti, a ministry under Government of India (GoI) has approved an amount of Rs 445 crore for the implementation of the Jal Jeevan Mission (JJM) in Chhattisgarh during 2020-21.
About Ministry of Jal Shakti:
Ministry of Jal Shakti is a ministry under Government of India which was formed in May 2019 . This was formed by merging of two ministries; Ministry of Water Resources, River Development & Ganga Rejuvenation and Ministry of Drinking Water and Sanitation.
Union Minister – Gajendra Singh Shekhawat
Minister of State (MoS) – Rattan Lal Kataria
About Ministry of Electronics & Information Technology (MEITY):
Union Minister – Ravi Shankar Prasad
Minister of State (MoS) – Sanjay Dhotre
Singapore topped in 2nd Smart City Index 2020; 4 Indian Cities in Top 100
On September 17, 2020, Institute for Management Development (IMD), in collaboration with Singapore University for Technology and Design (SUTD), IMD World Competitiveness Center, and Smart Cities Observatory (SCO) has released the 2nd edition of global listing of smart cities i.e. "Smart City Index (SCI) 2020" in which the ranking of four Indian cities- New Delhi, Mumbai (Maharashtra), Hyderabad (Telangana), and Bengaluru (Karnataka) were declined as the technological advancement in these cities is not up to date to cater the COVID19 Pandemic.
• The index was topped by Singapore followed by Helsinki (Finland) and Zurich (Switzerland) in the second and the third place respectively.
• It should be noted that Indian cities have suffered more from the pandemic because they were not prepared.
• The work of these rankings was led by IMD's Professor Arturo Bris.
About SCI 2020:
The SCI monitors the actual development of smart cities in all parts of the world. SCI 2020 ranked 109 cities under which 120 citizens from each city were asked questions in April and May 2020 on the technological provisions of
their city across five key areas: health and safety, mobility, activities, opportunities and governance. Following table shows the 2020 SCI ranking of Indian Cities and Toppers in comparison to 2019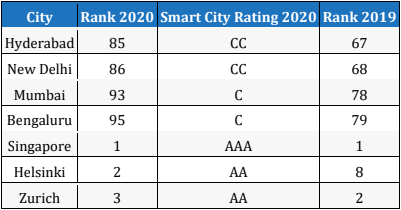 Points to be noted:
-In all Indian four cities air pollution is highlighted as one of the 15 key areas which require priority.
-Others in the top 10 list include Auckland (4th), Oslo (5th), Copenhagen (6th), Geneva (7th), Taipei City (8th), Amsterdam (9th) and New York at the 10th place.
Recent Related News:
On 26th August 2020, NITI Aayog in partnership with Institute of Competitiveness released the Export Preparedness Index (EPI) 2020, this is the first report to examine export preparedness and performance of the states of India. Gujarat was identified as the top performing state in the category of Coastal state and also topped the Overall rankings.
On 4th August 2020, FutureBrand Index 2020 was released, Reliance Industries Limited (RIL), Oil and GasCompanyranked as the Second Biggest Brand for its recognition associated with its growth, innovative products and customer service after Apple which topped the index.
About Institute for Management Development (IMD):
Location– Lausanne (Switzerland) and Singapore
Sanjay Dhotre Attended 6th BRICS Communication Ministers Meeting held virtually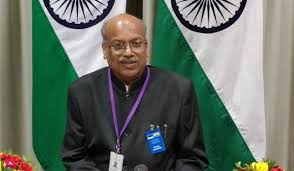 On September 17, 2020, the 6th BRICS (Brazil, Russia, India, China and South Africa) Communication Ministers Meeting was hosted by Maxim Parshin, Deputy Minister of Digital Development, Communications and Mass Media of Russia in a virtual format where India was represented by Sanjay Dhotre, Minister of State (MoS) for Communications, Electronics & Information Technology and Education.
It should be noted that this meet is held annually under the rotating Chairship of member countries. India will take over the Chairship of the next BRICS Communications Ministers' Meeting to be hosted in 2021 by India.
It should be noted that this meet is held annually under the rotating Chairship of member countries. India will take over the Chairship of the next BRICS Communications Ministers' Meeting to be hosted in 2021 by India.
India's efforts in Improving Communication:
-On the Communication front, there are various initiatives taken by Indian Government for Covid Management, such as, AarogyaSetu App, Covid Quarantine Alert System (CQAS), CovidSavdhan, ICT solutions to facilitate movement of migrant workers back to their homes.
– Also affordable Video Conferencing Solutions were developed to facilitate work from home and learn from home.
-Several steps taken by Government to boost the growth of telecom and ICT under "Digital India" launched by Prime Minister Narendra Modi, to provide benefits of digital connectivity to each and every citizen.
– There is also a "Bharatnet" project to connect 250,000 Gram Panchayats involving local people through innovative PPP models.
Other Participants: Fabio Salustino Mesquita De Faria, Minister of Communications, Federative Republic of Brazil, Xiao Yaqing, Ministry of Industry and IT of People's Republic of China and Ms. Stella Tembisa Ndabeni-Abrahams, Minister of Communications, Telecommunications and Postal Services of Republic of South Africa. Points to be remembered :Russia will host the 12th or 2020 BRICS summit. It was planned to be held in Saint Petersburg from July 21 to 23, 2020, but was postponed due to the outbreak of the global COVID-19 pandemic.
Recent Related News:
i.On 30th July 2020, Prakash Javadekar, Union Minister of Environment, Forest and Climate Change (MoEF&CC) participated in the 6th BRICS (Brazil, Russia, India, China and South Africa) EnvironmentMinisters' Meeting under the presidency of Russia along with the Environment minister of Brazil, Russia, China and South Africa over a virtual platform from New Delhi.
ii.Som Prakash, MoS for Commerce and Industry represented India and addressed the 5th BRICS (Brazil, Russia, India, China and South Africa) Industry Ministers Meeting held through Virtual Conference. The meeting adopted a Joint Declaration to commence the implementation of the BRICS Partnership on New Industrial Revolution (PartNIR).
About BRICS:
Presidency– Russia (India will assume the Presidency of BRICS in 2021)
Members– Brazil, Russia, India, China and South Africa
Establishment– 2009
Theme for 2020– "BRICS Partnership for Global Stability, Shared Security and Innovative Growth".
About Ministry of Electronics and Information Technology (Meity):
Union Minister– Ravi Shankar Prasad
Secretary– Ajay Prakash Sawhney
Ajit Doval Attended 10th BRICS NSAs Meet virtually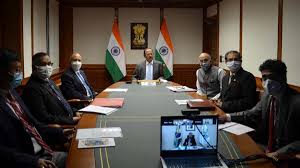 On September 17, 2020, the 10th meeting of BRICS (Brazil, Russia, India, China and South Africa) National Security Advisors (NSAs) was hosted by Russia, the current chair of BRICS, where India was represented by Ajit Doval, Adviser to the Prime Minister (PM) of India on National Security. The focus of the meet was to exchange views on combating terrorism and extremism.
• Notably, a draft anti-terrorist strategy of the BRICS nations has been prepared, which will be submitted for approval during the upcoming summit.
Key Points:
-During the meet an agreement was reached on further expanding the dialogue on security issues, organized crime, drug trafficking and providing for closer coordination among law enforcement agencies of the member nations.
-It was proposed to create new mechanisms of interaction in the field of countering epidemiological threats and to conduct expert consultations on biosafety in the BRICS format.
-The sides also expressed concern about the escalation of tensions around Iran, Venezuela and Syria.
–The five countries agreed to work on deepening coordination at key international organisations and forums, especially the UN.
Points to be noted:
-BRICS represent over 3.6 billion people, or half of the world population, and they have a combined GDP of $16.6 trillion.
-This is the fourth time in September 2020 that top Indian and Chinese leaders have been part of multilateral meetings hosted by Russia, following a virtual meeting of Brics' foreign ministers, and meetings of the defence and
foreign ministers of the Shanghai Cooperation Organisation (SCO) in Moscow, Russia.
–India, Russia and China are members of BRICS, SCO and RIC and act as platform for mutual trust building and cooperation. Russia is chair of 2020 BRICS and SCO.
Recent Related News:
• The Deputy Commissioner of Mumbai Customs and a 2011 batch Indian Revenue Service Officer, Mr. Sahil Seth, has been appointed as an honorary adviser to the steering committee for the BRICS (Brazil, Russia, India, China and South Africa) Chamber of Commerce and Industry (CCI) young leaders for the period 2020 to 2023.
• In order to provide a financial aid to Indian economy which is facing human, social and economic losses due to COVID-19 pandemic and lockdown, the New Development Bank of the BRICS (Brazil, Russia, India, China and South Africa) countries has fully disbursed USD one billion emergency assistance loan to India.
About BRICS:
Presidency– Russia (India will assume the Presidency of BRICS in 2021)
Members– Brazil, Russia, India, China and South Africa
Establishment– 2009
Theme for 2020– "BRICS Partnership for Global Stability, Shared Security and Innovative Growth".
Canara Bank Introduced i-Lead 2.0 to Enhance Customer Services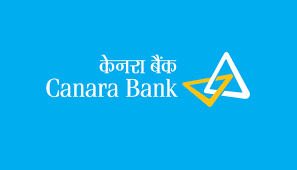 On September 17, 2020 In order to provide its services regardless of where the customers reside, Canara Bank has launched a Lead Management System (LMS) – i-Lead 2.0 (Inspiring Leads System version 2.0). It will help the bank to build and sustain business relationships with new customers and existing customers of the bank.
About LMS
i.The customers can enquire through LMS and avail services through simple modes like internet banking, mobile banking, call centre, SMS and missed call.
ii.A unique reference number will be generated, which will be communicated to customers during the lead generation from above sources.
iii.In addition, SMS/notifications are triggered to the customer at each stage of the lead cycle, i.e., from lead generation to lead closure.
iv.Current LMS is available both in desktop and mobile versions.
Points to be Noted
As per the announcement made by the Finance Minister Nirmala Sitharaman on 30 August 2019, Canara Bank was merged with Syndicate Bank on 1 April 2020. This merger makes Canara bank the 4th largest PSU(Public Sector Undertaking) bank in the country.
Recent Related News:
As part of a social commitment to compensate the unprecedented expenses of ordinary people, Canara bank has partnered with 3 insurers namely, New India Assurance Company Ltd, Bajaj Allianz General Insurance Co Ltd and HDFC ERGO Health Insurance Co Ltd to offer individual short-term Corona Kavach policy to cover COVID- 19 related health expenses.
About Canara Bank:
Managing Director(MD) and Chief Executive Officer(CEO)– L.V.Prabhakar
HeadOffice– Bangalore, Karnataka
Tagline– Together We Can
KVGB Launched Vikas Laghu Suvarna, a Special Gold Loan Scheme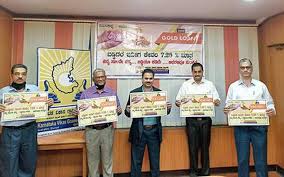 Karnataka Vikas Grameena Bank (KVGB) launched Vikas Laghu Suvarna, a special gold loan scheme with a reduced interest rate of 7.25%. The bank has slashed the interest rate to provide easy and affordable credit at cheap cost to the customers in need, considering the pandemic situation in the country.
About Vikas Laghu Suvarna:
80% market Value– Under Vikas Laghu Suvarna, the bank offers 80% of the market value of the gold subject to a maximum of Rs 3200 per gram.
Maximum– Loans up to a maximum of Rs 15 lakh will be provided.
Repayment– Within 6 months the loan is repayable.
General Info
Karnataka Vikas Grameena Bank was formed by amalgamating 4 Regional Rural Banks (RRBs) namely, Malaprabha Grameena Bank, Bijapur Grameena Bank, Varada Grameena Bank and Netravathi Grameena Bank.
About Karnataka Vikas Grameena Bank (KVGB):
Chairman– P Gopi Krishna
HeadOffice- Dharwad, Karnataka
United Nations Named Indian Teenager Udit Singhal to the 2020 Cohort of Young Leaders for SDGs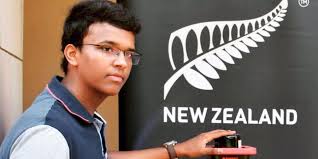 Udit Singhal (18 years), the founder of Glass2S and, a zero waste ecosystem to control the increasing menace of glass waste in Delhi, has been named to the 2020 Cohort of young leaders for the Sustainable Development Goals(SDGs) by the United Nations(UN).
The Cohort of Young Leaders for SDGs:
i.This is the highest profile recognition for the youngsters (between the ages of 18 and 29) who are working towards the most pressing issues of the world and youths whose leadership speed up the achievements of SDGs.
ii.The 2020 Class of 17 Young Leaders for SDGs includes the representatives from Australia, Bangladesh, Brazil, Bulgaria, China, Colombia, Egypt, India, Ireland, Liberia, Nigeria, Pakistan, Peru, Senegal, Turkey, Uganda and the United States.
iii.This class of young leaders is reorganised on a biennial basis by the Office of UN Secretary General's Envoy on Youth.
About Udit Singhal:
Udit Singhal was a student of British School in New Delhi where he initiated his Glass2 Sand Project in 2018.
Glass2Sand:
i.Glass2Sand collects the glass bottles and crushed them into commercially valuable sand.
ii.The Galss2Sand have prevented around 8000 bottles from being dumped into the landfills and have produced 4815 kilograms(Kg) of high grade silica sands with them.
Recent Related News:
i.On June 5, 2020 The United Nations Association for Development and Peace(UNADAP) appointed 13-year-old Madurai girl Nethra as its 'Goodwill Ambassador to the Poor'.
ii.On July 27, 2020 The United Nations Secretary-General António Guterres named Indian climate activist Archana Soreng among 7 members to his new Youth Advisory Group on Climate Change. The members will advise him regularly on accelerating global action and also provide solutions to tackle the worsening climate crisis. This is to mobilize climate action as part of the COVID-19 recovery efforts.
About Office of the Secretary-General's Envoy on Youth:
Secretary-General's Envoy on Youth– Jayathma Wickramanayake
Headquarters– New York, United States of America(USA)
Ramesh Pokhriyal 'Nishank' Honoured 12 Faculties with First Ever AICTE Visvesvaraya Best Teachers Award 2020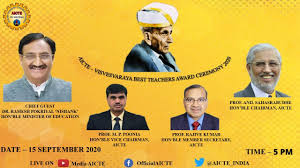 On 15th September 2020, on the occasion of National Engineers Day, Ramesh Pokhriyal 'Nishank', Union Minister of Education presented the first ever "AICTE Visvesvaraya Best Teachers Award 2020" to the 12 faculty members of All India Council for Technical Education (AICTE) approved institutions over a virtual ceremony.
Key People:
Professor Anil D Sahasrabudhe, Chairman of AICTE, Professore MP Poonia, Vice Chairman of AICTE, Rajiv Kumar, Member Secretary of AICTE were present during the virtual ceremony.
AICTE Visvesvaraya Best Teachers Award 2020:
i.This national level annual award scheme was introduced in 2020 to identify the teachers and recognize their expertise and best practices and innovation in the field of higher technical education. The award comprises a cash award of Rs. 25,000 with a badge and certificate of excellence.
ii.This is aimed to recognise the outstanding faculties on every Engineers Day and encourage them to update themselves to the current needs of higher education at global level.
iii.The entries for the awards were evaluated by the 7-member committee chaired by Prem Vrat, pro-chancellor, professor of eminence, and chief mentor at The North Cap University, Gurugram, based on the parameters that focus on research, feedback, contribution to the student development and resolution to societal problems.
Other launches:
Ramesh Pokhriyal 'Nishank' also launched the Scheme for Promoting Interests, Creativity and Ethics among Students(SPICES) to promote the healthy co-curricular activities among the students for their development.
Government forms Expert Committee under NCSC Rajesh Pant to probe reports of snooping by Chinese firm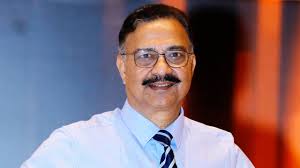 On September 16, 2020 Government of India formed an Expert Committee led by National Cyber Security Coordinator (NCSC) Lt General (retd)Rajesh Pant, India's Chief Coordinator on Cyber Security to examine the reports of digital surveillance on Prominent Indian Nationals including President, Army Chief by Chinese firm Shenzhen Zhenhua Data Information Technology Company Ltd. The Expert Committee will submit its recommendations in 30 days.
Key Points:
i.The expert committee will study the reports, evaluate their implications, assess violations of law and submit its recommendations.
ii.The chinese firm, suspected to have links with the Chinese Communist Party and Chinese Government, was tracking over 10, 000 Indians in its global database of foreign targets. The extracts were found in the Overseas Key Information Database (OKIDB).
iii.The list included President, Vice President, Prime Minister, Army chief and key opposition leaders, men and women from various disciplines, politics, legislature, science, judiciary and media.
iv.The company has data from the United States, United Kingdom, Germany and United Arab Emirates.
v.The Indian External Affairs Ministry has raised the issue with the Chinese Ambassador to India Sun Weidong.
The Investigation:
The digital surveillance was revealed in an investigation conducted by Indian Express.
Recent Related News:
i.On January 13, 2020 Union Home Minister (HM) Amit Shah digitally launched India's 1st cyber AASHVAST (Assured Assistance Service Helpline for Victims at Shortest Time) & project VISHWAS (Video Integration and Statewide Advanced Security).
ii.On January 10, 2020 National Cyber Crime Reporting Portal was dedicated to the Nation by Union Home Minister Amit Shah in New Delhi and he also inaugurated Indian Cyber Crime Coordination Centre (I4C).
About National Security Council (NSC):
Head – Prime Minister Narendra Modi
Secretary – Ajit Doval, National Security Advisor
President Accepts the Resignation of Harsimrat Kaur Badal, Union Minister of Food Processing Industries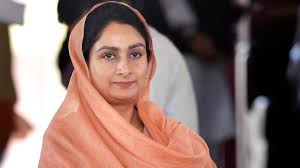 On 18th September 2020, President of India, Ram Nath Kovind accepted the resignation of Harsimrat Kaur Badal, Union Minister of Food Processing Industries with immediate effect. Harsimrat Kaur Badal, Lok Sabha leader of Shiromani Akali Dal (SAD) tendered her resignation in protest against anti-former ordinances and legislation which were passed on 17th September 2020.The resignation was accepted under the clause (2) of Article 75 of the Indian Constitution.
• Cabinet Minister Narendra Singh Tomar was assigned to the additional charges of the Ministry of Food Processing Industries(MoFPI).
Note:
The current portfolio of Narendra Singh Tomar includes the Ministry of Agriculture and Farmers Welfare, Ministry of Rural Development and the Ministry of Panchayati Raj.
Key Points:
i.Ms Badal resigned from the union cabinet against the following Farm sector bills,
• Farmers Produce Trade and Commerce (Promotion and Facilitation) Bill, 2020
• Farmers (Empowerment and Protection) Agreement on Price Assurance Farm Services Bill, 2020
• Essential Commodities(Amendment) Bill
ii.Her Husband, Sukhbir Singh Badal is the president of Shiromani Akali Dal (SAD) and a Lok Sabha member. Shiromani Akali Dal (SAD) is a centre-right Sikh-centric state political party in Punjab, India. The party is the second-oldest in India, after Congress, being founded in 1920.
Recent Related News:
i.On June 22, 2020, The Union Minister of Food Processing Industries (FPI) Harsimrat Kaur Badal launched the Food Processing Edition of the Exclusive Investment Forum (Webinar) hosted by Invest India.
ii.On February 26, 2020 Union Food Processing Industries(FPI) Minister Harsimrat Kaur Badal Launched Market Intelligence & Early Warning (MIEWS) at Delhi. MIEWS portal is a 'First-of -its-kind' platform that monitors the prices of TOP Crops (Tomato, Onion & Potato) & generates alert for timely market intervention under the terms of Operation Greens(OG) scheme for price stabilization during glut situations.
About Ministry of Food Processing Industries:
Union Minister (additional charge)– Narendra Singh Tomar
Minister of State(MoS)– Rameswar Teli
Centre Sets up High-Level Committee Headed by Ajay Tirkey to Prepare Roadmap to Regularise Land Leasing in Agri Sector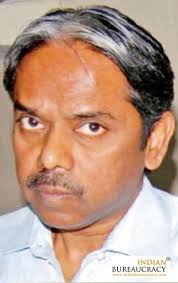 In order to prepare a roadmap for regularisation of land leasing in the agriculture sector, the Centre has set up a high-level committee headed by Ajay Tirkey, secretary of the department of land resources under the ministry of rural development.
• The reform will lay down rights of landless farm workers who are deprived of welfare benefits.
• The proposed framework will recognise the rights of landowners and cultivators and farm workers.
Significance of the roadmap
The land-leasing legalisation will help small farmers to increase the size of their operational holdings and ensure that welfare benefits will reach out to landless farm workers.
Current System
i.It is to be noted that the current system does not allow farm workers to benefit from government-run support programs.
ii.The agricultural landowners in the country are small and fragmented. The benefits given by the government like income support under the PM Kisan scheme are based on land ownership.
About the Committee
i.The committee will submit its report to a Group of Ministers(GoM) on the model legislation on land leasing.
ii.It will provide suggestions to fast track land leasing in order to expand the benefits of the Central government scheme to the actual tillers and cultivators and also to protect the interests of landowners.
iii.After the committee prepares its report, a final decision will be taken at the highest level in the government.
GoM
i.To finalise the model legislation on land leasing, the government established the GoM in November. The model will be circulated to the states.
ii.The GoM was established after the Ministry of Rural Development, which administers land resources, opposed the draft model legislation as it was of concern to some constituents.
iii.It was of the view that it could lead to loss of farm income in the current form.
Key Info
• It is to be noted that a Niti Aayog expert committee headed by T Haq had proposed legalising land leasing.
• It had proposed that the terms and conditions of the lease should be determined mutually by the landowner and the tenant.
Points to be Noted
i.The government is keen to promote agricultural reforms introduced as part of the Atma Nirbhar package, which allows farmers to sell their produce freely and liberalizing trade in cereals, edible oils, pulses, onions and potatoes under the Essential Commodities Act.
ii.A separate legal framework was announced to implement a standard method to predict the price of crops before farmers start sowing.
General Info
Agriculture accounts for about 14% of India's Gross Domestic Product(GDP) and employs 49% of the country's workforce and 64% of the rural workforce.
Recent Related News:
i.On August 11, 2020, the Central Government has formulated an expert committee namely "National Expert Group on Vaccine Administration" under the chairmanship of Dr VK Paul, a member (health) at the NITI (National Institution for Transforming India) Aayog to consider the logistics, ethical aspects of procurement, and administration of COVID-19 vaccine in discussion with all state governments and vaccine manufacturers.
ii.On 4th August 2020, The International Financial Services Centres Authority (IFSCA) announced the establishment of an expert committee headed by Pradip Shah, Chairman of Indasia Fund Advisors Pvt Ltd. to suggest ways to enhance International Retail Business in International Financial Services Centres (IFSC). The 7 member committee of experts was given three months to submit its recommendations to the IFSCA.
About Ministry of Rural Development:
Union Minister– Narendra Singh Tomar(Constituency- Morena, Madhya Pradesh).
Minister of State– Sadhvi Niranjan Jyoti.
FSSAI constitutes task force to look into guidelines for Vegan Foods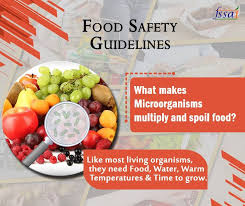 On September 16, 2020 Food Safety and Standards Authority of India (FSSAI) formed a seven-member task force for framing guidelines/provisions for vegan foods in the country.
Members of the Task Force:
Shankar Narayan, founder-president of Satvik Vegan Society, Sumedha S. Deshpande, Retired Principal Scientist (food and nutrition) of Indian Council of Agricultural Research, Sangeeta Pandey, Head of Nutrition and Dietetics, Mount Carmel College, Bengaluru, Lalitha Appukkuttan, NIMS Medicity, Thiruvananthapuram, Palak Mehta, Founder and Chief Executive Officer (CEO), Vegan First, Pune, and a representative each from Ministry of Commerce and Industry and Quality Council of India will be the other members of the task force.
Satvik Vegan Society:
i.Shankar Narayan founded the Satvik Vegan Society in 2004, it is a member of International Vegetarian Union and Federation of Indian Animal Protection Organisation.
ii.It has its registered office at Hoseri, Yeljit village, Byndoor taluk, Udupi district, Karnataka.
iii.Satvik Vegan Society has organised vegan festivals, vegan talks, school visits to raise awareness about vegan lifestyle.
Vegan:
A diet which contains only plants and foods made from plants and excludes any foods that come from animals, including dairy products and eggs is called Vegan.
Recent Related News:
i.The 2nd State Food Safety Index (SFSI) for 2019-20 of Food Safety and Standards Authority of India (FSSAI) has been topped by Gujarat among larger states and by Goa among smaller states. It was announced during a webinar conducted on the occasion of "World Food Safety Day" on June 7, 2020 on the theme "Food Safety is everyone's business".
ii.On August 7, 2020, an agreement was signed between Council of Scientific and Industrial Research (CSIR) and Food Safety and Standards Authority of India (FSSAI) for collaborative research and information dissemination in the area of food and nutrition.
About Food Safety and Standards Authority of India (FSSAI):
Chief Executive Officer (CEO) – Arun Singhal
Headquarters – New Delhi
Scientists Discovered 1st Ever Planet, 'WD 1856 b' Orbiting a White Dwarf, 'WD 1856+534'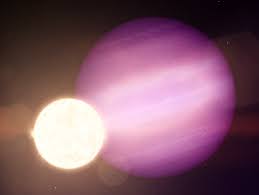 An international team of astronomers have discovered the 1st ever planet, 'WD 1856 b' orbiting a white dwarf or a dead star, located about 80 light years away in the northern constellation Draco. The Jupiter sized planet has a very short orbital period, i.e., a year on this planet is only 1.4 days. The findings are published in the Journal Nature.
• The discovery was made using NASA's(The National Aeronautics and Space Administration) Transiting Exoplanet Survey Satellite (TESS) and retired Spitzer Space Telescope.
• WD 1856 b is about 7 times larger than 'WD 1856+534'.
Points to be Noted
i.The dense leftover of a Sun-like star, White Dwarf, is 40% larger than Earth.
ii.WD 1856 b orbits white dwarf every 34 hours, i.e., more than 60 times faster than Mercury orbits the Sun.
Key Info
Researchers noted that in around five billion years, the Sun will become a white dwarf.
About White Dwarf
i.When stars like the sun exhaust its fuel, it bulges up to hundreds to thousands of times its original size, forming a cooler red giant star.
ii.Finally, it releases its outer layers of gas, losing up to 80% of its mass. The remaining hot core becomes a white dwarf.
iii.Any object that is nearby is usually immersed and burned during this process. WD 1856 b have avoided this destruction.
About The National Aeronautics and Space Administration(NASA):
Headquarters– Washington, United States of America
Administrator– James Frederick "Jim" Bridenstine
Balli Durga Prasad Rao, Tirupati Lok Sabha MP Passed Away of COVID-19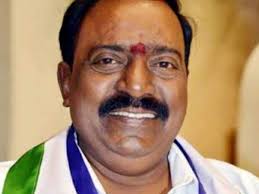 On September 16, 2020 Balli Durga Prasad Rao, Tirupati(Andhra Pradesh-AP) Lok Sabha MP(Members of Parliament) passed away of COVID-19 at Apollo Main Hospital in Chennai, TamilNadu. He was around the age of 64. He belongs to Yuvajana Sramika Rythu Congress Party(YSRCP). He was born in Nellore district, AP on June 15, 1956.
• The first-time MP from the Tirupati (SC-Scheduled Caste) reserved constituency served as the School Education Minister in the Chandrababu Naidu Cabinet in the undivided Andhra Pradesh during 1995- 96.
Note– He is the 2nd sitting MP after H. Vasanthakumar, Congress MP, from Kanyakumari constituency in Tamil Nadu and 1st from AP to die of COVID-19.
Key Info about Balli Durga Prasad Rao
i.Balli Durga Prasad Rao is a lawyer by profession. He started his political career as a member of TDP(Telugu Desam Party).
ii.For 4 times he served as an MLA(Member of the Legislative Assembly) from Gudur constituency of Nellore district, i.e., in 1985, 1994, 1999 & 2009.
iii.He was also as Member of Public Accounts Committee(PAC) between 2009 and 2014 in the erstwhile undivided state of Andhra Pradesh
iv.In 2019 he joined YSRCP and contested in Tirupati Lok Sabha elections
"A Promised Land": First Volume of Former US President Barack Obama's Memoir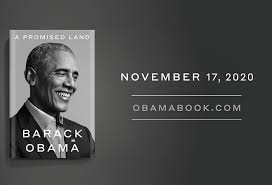 On 17th September 2020, Penguin Random House announced that the first volume of the Former President of United States of America(USA), Barack Obama's memoir "A Promised Land" is set to hit the stores on 17th November 2020, two weeks after Election day.
This book will be released by Crown, a division of Penguin Random House around the world in 25 languages which includes Spanish, Chinese, Arabic, Czech, Finnish and Vietnamese.
Note:
The publication date of the 2nd volume is not yet decided.
About "A Promised Land":
i.The memoir is a collection of Obama's presidential campaign, his term in office and major events during his term and other important happenings during his term.
ii.This book also holds the personal journey of Michelle and Obama during his term as President.
iii.This also offers his thoughts and ideas to solve the ongoing issues in the country and to make the democracy of the US work for everyone.
About Barack Obama:
i.Barack Obama served as the 44th President of the United States of America.
ii.He was the first African American President of the Harvard Law Review.
Books:
His other books include "Of Thee I Sing" (children's book), "Change We Can Believe In", etc.,
Awards:
i.He received the Grammy awards under Best Spoken Word Album for Dreams From My Father in 2006 and The Audacity of Hope in 2008.
ii.He received the Nobel Peace Prize 2009 for his efforts to strengthen international diplomacy and cooperation.
11th edition of World Bamboo Day observed on September 18, 2020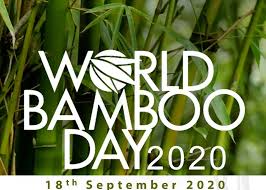 11th World Bamboo Day (WBD) was observed on September 18, 2020 to increase the awareness of Bamboos globally by the World Bamboo Organization (WBO). The Theme for this edition of World Bamboo Day is "BAMBOO NOW". On Occasion of World Bamboo Day, a virtual Bamboo Festival was held by WBO to explore and exhibit Bamboo as a sustainable green material.
The World Bamboo Day is observed annually on September 18. It was established by Mr. Kamesh Salam, Former President of World Bamboo Organization, during the 8th World Bamboo Congress (WBC) at Prachan Buri, Bangkok, Thaïland in 2009.
Festival Organizers:
The Festival was organised by India-Taiwan Global Tech Forum in association with South Asia Bamboo Foundation, The National Institute of Design (NID), The Assam Valley School (AVS), Kerala Forest Research Institute (KFRI), National Cheng Chung University, Taiwan, Nagaland Bamboo Development Agency, and many civil societies from across 15 countries.
Bamboo & India:
i.Around 80 percent of Bamboo Forests lie in Asia with India, China and Myanmar having 19.8 million hectares of Bamboo. India's Northeast consists of 60% of India's Reserve of Bamboo.
ii.India is the world's second largest cultivator of Bamboo (after China). It has 136 species and 23 genera spread over 13.96 million hectares, but its share in global bamboo trade and commerce is just 4 per cent.
iii.The Restructured National Bamboo Mission was approved by the Cabinet Committee on Economic Affairs in April, 2018 with an outlay of Rs. 1, 290 crores for 2 years.
iv.The NBM will increase the area under bamboo plantation in non-forest Government and private lands to supplement farm income as well as availability of quality raw material requirement of industries.
Importance of Bamboo:
i.According to the State of India's Environment 2017, 30 percent of India's land is degraded. Bamboo has the unique ability to stitch and repair damaged soils and is ideal for rehabilitating degraded soil.
ii.The Cultivation of more Bamboos will have an impact in reclaiming degraded land as well as Greening India Programme.
Recent Related News:
i.On May 3 2020, Union Minister of State (Independent Charge) Development of North Eastern Region (DoNER), MoS Prime Minister Office, Dr Jitendra Singh participated in the Bamboo Conclave through Video Conference. The aim of the conference was to discuss the importance of Bamboo, which will provide an opportunity for India to emerge as an economic power post COVID-19.
ii.With an objective to promote "Vocal for Local with Global outreach", Rs 10,000 crore schemes have been launched by the government. It would focus on the particular produce of a region to boost its production, marketing and health and safety standards. Mango in Uttar Pradesh (UP), kesar in Jammu & Kashmir (J&K), bamboo shoots in North-East, chilli in Andhra Pradesh, tapioca in Tamil Nadu.
About World Bamboo Organization:
President – Michel Abadie
Headquarters – Boston, Massachusetts (United States)
Gujarat Govt Announced Subsidy Schemes for E-Scooters, Rickshaws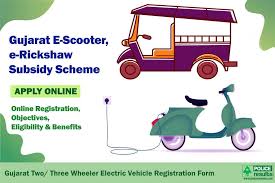 In order to encourage the use of electric vehicles to prevent air pollution Chief Minister Vijay Rupani announced subsidy schemes for electric two-wheelers and e-rickshaws during a virtual programme on climate change to commemorate the founding day of the state climate change department. Apart from this, memorandum of understandings (MoUs) were also inked during the event.
• This announcement was also a part of "Panchsheel gift" of five development schemes in Gujarat to celebrate the 70th birthday of Prime Minister Narendra Modi.
About Schemes:
-Students will get a subsidy of Rs 12,000 each to buy e-scooters. Under this scheme, the government will provide assistance to students studying from Class 9 to college to purchase battery-powered two-wheelers. The target is to provide this assistance to 10,000 such vehicles.
-The state government will also provide assistance of Rs 48,000 for the purchase of 5,000 battery-powered e- rickshaws for individual and institutional beneficiaries.
-Subsidy scheme of Rs 5 lakh has also been announced to set up infrastructure facilities in the state for charging battery-powered vehicle.
-Ten public charging stations will be set up in Ahmedabad, Vadodara, Surat and Rajkot to facilitate the charging of e- vehicles. A sum of Rs 50 lakh has been earmarked for setting up these charging stations.
Signing of MoUs
–The Climate Change department signed virtual MoUs with 10 organisations to mitigate the effects of climate change and increase the use of renewable energy via the usage of space technology and geo-informatics.
–Another MoU, "Climate Change Risk Assessment of Mitigation", was signed with the Indian Institute of Management, Ahmedabad (IIM-A) for climate finance and climate policy matters.
–Apart from above, it inked MoU with the Indian Institute of Technology, Gandhinagar (IITGn) on capacity building, research and enhancing the public utility of scientific information in the field of climate change and environment.
–A MoU was also signed with the Gujarat State Road Transport Corporation (GSRTC) and Gujarat Gas to increase the usage of clean fuels like CNG in vehicle transactions.
Recent Related News:
i.On August 7, 2020 Gujarat Government announced the New Industrial Policy 2020 for the State, with an expected average annual outlay of up to Rs 8,000 crore, which is meant to provide incentives to the industries. It aims to provide an estimated Rs 40,000 crore as subsidies to industries in the next 5 years.
ii.Union Minister of Agriculture and Farmers' welfare Shri Narendra Singh Tomar inaugurated the 'World Class Stateof Art Honey Testing Laboratory' virtually. This is considered to be the first Government Honey Testing lab in India. The testing lab was established by National Dairy Development Board (NDDB) in Anand, Gujarat with support of NBB (National Bee Board).
About Gujarat:
Capital– Gandhinagar
Governor– Acharya Devvrat