PM Narendra Modi Laid Foundation Stone for Manipur Water Supply Project
On 23rd July 2020, through video conferencing Narendra Modi, Prime Minister of India laid the foundation stone of the Manipur Water Supply Project, under the Jal Jeevan Mission designed to provide Freshwater Household Tap connections(FHTCs) to the rural households of Manipur.
Key People:
Gajendra Singh Shekhawat, Jal Shakti Minister, Jitendra Singh, Union minister of State (Independent Charge) for Development of North Eastern Region, Najma Akbar Ali Heptulla, Governor of Manipur and N Biren Singh, Chief Minister of Manipur attended the event through video conference.
Manipur Water Supply Project:
i.The Manipur Water Supply Project is aimed to achieve the goals of Jal Jeevan Mission – "Har Ghar Jal" by 2024 benefitting the people of Manipur.
ii.The outlay of the project with a loan component funded by New Development Bank is about Rs.3000 crores.
iii.The externally funded project will provide the FHTCs to the remaining households in the Greater Imphal Planning area, 25 towns and for the 1,731 rural regions in the 16 districts of Manipur covering 2,80,756 households.
iv.Under the Jal Jeevan Mission, the Central Government will provide the funding for the FHTCs for around 1185 residents with 1,42,749 households.
v.The project is designed to provide the needs of the upcoming 20 -22 years to provide clean drinking water and to provide employment opportunities for thousands of people.
Note:
Jal Jeevan Mission: an initiative to provide safe and adequate drinking water to the rural households in India by 2024.
About Manipur:
Governor– Najma Akbar Ali Heptulla
Chief Minister– N Biren Singh
Capital– Imphal
Recent Related News:
i.Centre approved funds for implementation of Jal Jeevan Mission in Odisha, Meghalaya, Assam & Bihar.
ii.Centre Approved Funds for Implementation of Jal Jeevan Mission in Maharashtra, Karnataka, and Tripura.
PM Modi addressed virtual India Ideas Summit 2020; India-US negotiating UAV co-development programme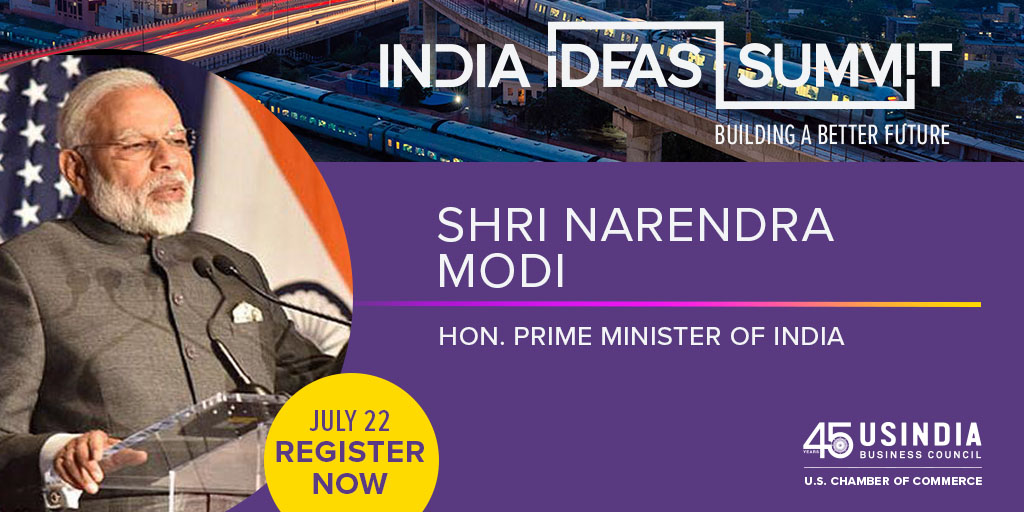 On July 22, 2020, Prime Minister Narendra Modi delivered the keynote address at the two days long (July 21-22) virtual India Ideas Summit 2020 which was hosted by US-India Business Council (USIBC) under the theme "Building a Better Future". The year 2020 marked the 45th anniversary of the formation of the Council.
During the summit the discussion were held on areas including India-US cooperation and future of the relation between the two counties in a post pandemic world.
Key Points from PM Modi Address; Target of 50th spot in WB's Ease of Doing Business ranking
-In October 2019, India jumped 14 places to rank 63rd among 190 nations in the World Bank's (WB) Ease of Doing Business ranking. Now, the target of India is to reach at the 50th spot.
-The International Monetary Fund (IMF) has projected the global economy to contract by 4.9% in 2020 with India estimated to shrink by 4.5% during FY21 amid COVID-19. Still, India has attracted FDI (Foreign Direct Investment) of more than $20 billion in the April-July, 2020 period while pledged investments from the US have already crossed $40 billion this year.
-FDI inflow in India in 2019-20 was $74 billion, an increase of 20% from 2018.
-PM Narendra Modi urged American investors to invest in India in sectors such as technology, healthcare, insurance, civil aviation, defence and infrastructure.
-The Indo-US Joint efforts can play an important role in helping the global economy to recover from the COVID-19.
India-US negotiating co-development programme for the air-launched unmanned aerial vehicle (UAV)
The US and India are negotiating a co-development programme for the air-launched unmanned aerial vehicle (UAV), between US Air Force research labs, Indian Air Force (IAF), India's Defence Research and Development Organisation (DRDO), and an Indian start-up company. US want to become India's first choice in defence solutions.
Participants:
Minister of External Affairs Dr. Subrahmanyam Jaishankar, Finance Minister Nirmala Sitharaman, Minister of Commerce and Industry Piyush Goyal, Minister of Micro, Small and Medium Enterprises Nitin Jairam Gadkari, U.S. Secretary of State Mr. Mike Pompeo, Senator of Virginia and co-chair of Senate India Caucus Mr. Mark Warner, Former U.S. Ambassador to the United Nations Ms. Nikki Haley, among other Indian and US government policymakers, state-level officials, and thought leaders from business and society.
About USIBC:
President– Nisha Biswal
Headquarter– Washington, D.C., United States
Recent Related News:
On January 28, 2020 the Prime Minister of India Narendra Modi addressed the 3rd edition of the Global Potato Conclave at Gandhinagar, Gujarat through video conference. The conclave was organised by Indian Potato Association (IPA) in collaboration with Indian Council of Agricultural Research(ICAR), New Delhi, and ICAR-Central Potato Research Institute, Shimla, Himachal Pradesh and International Potato Center (CIP), Lima, Peru.
Kakrapar Atomic Power Project's Unit 3 in Gujarat: India's First 700 MWe unit to Achieve Criticality
The Nuclear Power Corporation of India Limited(NPCIL) announced that, Unit-3 of Kakrapar Atomic Power Project(KAPP-3), India's First 700 MWe (megawatt electric) and indigenously developed Pressurised Heavy Water Reactor(PHWR) in Surat, Gujarat achieved its first criticality – initiation of controlled and sustained nuclear fission reaction on 22nd July 2020(Wednesday).
Unit-3 of Kakrapar Atomic Power Project (KAPP-3):
i.KAPP-3 is India's 23rd nuclear power reactor that is completely designed and built by India.
ii.The design and construction of the reactor is made with highest safety and quality standards in comparison to the best reactors in the world.
iii.The reactor uses natural Uranium as the fuel and Heavy water as moderator.
iv.The components and equipment of the reactor are manufactured by the industries in India and the construction was undertaken by multiple Indian contractors supporting the "Make In India" initiative.
v.The Safety features of the reactor includes,
Steel Lined Inner Containment
Passive Decay Heat Removal System
Containment Spray System
Hydrogen Management System
vi.By Mid-March 2020, the fuel loading of the reactor core was completed and following the COVID-19 guidelines, tests and procedures were conducted in the period of lockdown.
vii.The power will be increased progressively after further tests and experiments and the unit will be connected with the western grid.
Construction of Reactor:
i.For the original contract value of Rs.844 NPCIL awarded the reactor building contract of both KAPP-3 & 4 to Larsen & Turbro.
ii.The construction started in November 2010 and was expected to commission by 2015.
Key Points:
i.Currently 4(KAPP-3&4 and RAPS-7&8) units of 700MWe reactors are being built in Kakrapar and Rawatbhata.
ii.KAPP-3 is forerunner of the series of 16 indigenous 700 MWe PHWR, which got the approval and financial support from the government of India.
iii.The 16 projects are under various stages of implementations. India will increase the nuclear power capacity from 6,780 MWe. to 22,480 MWe by 2031.
iv.As of January 2020, The nuclear power capacity constitutes less than 2% of the total installed capacity (3,68,690 MW)
About Nuclear Power Corporation of India Limited(NPCIL):
Chairman & Managing Director– Satish Kumar Sharma
Head Office– Mumbai, Maharashtra
Recent Related News:
i.UAE becomes 1st Arab Nation to issue license to operate a reactor at its Nuclear Power Plant.
ii.Missile Park 'Agneeprastha' to be set up, 2 MW Solar Power Plant inaugurated at INS Kalinga.
India to Have 60% Renewable Energy by 2030: R K Singh at Webinar On Energy Transition 
Raj Kumar Singh, Minister of State(MoS)(IC) Power and New & Renewable Energy stated that India will have around 60% of the installed capacity of the electricity generation from renewable resources by 2030, in the webinar on Energy Transition at the second pre-event hosted by The World Sustainable Development Summit (WSDS) 2021 in collaboration with Energy Transitions Commission (ETC) India on 21st July 2020.
Gist of the Webinar:
i.Prime Minister Modi announced that India will increase the renewable energy target to 450 GW by 2030 from 175 GW by 2022, in the United Nations(UN) Climate Action Summit held in September 2019.
ii.R K Singh highlighted the progress of India on clean energy and stated that including the projects under development and hydroelectric power the clean energy capacity of India is around 190 GW which is higher than the targeted 175 GW by 2022.
iii.By 2030, the renewable energy capacity of India would reach 510 GW with around 450 GW of power generation capacity from renewable sources like solar and wind and 60 GW from Hydroelectric power.
Reports launched in the Webinar:
During the webinar R K Singh launched two reports titled 'Renewable Power Pathways: Modelling the Integration of Wind and Solar in India by 2030' and 'Bending the Curve: 2025 Forecasts for Electricity Demand by Sector and State in the Light of the COVID Epidemic' prepared by the Energy Transitions Commission (ETC) India.
Note:
ETC India is a research platform based at the headquarters of TERI – The Energy and Resources Institute, New Delhi.
About Ministry of Power and Ministry of New & Renewable Energy(MNRE):
Minister of state (IC)– Raj Kumar Singh
About TERI – The Energy and Resources Institute:
Director General– Dr Ajay Mathur
Headquarters– New Delhi
Recent Related News:
i.R. K. Singh launches Pan-India Real Time Market in electricity.
ii.MNRE Sets Up Project Development Cell Under Amitesh Kumar Sinha for Investment in Green Energy Sector.
Jitendra Singh Launched Restructured Scheme for PM's Awards for Excellence in Public Administration 2020 and Web Portal Virtually
On July 17, 2020 Jitendra Singh,Minister of State for Prime Minister's Office(PMO), Personnel, Public Grievances, Pensions, Atomic Energy and Space launched the restructured scheme for PM's Awards for Excellence in Public Administration 2020 and the web portal (www.pmawards.gov.in) through video conference.
Purpose of restructuring– To recognize the performance of District Collectors towards economic development of the District.
About the scheme:
The Government of India has instituted a scheme, "The Prime Minister's Awards for Excellence in Public Administration" in 2006. The Scheme was restructured in 2014 for recognizing the performance of District Collectors in Priority Programs, Innovations and Aspirational Districts.
About Restructured Scheme in 2020:
i.The restructure of the scheme for the year 2020 is to recognize the contribution of civil servants in strengthening of:
Inclusive Development through Credit Flow to the Priority Sector
Promoting people's movements – "Jan Bhagidari" through Swachh Bharat Mission (Urban and Gramin) in the District
Improving Service Delivery and Redressal of Public Grievance
Award Categories- There are 4 major categories namely; District Performance Indicators Programme, Innovation General Category, Aspirational Districts Program and Namami Gange Program.
Total Awards– In total 15 awards will be given under the scheme in 2020.
Distribution of the award– The award will be conferred by the Prime Minister Narendra Modi on Rashtriya Ekta Diwas -October 31, 2020 at the Statue of Unity, Kevadia, Gujarat.
Period of consideration– The period of consideration for the awards is from april 1, 2018 to march 31, 2020.
Online applications– The online applications are invited from 17th July till 15th August 2020 through the mentioned portal from Districts / Implementing Units / Organizations under the various categories in the prescribed format.
Key People– In addition to Jitendra singh, K.Shivaji, Secretary of Department of Administrative Reforms and Public Grievances(DARPG) and Department of Pension & Pensioners Welfare(DPPW), V.Srinivas, Additional Secretary DARPG among others participated in the launch.
Recent Related News:
i.The World Health Organization(WHO) has accorded the World No Tobacco Day Award 2020 to Socio-Economic and Educational Development Society(SEEDS), an Indian NGO.
ii.Amulya Mica chosen as Most Promising Brand 2019 at 7th MSME Excellence Award in New Delhi.
India, Maldives signed contract for development of Geydoshu Mas Plant in Maldives' Maradhoo and Hulhudhoo
On July 22, 2020, India and Maldives inked an agreement to set up Geydoshu Mas Plant (Neighborhood Fish Processing Plants) at two islands in the Addu city of Maldives namely Maradhoo and Hulhudhoo. The Contract signing ceremony was held in Addu City, which attended virtually Maldives' Foreign Secretary Abdul Ghafoor Mohamed, High Commissioner of India to the Maldives Sunjay Sudir, along with other members of Maldives' Ministry of Foreign affairs.
This agreement was inked on the lines of Memorandum of Association (MoU) signed by both nations in 2019 stating setting up of 3 Geydoshu Mas Plants in Maradhoo, Hithahoo and Hulhudhoo at a cost of around USD 1.5 million which was signed by Indian Prime Minister Narendra Modi and Maldives President Ibrahim Mohamed Solih.
This agreement is also first in the series of "Indian Grant Assistance for Implementation of High Impact Community Development Projects through local bodies" in Maldives at a total cost of $5.5 million.
Key Points:
-This agreement enables development of key social and economic infrastructure, and will boost the economy and attract private investments for Addu City.
-This will also overcome the various challenges they face in the fisheries sector of Maldives which is a largest source of employment in local communities.
About Maldives:
Capital– Male
Currency– Maldivian rufiyaa
Recent Related News:
As a part of the Centre government's plan to repatriate stranded Indians abroad due to COVID-19 outbreak, Indian Navy launched Operation "Samudra Setu" (Sea Bridge) to bring back 1000 Indians from Maldives. In this regard, Indian Navy sent two India Naval Ships (INS) viz. Jalashwa and Magar to Maldives capital Male to commence the first phase of the evacuation. The operation was completed on July 8, 2020. Read Indian Navy Completes "Operation Samudra Setu" by repatriating 3992 Indian from 3 countries.
Turkmenistan became 25th country with Observer Status in World Trade Organization
On July 22, 2020, Turkmenistan became the 25th country who was granted observer status in the World Trade Organization (WTO) enabling the nation to establish permanent residence at WTO headquarter in Geneva, Switzerland and monitor it's proceedings. Turkmenistan also became the last former Soviet republic to establish formal ties with the trade body. This observer status was granted during the 5th virtual session of WTO General Council which was held from WTO headquarters and attended by representatives of its member-states.
Apart from other member states, India also supported Turkmenistan as an observer of WTO.
Now, there is a possibility of Turkmenistan's acceding (to the organisation's membership) in the next five years.
Key Points:
-Turkmenistan, a Central Asian country filed a request for observer status in May, 2020 and expressed willingness to initiate talks on accession to the WTO within five years.
-Its neighbouring Central Asian countries — Kazakhstan, Kyrgyz Republic, Tajikistan and Afghanistan — have acceded to the WTO, while Uzbekistan has been in on-and-off negotiations on WTO accession since 1994.
About World Trade Organization (WTO):
Director-General– Roberto Carvalho de Azevedo (Retire on August 31, 2020)
Members– 164 countries and 25 Observer nations
Nicaragua becomes the 87th Country to sing the International Solar Alliance Framework Agreement
On 23rd July 2020, The Republic of Nicaragua became the 87th country to sign the International Solar Alliance(ISA) Framework Agreement, an initiative to promote sustainable energy, led by India.
E. Jaime Hermida Castillo, Permanent Representative to the UN of the Republic of Nicaragua, signed the Agreement at the Permanent Mission of India to the United Nations, New York.
International Solar Alliance(ISA):
i.On 30th November 2015 the initiative was jointly launched by Narendra Modi, Prime Minister of India and Francois Hollande, former French President at the United Nations(UN) Climate Change Conference held in Paris.
ii.The initiative aimed for the implementation of the Paris Climate Agreement through development and deployment of solar energy.
iii.The Alliance became a treaty based intergovernmental body on 6th December 2017.
iv.Prime Minister Narendra Modi and French President Emmanuel Macron hosted the founding Conference of ISA on 11th March 2018 in New Delhi.
v.The first assembly was inaugurated by Narendra Modi and António Guterres, Secretary General of UN on 3rd October 2018 in New Delhi.
ISA Framework agreement:
i.The agreement was opened for signature during the 2016 United Nations Climate Change conference held in Morocco on 15th November 2016.
ii.The ISA amended the Framework agreement in 2019 to enable membership of all the countries of the United Nations.
iii.This inclusion of UN countries to the alliance has included solar energy in the global agenda.
iv.The expansion in membership has increased the global benefits of the initiative.
v.Out of the 87 signed countries 67 countries have also ratified the ISA Framework agreement.
About International Solar Alliance(ISA):
Director General– Upendra Tripathy
Headquarters– Gurugram, Haryana
About Republic of Nicaragua:
President– Daniel Ortega
Capital– Managua
Currency– Nicaraguan Cordoba Oro (NIO)
Recent Related News:
i.The Republic of Mali awarded the Project Management Consultancy (PMC) contract for the development of a 500 MW solar park in Mali to NTPC Limited.
ii.The Union Ministry of New and Renewable energy (MNRE) proposed the 'One Sun One World One Grid' (OSOWOG) to interconnect renewable energy by sharing solar resources with more than 140 countries of West Asia and SouthEast Asia.
Ravi Shankar Prasad Represented India in the G20 Digital Economy Ministers Virtual Meeting Hosted by Saudi Arabia
On 22nd July 2020, The Union Minister of Electronics and Information Technology represented India in the virtual meeting of the G20 Digital Economy Minister under the presidency Saudi Arabia.
Key Points:
i.Ravi Shankar Prasad highlighted the need to build a strong global supply chain and the vision of Modi to make India a destination for investments integrated with the global supply chain.
ii.He mentioned the importance of digital technologies like Direct Benefit Transfers and digital payments which supported the government in providing relief to the economically weaker section of the society amid global pandemic crisis.
iii.He focused on the need for building trustworthy Artificial intelligence systems for growth and development in healthcare and education to support the society to transform.
iv.He discussed the issues related to data and sovereign rights of the countries in protecting the privacy and security of its citizens.
v.He stated the importance of acknowledging the digital platform and to take responsive and accountable towards the concerns of the countries defence and citizens privacy and security.
vi.He stated that India will engage a robust personal data protection law to address the concerns of the citizens related to data privacy and economic development.
About G20 or Group of Twenty:
Members– Argentina, Australia, Brazil, Canada, China, France, Germany, India, Indonesia, Italy, Japan, Mexico, Republic of Korea, Russia, Saudi Arabia, South Africa, Turkey, United Kingdom (UK), United States (US), and European Union (EU).
Spain is a permanent guest invitee to the G20 meetings.
Chairman– Saudi Arabian King Salman bin Abdulaziz Al Saud
Current Presidency– Saudi Arabia
Recent Related News:
i.Union Minister of Petroleum and Natural Gas and Steel Dharmendra Pradhan has attended the G20 Extraordinary Energy Ministers' virtual meeting 2020 on behalf of India through video conferencing.
ii.Minister of Health and Family Welfare Dr. Harsh Vardhan participated in the G20 Health Ministers Meeting held via video conference to control COVID-19.
Airtel Payments Bank Partnered with NSDC to Skill Rural Youth for Financial Services Sector Jobs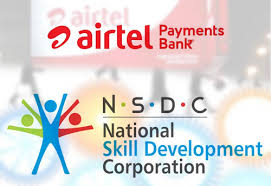 Airtel Payments Bank Ltd has partnered with National Skill Development Corporation (NSDC) to train and skill the youth in rural India.This will enable them to find employment opportunities and become entrepreneurs in the financial services sector.
The knowledge and training imparted to youth is to render financial and banking services more accessible to rural and semi-urban India.
Highlights of the partnership
Leverage-The partnership will leverage NSDC's experience, training infrastructure and wide network with Airtel Payment Bank's industry insights.
Skill development programmes-This leverage will enable them to design and conduct targeted skill development programmes for rural youth, which will impart knowledge and skills for entry-level jobs, such as business correspondent and field sales executive.
Focus of the programme- The skill development programmes will focus on adoption of tools to improve online banking as well as digital financial services, given the growing penetration of affordable smartphones and 4G networks in the country due to stay-at-home restrictions.
Conduct awareness campaign using NSDC's training centres- Airtel Payments Bank will also use NSDC's training centres to conduct awareness campaigns on the importance of digital banking and its benefits.
Extend to e-Skill India- This partnership will also extend to e-Skill India, NSDC"s digital skilling initiative.
Special Learning Modules– Special learning modules will be built and introduced on the platform to raise awareness about digital financial services.
Key Info
i.After the completion of the entry-level jobs such as business correspondent, field sales executive, among others, the Airtel Payments Bank and NSDC will leverage their industry connections to help participants find jobs.
ii.They will also encourage trainees to take on entrepreneurial roles like, distributors or resellers of financial services. This will create more jobs in their local geographies.
Note– India has the largest youth population in the world and a large proportion is residing in small towns and villages of the country.
About Airtel Payments Bank:
Headquarters– New Delhi, India
Managing Director(MD) and Chief Executive Officer(CEO)– Anubrata Biswas
Non Executive Chairman– Sunil Bharti Mittal
About NSDC:
Headquarters– New Delhi, India
Chairman– Mr. A M Naik
MD & CEO- Manish Kumar
Recent Related News:
i.Airtel Payments Bank joined hands with Mastercard to develop a customised payment solutions for farmers, SMEs
ii.Airtel Payments Bank joined hands with Bharti AXA to offer COVID-19 insurance plans namely "Bharti AXA Group Health Assure and "Group Hospital Cash" .
Bank of Baroda Launched 'Insta Click Savings Account', 100% Paperless Digital Self-Assisted Online Savings Account
On July 23, 2020 India's third-largest public sector bank, Bank of Baroda(BoB) launched 'Insta Click Savings Account', a 100% paperless digital self-assisted online savings account. It can be activated in real-time i.e; the customer can transact using the Baroda M Connect Plus application with the MPIN received on the mobile number.
It also offers an option to subscribe to a wide range of digital channels like mobile banking, Internet banking, UPI (unified payments interface), and debit card.
Features of 'Insta Click Savings Account':
Authentication of the customer– It uses a new form of digital KYC (know-your-customer) and Aadhaar-based OTP(one-time password) authentication of the customer which can be operated from the bank's website.
Instant Account Opening- The account can be opened instantly at any convenient time through a browser which is accessible on Mobile,Tablet among others.
No Minimum Balance– There is no requirement to maintain a minimum balance.
Documents Required- The documents required to open the account is Aadhar no with registered mobile number, Permanent Account Number(PAN)Card, E mail ID and Valid Mobile No.
Cash withdrawal– Cash withdrawal can be done using Card less withdrawal facility.
Account Funding- The account can be funded using Virtual ID/UPI ID or IMPS/NEFT.
Maximum balance and cumulative credit/deposit– The maximum permissible balance is Rs 1 Lakh, on any day. The Maximum cumulative credit/deposit is Rs 2 Lakhs in a Financial Year.
Note– BoB is working on digitizing all its products and expects to be 100% paperless by 2023.
About BoB:
Headquarters- Vadodara, Gujarat
MD and CEO– Sanjiv Chadha
Non-Executive Chairman– Hasmukh Adhia
Recent Related News:
i.Airtel Payments Bank launches 'Suraksha Salary Account' for the micro, small and medium enterprises (MSMEs).
ii.IndusInd Bank rolls out India's 1st mobile app based facility for opening current accounts through its 'Indus Corporate' mobile app.
India's GDP to contract by 6% in FY21: DBS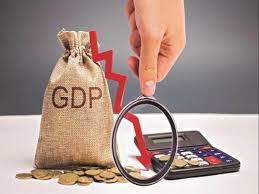 As per the report of DBS(Formerly, Development Bank of Singapore), Singaporean brokerage, India's Gross domestic Product(GDP) will contract by 6%(-6%) in FY21 as the economy is yet to stabilise the COVID -19 infection curve and the due to the caseload in the economically key states. This will affect the economy badly. In its earlier forecast, the brokerage had forecasted the growth as -4.8%.
Key Projections of the report
Quarter
The infection curve, which is yet to stabilised reflects a deep double-digit contraction in Q1 and a flat pickup in Q2 and a return to growth
Granular Analysis
i.As per the granular analysis, about 7% of the districts account for 70% of the caseload in economically key states like Maharashtra (14% of national GDP), Tamil Nadu (8.5% of national GDP), Gujarat (8% of the national GDP), accounting to 30.5% of the national economic output.
ii.Karnataka and Andhra also contribute significantly to the national economic output and accounts for about 70% of the caseload.
Disruption in the renewed supply chain and uncertainty for manufacturers
There will be a disruption in the renewed supply chain and uncertainty for manufacturers, including automakers and electronics firms if the domestic flights are restricted by more states.
Rural demand and farm output
Rural demand and farm output, which are projected to be 2% in FY21 will act as a counter-balancing buffer for a decline in non-farm output
Meaning of Granular Analysis– A data that is in pieces, as small as possible, in order to be more defined and detailed.
About DBS Group:
Headquarters– Singapore
CEO– Piyush Gupta
Non-Executive Chairman (DBS Group Holdings & DBS Bank)- Peter Seah
Recent Related News:
i.The latest report by CRISIL predicted that the gross domestic product (GDP) of Indian economy will contract by 5% in fiscal 2021.
ii.As per the United Nations (UN) Economic and Social Commission for Asia and the Pacific (ESCAP) report India's FY21 GDP projected at 4.8% and recommended Asia-Pacific needs $880 mn/year health emergency fund amid COVID19.
CBDT launched revised Form 26AS; Details of Specified Financial Transactions included
In order to enhance the flow of information between taxpayers and tax authorities, the Central Board of Direct Taxes (CBDT) has launched a revised auto-generated Form 26AS namely "Annual Information Statement (AIS)" from this assessment year of 2020-2021 w.e.f. June 1. The key difference between the new and old form is that the former will also reflect the details of "specified financial transactions (SFT)" i.e. all high-value transactions of individuals, companies, partnership firms, etc. which are filed with the tax department under Section 285BA of the Income-tax Act, 1961.
The SFTs are included in the Part E of the improved Form 26AS.
Form 26AS is a consolidated annual tax statement that includes information on tax deducted/collected at source (TDS), advance tax, other taxes paid, refunds, and self-assessment that is available on the Income Tax website against a taxpayer's Permanent Account Number (PAN).
The new form will enable the taxpayer to have all important information available while preparing the tax return so that the chances of committing any error will reduce significantly.
Point to be noted:
– As per the new format of Form 26AS, the tax department will update its contents within three months of receiving the information from third parties like banks, Registrar of Properties, mutual funds, etc.
–For Knowledge: The details recorded in SFTs are provided by banks and financial institutions.
– Form 26AS earlier had an Annual Information Report (AIR) but now it has AIS.
What are SFT Transactions?
There are around 16 SFT transactions which have been introduced in Form 26AS include:
Cash deposit to saving bank accounts, purchase of shares, debentures, mutual funds, buyback of shares worth more than RS 10 lakh on an aggregate basis during a financial year
Sale or purchase of immovable property worth more than Rs 30 lakh.
Credit card payments of Rs1 lakh or more in cash or in any mode of Rs 10 lakh or more during a financial year.
Background:
The Budget for 2020-21 had announced the revised Form 26AS giving a more comprehensive profile of the taxpayer going beyond the details of tax collected and deducted at source.
About Central Board of Direct Taxes (CBDT):
CBDT, a part of the Department of Revenue in the Ministry of Finance works as the policy making body for the Income Tax department.
Chairperson– Pramod Chandra Mody
Headquarter– New Delhi
Recent Related News:
Union Finance &Corporate Affairs Minister Nirmala Sitharaman publicized necessitated relief measures for statutory and regulatory compliance matters related to Income Tax, GST, Customs & Central Excise, Corporate Affairs, Insolvency & Bankruptcy Code (IBC) Fisheries, Banking Sector and Commerce. In this regard, 3 month Extensions (From 31st March, 2020 to 30th June, 2020) on Filing financial year 2018-19 (assessment year 2019-20) return was provided.
RIL becomes the 1st Indian company to reach Market Cap of Rs 13 lakh crore; Becomes 48th largest company in market cap globally
Reliance Industries Limited (RIL) becomes the 1st Indian company to reach Market Capitalisation (m-cap) of Rs 13 lakh crore. It becomes the world's 48th largest company by m-cap, ahead of Abbott Labs, Oracle, Chevron and Unilever. It also crossed the stock price of Rs 2000 for the 1st time.
Globally, Saudi Aramco is the company with the highest market cap of $1.7 trillion, followed by Apple, Microsoft, Amazon, and Alphabet.
Reliance is the 10th highest m-cap company in Asia. China's Alibaba Group is ranked 7th globally.
The United States listed Reliance Jio among the companies that are becoming "Clean Telcos"(who reject doing business with tools of the Chinese Communist Party's surveillance state, like Huawei)
Key Info:
i.RIL is India's  most valuable listed company, the second-placed TCS has a market capitalisation of Rs 8.2 lakh crore, followed by HDFC Bank at Rs 6.2 lakh crore.
ii.It has added Rs 10 lakh crore to its m-cap in the last six years , of which Rs 4 lakh crore were added in the last 10 months,
iii.It's m-cap had crossed USD 150 billion on June 19, 2020. In total, RIL has added USD 25 billion in market valuation within a month.
Highlights
i.The aggregate m-cap of RIL stands at Rs 13.17 lakh crore or USD 176.4 billion.
ii.RIL's  partly paid-up shares listed separately have a m-cap of Rs 46,702.88 crore. 
iii.RIL's partly paid-up shares crossed the Rs 1,100 level for the first time.
About RIL
Headquarters– Mumbai,Maharashtra
CEO– Mukesh Ambani
Recent Related News:
i.Pune-based Mylab becomes the 1st Indian firm to make diagnostic test kits for coronavirus.
ii.Indian Oil Corporation (IOC), becomes 1st company to begin the supply of BS-VI fuel across country.
Mukesh Ambani, fifth-richest Man in the World with Net Worth $75 billion: Forbes Real-Time Billionaires List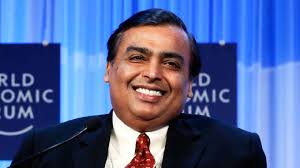 Reliance Industries Limited (RIL) Chairman & CEO Mukesh Ambani (63), became the world's fifth-richest man in the world with an estimated wealth of 77.3 billion USD, according to the real-time ranking of billionaires by Forbes.
Mukesh Ambani is just behind Mark Zuckerberg net worth of 88.3 billion USD.
He sustains as the wealthiest Indian
He is the only Asian Tycoon in the elite list of the world's top 10 richest people as of July 2020.
Forbes Real-Time Billionaires List; Top three:
| Rank | Name | Source | Wealth |
| --- | --- | --- | --- |
| 1 | Jeff Bezos | Amazon Founder & CEO | 183.6 billion USD |
| 2 | Bill Gates | Microsoft Co-founder | 113.8 billion USD |
| 3 | Bernard Arnault | LVMH Moet Hennessy- Louis Vuitton SE | 112.4 billion USD |
Recent Related News:
Mukesh Ambani became 9th richest in the world: Bloomberg Billionaires Index.
RIL Becomes India's 1st Firm to Hit Rs 11 Tn Market Cap on June 11, 2020 after Valuing at Rs 11.15 tn; Mukesh Ambani became world's 9th richest.
The DG/RPF, Shri Arun Kumar, nominated as the Vice-Chairman of the UIC, security platform
i.On July 23, 2020, the DG of the Railway Protection Force (RPF) Shri Arun Kumar, has been nominated as the Vice -Chairman of the Security platform of the Paris – based Union UIC from July 2020 to July 2022. 
ii.This was intimated by the DG (Director General) of UIC (Union Internationale Des Chemins/International Union of Railways) Mr. Francois Davenne, to the Chairman of Railway Board, Shri Vinod Kumar Yadav.
iii.The decision was taken under the 96th UIC General Assembly.
iv.The DG/RPF will take over the Chairman of Security Platform from July 2022 to July 2024, after two years of tenure as Vice Chairman.  
Highlights:
i.Arun Kumar, 1985 – batch Indian Police Service (IPS) officer will be working at UIC with members, China, Japan, Russia and the European countries. 
ii.India has future projects on international rail linkages to Russia. 
iii.RPF organized UIC Security Conferences in 2006 and 2015 in New Delhi
Significance: 
i.The international North-South Transport Corridor is 7,200 Km long ship, road, and rail route moving freight between India, Afghanistan, Iran, Russia, Armenia, Azerbaijan, Central Asia and Europe. 
ii.The UIC is the global platform for railway systems working on interoperability, developing common technical standards for railways across the world and strengthening what is called "rail diplomacy".
About UIC
Headquarters – Paris, France
Membership countries – 194 members
Chairman – Mr. Gianluigi Castelli  (Previous: Mr. Renato MAZZONCINI 2017-2018)
President and CEO – Mr. Ali Ishan Uygun
Director General – Francois Davenne (UIC)
About RPF
Headquarters – New Delhi, India
Minister responsible – Mr. Piyush Goyal, Union Minister-Railways
CCI Approved Acquisition of Krishnapatnam Port Company Limited by Adani Ports and SEZ Limited  
The Competition Commission of India(CCI)  has approved the acquisition of Krishnapatnam Port Company Limited(KPCL) by Adani Ports and Special Economic Zone Limited(APSEZ). The proposed combination envisages acquisition of equity shareholding and full management control of KPCL by APSEZ
Key Info
i.APSEZ is a customer-facing integrated port infrastructure services provider. Currently it is present across 10 domestic ports in six maritime states of Gujarat, Goa, Kerala, Andhra Pradesh, Tamil Nadu and Odisha. It manages the logistics chain
ii.KPCL is a developer and operator of the deep water port at Krishnapatnam, Andhra Pradesh in accordance with the concession agreement on Build-Operate-Share-Transfer basis with the Government of Andhra Pradesh for a period of thirty years.
Note– APSEZ informed that it will acquire 75% stake for a total consideration of Rs 13,572 crore from the CVR Group in January 2020.  The balance stake will be held by the CVR Group.
About KPCL:
Headquarters– Nellore, Andhra Pradesh
Group Chairman– C.Visweswara Rao 
Managing Director– C.Sasidhar
About APSEZ
Head Office– Ahmedabad, Gujarat
CEO– Karan Adani
Recent Related News:
i.CCI approved BP Global's proposed 49% acquisition of Reliance BP Mobility Limited.
ii.CCI approved proposed acquisition of 100% shares and control of Tech Data Corporation by Tiger Midco LLC.
China Launches Tianwen-1: China's First Rover Mission to Mars
On 23rd July 2020, The Tianwen-1, China's first fully homegrown Mars Mission, was launched in a Long March 5 Rocket from the Wenchang Satellite Launch Center in Hainan Island at 12:41 a.m. EDT (0441 GMT).
Tianwen-1:
i.The Tianwen-1 is carrying the duo of an orbiter and a lander or rover; this combination of craft was never launched towards mars.
ii.The name Tianwen means "Questions to Heaven" it was taken from the poem by Qu Yuan (Lived in 340 to 278 BCE).
iii. The objective of Tianwen-1 is to orbit, land and release the rover and coordinate observations with an orbiter.
Note:
China launched a Red Planet orbiter – "Yinghuo-1" in 2011 November, the spacecraft flew with Phobos Grunt mission of Russia and the launch failed leaving the probe trapped in the Earth's orbit.
Scientific Objectives:
i.To map the morphology and geological structure.
ii.To investigate the surface soil characteristics and water-ice distribution.
iii.To analyze the surface material composition.
iv.To measure the ionosphere and the characteristics of the Martian climate and environment at the surface.
v.To perceive the physical fields (electromagnetic, gravitational) and internal structure of Mars.
Taiwan-1 Mars Mission:
i.Tianwen-1 is expected to reach Mars in February 2021 and the rover pair will touch the surface of the mars in 2 or 3 months within the Utopia Planitia, a large plain in the northern hemisphere of Mars.
ii.The 240Kg rover powered by solar energy will spend 90 Martian days or Sols (1 sol is approximately 40 minutes longer than a day on Earth) in analysing and studying the surroundings of the planet in detail.
iii.The study will be done with 6 science instruments:
Nature Astronomy paper identified as the Multispectral Camera
Terrain Camera
Mars-Rover Subsurface Exploration Radar
Mars Surface Composition Detector
Mars Magnetic Field Detector
Mars Meteorology Monitor
iv.The orbiter will settle in the polar elliptical orbit which takes it around 165 miles closer to the surface and around 7,456 miles away from the surface.
v.The spacecraft uses 7 science instruments to collect data,
Two cameras
Mars-Orbiting Subsurface Exploration Radar
Mars Mineralogy Spectrometer
Mars Magnetometer
Mars Ion and Neutral Particle Analyzer
Mars Energetic Particle Analyzer
Other Mars Missions:
i.The United Arab Emirates(UAE) launched its first interplanetary mission developed by Arab state – "Hope Orbiter" into space using Japan's H-2A rocket on 19th July 2020 to study the Martian atmosphere and climate.
ii.NASA's 1040 Kg perseverance, the next Mars rover is scheduled to launch on 30th July 2020.
About China:
President-Xi Jinping
Capital– Beijing
Currency– Renminbi
Recent Related News:
i.NASA (National Aeronautics and Space Administration) announced the name of the 5th Mars (red planet) rover as Perseverance.
ii.Indian-origin girl Vaneeza Rupani has named the 1st helicopter to be built for Mars as 'Ingenuity'.
ISL becomes 1st league in South Asia and 7th in Asia to join the World Leagues Forum
The Hero Indian Super League (ISL) joins the World Leagues Forum (WLF), the association of Professional football leagues. It is the first league from South Asia and seventh in Asia to join the WLF.
The Premier League, La Liga and Bundesliga are also part of the association of Professional football leagues and also the most supported leagues by the people.
Highlights:
i.In 2014, when ISL begun, India has been raising its standard to achieve world class standard, claimed by The Founder and chairperson of Football Sports Development limited (FSDL), Mrs. Nita Ambani
ii.Jerome Perlemuter, the General Secretary of the World Leagues Forum welcomed the joining of ISL to WLF.
About WLF:
Chairman – Enrique Bonilla (LIGA MX)
General Secretary – Jerome Perlemuter (from April 2017)
Members – 42 members.
About ISL:
First season began 12 October 2014.
Co-promoters – Reliance, Star India and supported by the All India Football Federation (AIFF)
Champions:
| Championship | Year |
| --- | --- |
| ATK Football Club | 2014 |
| Bengaluru FC | 2018 – 2019 |
| ATK | 2019-2020 |
The book titled "The Pandemic Century", by British Medical Historian Mark Honigsbaum
"The Pandemic Century, A History of Global Contagion from the Spanish Flu to Covid-19", by the british medical historian Mark Honigsbaum covers 10 outbreaks in the past 100 years, dating from the Spanish Flu (1918) to the present day Coronavirus (2019). The book is published by Penguin Publishers.
About "The Pandemic Century":
The book combines science history, medical sociology and front-line reportage in expressing the history of Global Contagion.
Other Outbreaks in the Book: Pneumonic plague, Parrot fever, SARS, Ebola, Zika.
The book has won: A Financial times best book of the year.
Recent Related News:
National Book Trust, India of MHRD to launches 'Corona Studies Series' books to provide relevant reading materials for all age-groups for the post-Corona readership needs.
National Broadcasting Day 2020 – July 23
23rd July of every year is observed as the National Broadcasting Day across India to commemorate the first ever radio broadcast aired in India on 23rd July 1927 from the Bombay Station of a private company, the Indian Broadcasting Company.
History of Indian Broadcasting:
i.Following the first broadcast in India in June 1923, by the Bombay Radio Club, the Calcutta Radio Club was established.
ii.Under the Department of Industries and Labour, the Indian State Broadcasting Service(ISBS) started the operations on an experimental basis in April 1930.
iii.The Indian State Broadcasting Service(ISBS) became the All India Radio(AIR) on 8th June 1936.
All India Radio:
i.All India Radio(AIR) serves as a medium of mass communication to inform, educate and entertain.
ii.AIR came under the Department of Information and Arts, which later changed to Department of Information and Broadcasting.
iii.The AIR has a three tier system of broadcasting, these three levels of programmes are National, Regional and Local targeted for different audiences.
iv.All India Radio adopted the name "AKASHVANI" for the National Broadcast in 1956.
v.With 470 broadcasting stations across India, AIR is one of the largest media organisations, which is accessible to the entire population of the country, covering around 92% of the total area.
vi.The programmes of AIR are broadcasted in around 23 languages and 179 dialects.
Note:
Prakash Javadekar, Union Minister of Information and Broadcasting, highlighted the radio as the only device which became an easy medium of entertainment across the nation.
About All India Radio(AIR):
Motto- Bahujan Hitaya, Bahujan Sukhaya
Principal Director General– Ira Joshi
Headquarters– New Delhi
About Ministry of Information and Broadcasting(MIB):
Union Minister– Prakash Javadekar
January 6 2020: World Day of War Orphans
The World Day of War Orphans was observed on January 6 every year to address the war orphans as it has become a growing worldwide humanitarian and social crisis. The day was initiated by the French organization, SOS Enfants en Détresse.
Note: According to UNICEF (the United Nations Children's Emergency Fund), there are roughly 153 million orphans worldwide.
March 9 2020: International commonwealth day
The commonwealth day 2020 was observed on March 9. It was celebrated on the 2nd Monday of March every year. Earlier the day was observed on May 24 as British Empire day since the late 19th century, later based on the request of Canadian government, the day was shifted to the 2nd Monday of March in 1977.
The 2020 theme is 'Delivering a Common Future: Connecting, Innovating, Transforming'.
2021: International Year of Fruits and Vegetables
On December 2019, The United Nations designates the year 2021 as the International Year of Fruits and Vegetables based on the request of Food and Agriculture Organization (FAO) to create awareness about the increasing loss and waste in fruits and vegetables and their negative impacts on the global economy and also to acknowledge the nutritional and health benefits of consuming fruits and vegetables
Note: As per FAO estimation, 14 percent of the world's food gets lost from the point of harvest to the retail level.
GEDCOL and NHPC signed MoU to develop floating solar power projects in Odisha
On July 20, 2020, The National Hydroelectric Power Corporation (NHPC) signed a Memorandum of Understanding (MoU) through video conference with The Green Energy Corporation of Odisha Limited (GEDCOL) to develop floating solar power projects with a total capacity of 500 Megawatts (MW) in the state of Odisha. The first phase work of the project starts by March, 2022. 
Highlights:
i.The projects will be implemented by the JVC (Joint Venture Collaboration) in various reservoirs of Odisha under Ultra Mega Renewable Energy Power Parks (UMREPPs) scheme of the Ministry of New and Renewable Energy.  
ii.The total estimation of the project will be Rs. 2,500 crores. 
iii.The incubation period for convincing each SPV (Special Purpose Vehicle) will be around 7 – 8 months and the completion period will be around 18 months. 
Facts on Odisha Renewable Energy
i.The MoU helps to achieve the target of 2,200 MW solar and 550 MW of non-solar energy source, set up by the Odisha Renewable Energy Policy, 2016. 
ii.The present energy is divided as 362 MW of solar and 77MW of non-solar energy source. The GRIDCO is further attaining 75 MW solar and 150 MW of wind power. 
iii.The state requires 1,000 MW from Solar Renewable Purchase Obligation (RPO) and 1,000 MW from Non-Solar RPO converted to RPO to meet the target of 2000 MW target set by the Ministry of New and Renewable Energy. 
About the Ministry of New and Renewable Energy
Headquarters – New Delhi, India
Minister – Mr. Raj Kumar Singh, Lok Sabha Constituency – Arrah, Bihar State.  (Ministry of State – Independent Charge for power and New & Renewable Energy) (Previous: Mr. Piyush Vedprakash Goyal)
About NHPC
Headquarters –  Faridabad, Haryana
Chairman and Managing Director – Mr. Abhay Kumar Singh (Previous: Mr. Balraj Joshi)
CIPET gets NABL accreditation for testing, certification of PPE kits
Central Institute of Petrochemicals Engineering & Technology (CIPET) ,Bhubaneswar, Odisha, under the Ministry of Chemicals and Fertilizers, Dept of Chemicals & Petrochemicals, has received National Accreditation Board for Testing and Calibration Laboratories (NABL) accreditation for Testing and Certification of Personal Protective Equipment (PPE) kit.
Note: The headquarter of NABL is Gurugram, Haryana
First-ever container ship "MV Shejyoti" from Kolkata via Chattogram port reaches Agartala
The first-ever container Ship "MV Shejyoti " from Kolkata (West Bengal) via Bangladesh's Chattogram port has reached Agartala (Tripura), was flagged off by Union Minister of State for Shipping (I/C) Mansukh Mandaviya on July 16, 2020.