India-European Union Agreement on Scientific and Technological Cooperation renewed for next five years (2020-2025)
On July 25, 2020, India and European Union (EU) exchanged Note Verbale to renew its Agreement on Scientific and Technological Cooperation for the next five years (2020-2025) which expired on May 17, 2020. It was initially inked on 23 November 2001 and renewed two times in past in 2007 and 2015. This renewal is on the lines of the decision taken by both nations during the virtual 15th India-EU Summit which was led by Prime Minister Narendra Modi from India's side.
The European Union delegation was headed by European Council President Charles Michel and President of the European Commission Ursula von der Leyen
This extension of agreement will further collaborate in research and innovations based on the principles of mutual benefit and reciprocity and also acknowledge 20 years of cooperation.
Key Points:
-In the last 5 years, 73 joint research projects have been implemented, resulting in around 200 joint research publications & filing of few patents. There have also been 500 exchange visits of researchers & students in this period.
– The last five years also saw of cooperation in addressing the societal challenges such as affordable healthcare, water, energy, food and nutrition.
-The cooperation has been focused on water, green transport, e-mobility, clean energy, circular economy, bio-economy, health, and ICT. Additional areas, such as climate change, sustainable urban development, manufacturing, advanced materials, nanotechnologies and biotechnology, food processing, and ocean research may also be considered in future endeavours.
About European Union (EU):
The Union currently counts 27 EU countries. The United Kingdom withdrew from the European Union on 31 January 2020.
European Parliament president – David-Maria Sassoli
Headquarter– Brussels, Belgium
Recent Related News:
In view of the crucial UN (United Nations) summit on biodiversity (also known as Convention on Biological Diversity-COP15) to be held in Kunming, China in  October 2020) and on the occasion of the World Wildlife Day on March 3, 2020, the European Commission has launched a new global coalition for biodiversity called 'United for Biodiversity' in Monaco.
TRIFED Signed Tripartite MoU with IIT Delhi and Vijnana Bharati Under Unnat Bharat Abhiyan of MHRD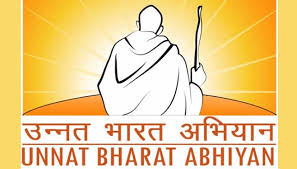 On 24th July 2020, The Tribal Cooperative Marketing Development Federation of India (TRIFED) under the Ministry of Tribal Affairs(MoTA) signed a tripartite Memorandum of Understanding(MoU) with Indian Institute of Technology(IIT) – Delhi and Vijnana Bharati (VIBHA), a Swadeshi Science Movement under the Unnat Bharat Abhiyan(UBA), a flagship programme under the Ministry of Human Resource Development(MHRD).
Objective of the partnership:
To increase the opportunities for better livelihood and income generation for the tribal communities.
Features of MoU:
i.Under this partnership, the Tribal entrepreneurs under the Van Dhan Programme of TRIFED will get access to the expertise of the network of more than 2600 academic and research institutions under the UBA.
ii.TRIFED with IIT Delhi, the National Coordinating Institute(NCI) for UBA, promotes the livelihood of the tribal community through Van Dhan Vikas Kendras under the Van Dan Yojana(VDY).
iii.The beneficiaries of Van Dan Yojana will utilise the Tech4Seva, information Enterprise resource planning (ERP) portal (CSIR-UBA-VIBHA), to develop scientific affordable and sustainable solutions for the issues identified at the grassroots level.
iv.The partnership promotes the income generating programmes through the collaboration of the concerned ministries, district administrations, local Panchayat Raj Institutes(PRIs), Voluntary Organisations and other stakeholders.
v.The tribal communities engaged in Minor Forest Produces(MFPs) will get exposure in new processing technologies, product innovation, mentorship, transformational digital systems and handholding.
Role of VIBHA:
i.The VIBHA will map and reach out to the stakeholders for convergence to strengthen the Van Dhan Yojana.
ii.VIBHA supports the gathering and passing of crucial data on the needs and possible interventions to TRIFED, UBA and the tribal communities.
Unnat Bharat Abhiyan(UBA):
i.Unnat Bharat Abhiyan(UBA) is envisioning transformational changes in the rural development processes.
ii.The UBA connects the villages with the educational institutions to enhance the social and economic conditions of the rural communities and to build an inclusive India.
For more details about UBA:
https://unnatbharatabhiyan.gov.in/index#network
Van Dhan Yojana:
i.Van Dhan Yojana of TRIFED, is a program for value addition, branding and marketing the MFPs by establishing Van Dhan kendras of more than 300 members across India to develop sustainable livelihood for the forest based tribal gatherers.
ii.Around 1,205 tribal enterprises have been established to provide employment opportunities to around 3.6 Lakh tribal gatherers and 18000 self-help groups(SHGs) in 22 states.
About TRIFED:
Managing Director– Pravir Krishna
Head Office– New Delhi
Works under- Ministry of Tribal Affairs
About Ministry of Tribal Affairs:
Union Minister– Arjun Munda
Minister of State– Renuka Singh Saruta
Recent Related News:
i.TRIFED under the Ministry of Tribal Affairs and Art of Living(AOL) signed a memorandum of understanding (MoU)to collaborate in programmes of each organisation to promote tribal enterprises.
ii."Tech for Tribal" has been launched by TRIFED in association with IIT-Kanpur, IIT-Roorkee, IIM Indore, Kalinga Institute of Social Science, Bhubaneshwar (Odisha) and SRIJAN, Jaipur (Rajasthan) to provide entrepreneurship skills to the tribal people.
INDIA-UK's 14th Joint Economic and Trade Committee meeting 2020 held virtually
n July 24, 2020, the 14th Joint Economic and Trade Committee (JETCO) 2020 was held virtually for the first time amid COVID-19 between India and United Kingdom (UK), which was co-chaired by Minister for Commerce and Industry Piyush Vedprakash Goyal and UK Secretary of State for International Trade, Elizabeth Mary Truss. They were assisted by Minister of State (MoS) for Commerce and Industry Hardeep Singh Puri and his counterpart, UK Minister of State for International Trade, Ranil Jayawardena.
Both nations have affirmed their shared commitment towards Free Trade Agreement (FTA). In this regard, the two sides will engage in early harvest schemes or limited trade agreements in a staged manner as steps towards FTA.
It should be noted that the Early Harvest Programme basically consists of those projects which are to be implemented within a short timeline.
Key Points:
-As the UK leaves European Union (EU), both sides are exploring the building blocks that would allow for more ambitious trade arrangements in the future.
–Both sides have identified five key sectors: food and drink, information communications technology (ICT), life sciences and services, and chemicals to address non-tariff barriers to trade.
-It was also decided that a deliberation led by Mr Goyal and Ms Truss will be held in Autumn 2020 in New Delhi to carry forward the dialogue. Apart from this, Hardeep Singh Puri and Ranil Jayawardena will conduct monthly meetings for the same.
-Both sides also resolved to cooperate in the health sector especially in view of the COVID-19 pandemic.
-The Co-chairs of Business led Joint Working Groups on Life Science and Health, ICT and Food and Drink set up during the last JETCO made their recommendations to the Ministers.
About United Kingdom (UK):
Capital– London
Currency– Pound sterling
Prime Minister– Alexander Boris de Pfeffel Johnson
Recent Related News:
On June 25, 2020, According to the 'Annual banking statistics, 2019' released by Switzerland's central bank Swiss National Bank (SNB), India is at the 77th position in terms of money parked by its citizens and enterprises with Swiss banks at the end of the year 2019,compared to 74th  the previous year i.e 2018. United Kingdom (UK) holds the first place in this list with a share of 27 % of the total deposits.
Indian Air Force Commanders Conference: 22nd – 24th July 2020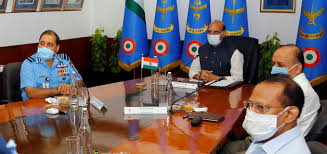 On 22nd July 2020, Rajnath Singh, Union Minister of Defence inaugurated the Air Force Commanders Conference(AFCC) at the Air Headquarters (Vayu Bhawan), New Delhi. The conference chaired by Chief of the Air Staff (CAS), Air Chief Marshal Rakesh Kumar Singh Bhadauria was conducted from 22nd July 2020 to 24th July 2020.
The theme of the conference was "IAF in the Next Decade".
Key People:
Chief of Defence Staff (CDS), General Bipin Rawat, Chief of the Naval Staff (CNS), Admiral Karambir Singh and Chief of the Army Staff (COAS), General MM Naravane
AFCC discussions:
i.The current operational scenario and deployment were reviewed and discussed in the conference.
ii.The action plan for operational capability enhancement of the Indian Air force for the next 10 years was also discussed.
iii.A Thorough review on the Indian Air Force's transformation roadmap for the next 10 years was done following the discussion on the current situation.
iv.The Chief of the Air Staff (CAS) reviewed the stats and issues related to all the commands and the branches at the headquarters.
About Indian Air Force(IAF):
Chief of Air Staff(CAS)– Rakesh Kumar Singh Bhadauria
About Ministry of Defence:
Union Minister– Rajnath Singh
Minister of State– Shripad Yesso Naik
Harsh Vardhan Participated Virtually in the SCO Health Minister's Digital Meet chaired by Mikhail Murashko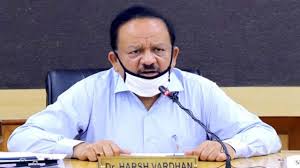 On July 24, 2020 Union Minister of Health and Family Welfare, Harsh Vardhan participated digitally in the Shanghai Cooperation Organization (SCO) Health Minister's Digital Meet at Nirman Bhawan, Delhi. The meet was chaired by Mikhail Murashko, Minister of Health of the Russian Federation.
The key topic discussed in the meet was about the ongoing COVID crisis.
Statements made by Harsh Vardhan
i.Harsh Vardhan proposed to set up a Sub-Group on Traditional Medicine under the existing Institutional Meetings of the SCO Health Ministers to discuss cooperation in Traditional Medicine.
ii.This proposal will fulfil the WHO Traditional Medicine Strategy 2014-2023.
iii.This will also strengthen the effective implementation of the Joint Statement on cooperation in combating epidemics signed at the Qingdao Summit in 2018.
Information technology used virtually in COVID management
i.Aarogya Setu app and ITIHAS, a cellular-based tracking technology, is used for the purpose of surveillance and identification of potential clusters of disease.
ii.RT-PCR app is used for testing.
Recent Related News:
i.Union HRD Minister Shri Ramesh Pokhriyal 'Nishank' virtually participated in G20 Extraordinary Virtual Education Ministers' Meeting which was focused on the effects of the COVID-19 pandemic on the education sector.
ii.India Attend 32nd Virtual special Eurasian Group on Combating Money Laundering and Financing of Terrorism (EAG) plenary meeting 2020 Chaired by EAG Chairman Mr. Yury Chikhanchin
About SCO:
Headquarters– Beijing, China
Secretary-General- Vladimir Norov
22 million children from South Asia missed out on early childhood education due to COVID-19: UNICEF
In accordance with the new research titled "Childcare in a global crisis: The impact of COVID-19 on work and family life" by the United Nations International Children's Emergency Fund (UNICEF), 22 million children from South Asian countries, including India, have missed out on early childhood education in their pre-school year due to the ongoing Covid-19 pandemic closure. This report was produced by UNICEF's Office of Research – Innocenti.
In the South Asia region, UNICEF covered Afghanistan, Bangladesh, Bhutan, India, the Maldives, Nepal, Pakistan and Sri Lanka for the research.
At least 40 million children worldwide, of which nearly 22 million are from South Asia, have missed out on early childhood education in their critical pre-school year
Prolonged school closure and limited access to distant learning have deprived children of their universal right to education.
Key Point:
-Childcare and early childhood education builds a foundation upon which every aspect of children's development relies. The pandemic is putting that foundation under serious threat.
-Lockdown has left many parents struggling to balance childcare and paid employment, with a disproportionate burden placed on women who, on average, spend more than three times longer on care and housework than men.
-The research recommended social protection systems including cash transfers that reach families working in non-formal employment.
-Governments and employers must play their part to help ensure proper childcare and access to education.
About UNICEF:
Headquarters– New York, United States of America (USA)
Executive Director– Henrietta Holsman Fore
Bank of Maharashtra joined hands with Uniken for Omni-channel security
The state-owned Bank of Maharashtra has joined hands with Uniken, a pioneer in the field of digital security in India to secure its Internet banking channels on mobile, card, call centres and ATMs, among others, against cyber fraud. In this regard, the bank will use Uniken's REL-ID technology for Omni-channel security for its online banking app MahaSecure .
MahaSecure has made mandatory for all its customers who perform Internet banking activities to ensure data security and keeping cyber fraud at bay for their customers
The app provides convenience, security and uniform experience across all devices, including desktops, laptops, smartphones and tablets, through the app's medium to deliver services.
The REL-ID technology by Uniken has been modelled for defence-in-depth functions that will help secure the bank's mobile apps by protecting them against phishing, pharming and malware attacks by delivering world class transaction capability.
About Bank of Maharashtra:
Managing Director & Chief Executive Officer (CEO)– A S Rajeev
Headquarter– Pune, Maharashtra
Tagline– One Family One Bank (Ek Parivar Ek Bank)
About Uniken:
Chief Executive Officer (CEO)– Bimal Gandhi
Headquarter– Chatham, New Jersey, United States (US)
Recent Related News:
In June 2020, The Reserve Bank of India (RBI) raised the withdrawal limit from Punjab and Maharashtra Cooperative (PMC) Bank to Rs 1 lakh from Rs 50,000 but extended the moratorium on the bank for another six months i.e. until December 22, 2020.PMC is under All-Inclusive Directions under sub-section (1) of Section 35 A read with Section 56 of the Banking Regulation Act, 1949 with effect from September 23, 2019.
Somalia's Deputy Prime Minister Mahdi Mohammed Gulaid appointed as Interim Prime Minister
On 25th July 2020, President of Somalia, Mohamed Abdullahi Mohamed appointed Deputy Prime Minister Mahdi Mohammed Gulaid as the interim Prime Minister of Somalia following the impeachment of Hassan Ali Khaire, the previous Prime Minister of Somalia.
About Mahdi Mohammed Gulaid:
i.Mahdi Mohammed Gulaid practiced law in Somaliland and served as the legal advisor for the Second Electoral Commission.
ii.He worked with the United Nations Development Programme (UNDP) as the national program office for the Rule of Law, Security and Governance programs.
iii.He took office as the Deputy Prime Minister in March 2017.
Key Points:
i.The parliament of Somalia voted 170-8 to expel Hassan Ali Khaire from the post of Prime Minister in a no-confidence vote.
ii.Gulaid will take charge to manage the activities of the cabinet until the appointment of replacement.
iii.The new Prime Minister of Somalia will be appointed within a month.
About Somalia:
President– Mohamed Abdullahi Mohamed
Capital– Mogadishu
Currency– Somalia Shilling
Tunisia's Interior Minister Hichem Mechichi appointed as new PM; to form govt in 1 month
Tunisian President Kais Saied appointed Hichem Mechichi(46-year-old), Interior Minister as it's new Prime minister.  He has a month to form a government i.e., should be capable of winning a confidence vote in parliament by a simple majority. He succeeded Elyes Fakhfakh, who resigned over allegations of a conflict of interest.
Key Info
i.If Hichem Mechichi cannot form the government in a month the president will dissolve parliament and call for another election.
ii.Hichem Mechichi was not one of the names proposed by the governing political parties to the  President.
About Tunisia:
Capital– Tunis
Currency– Tunisian Dinar(TND)
Croatian Parliament Approved New government Led by Prime Minister Andrej Plenkovic after Election
On July 23, 2020 The Croatian parliament approved the new government led by Prime Minister Andrej Plenkovic whose Croatian Democratic Union (HDZ) party won the most parliamentary seats in the general election held on July 5, 2020.
Andrej Plenkovic was the prime minister of the previous government that was also led by his HDZ .
Key Info
i.Andrej Plenkovic's government won the support in the 151-member assembly in a 76-59 vote, where the remaining lawmakers didn't vote or were not present there.
ii.The government now also has the support in parliament of two small liberal groups and national minorities.
iii.The government won 66 seats in the parliament in the July 5 vote. The main opposition party gained 41.
About Croatia:
Capital– Zagreb
Currency- Croatian kuna
Union Minister of Earth Sciences, Harsh Vardhan launched "Mausam" App for Weather Forecasts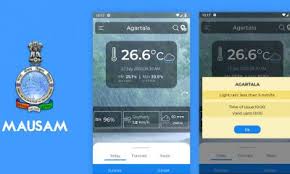 On 27th July 2020, in the event of celebration of 14th Foundation day of the Ministry of Earth Sciences(MoES), Harsh Vardhan, Union Minister of Earth Sciences launched the mobile app "Mausam" designed and developed by the International Crops Research Institute for the Semi-Arid Tropics (ICRISAT), the Indian Institute of Tropical Meteorology (IITM), Pune and the India Meteorological Department (IMD).
Note:
India has the best weather service in the world for disaster management with accurate warnings on tropical cyclones, heat waves and floods.
Mausam:
i.The mobile based application will provide weather forecasts, nowcast and warning for various cities and locations.
ii.The application is available for both Android and iOS platforms.
Services:
i.The app will provide information on current weather with temperature, humidity, wind speed and direction for around 200 cities.
ii.The information on the app will be updated 8 times a day.
iii.It will also provide the weather forecast for next 7 days and the information of the past 24 hours for around 450 cities in India
iv.The nowcasting, three hourly warnings, local weather phenomena and the intensity for about 800 stations and districts will be provided.
v.The application provides colour coded alerts – red, yellow and orange – for all the district, two times a day for 5 days to warn the people prior to extreme weather.
Other launch and initiatives:
i.Harsh Vardhan also launched the Knowledge Resource Centre Network (KRCNet), which will act as a one-point stop for research, publications and e-resources of all the institutions that function under the MoES.
ii.He also announced that on setting up of Atmospheric Research Testbeds, a unique facility in Tropics will be launched in 2021 with the first phase of instrumentation. This 100 acres' open field observatory centre will have state of the art systems like RADARS, WIND PROFILERS, UAVs etc. to study the monsoon clouds and land surface processes.
About Ministry of Earth Sciences:
Union Minister– Dr. Harsh Vardhan
Recent Related News:
i.CM Uddhav Thackeray and Dr Harshvardhan e-launched 'I-FLOWS' a flood warning system in Mumbai, the system provides 3 hours – 6 hours nowcast i.e immediate weather updates and in low lying areas forecasts up to 12 hours in advance.
ii.The Ministry of Electronics and Information Technology (MeitY) has launched seven weather services of India Meteorological Department (IMD) on the Unified Mobile Application for New-age Governance (UMANG) App.
China launched new high-resolution mapping satellite Ziyuan-III 03 from Shanxi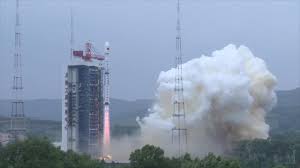 On July 25, 2020, China sent a new high-resolution mapping satellite namely "Ziyuan III 03", developed by the China Academy of Space Technology, into space through Long March-4B carrier rocket from Taiyuan Satellite Launch Center in the Northern Province of Shanxi, China. It was the 341st flight mission by the Long March rocket series.
Along with high-resolution mapping satellite, there were two small satellites used for dark matter detection and commercial data acquisition were also sent which were developed by the Shanghai ASES Spaceflight Technology Co. Ltd.
All three satellites have entered preset orbits.
Key Points:
-The Ziyuan III 03 will join its predecessor the Ziyuan III 02 to form a network and capture high-definition 3D images and multispectral data.
-It will provide data for the country's land resource investigations, natural disaster prevention, agriculture development, water resource management, environmental survey and urban planning.
About China:
Capital– Beijing
Currency– Renminbi
President– Xi Jinping
Recent Related News:
China successfully launches 'Long March 5B' rocket to space as it steps up Moon landing plans.
On May 05, 2020, China has successfully launched a powerful white-large cargo rocket 'Long March 5B'and prototype spacecraft towards the space from the Wenchang Space Launch Center on the coast of southern China's island province of Hainan.
Haryana to host the 4th edition of Khelo India Youth Games 2021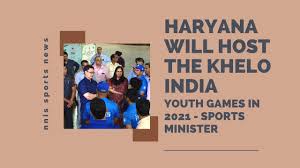 On July 25, 2020 The Minister of State of Youth Affairs and Sports, Kiren Rijiju and Haryana Chief Minister, Manohar Lal Khattar announced that Haryana will host the 4th edition of Khelo India Youth Games(KIYG) in 2021 through video conference. The Games will be held in Panchkula in Haryana.
Star Sports will be the Official Broadcast Partner like the previous year.
The games will take place after the 2021 Tokyo Olympics.
Key People
The announcement was made in the presence of Sports Minister of Haryana, Sandeep Singh, Secretary Sports, Ravi Mital and Director General of Sports Authority of India, Sandip Pradhan.
Note– KIYG usually takes place in January of every year. The games have been postponed due to the pandemic.
Key facts
i.Haryana came second in KIYG 2019 and 2020 editions (200 medals in 2020 and 159 medals in 2019).
ii.They won the KIYG 2018 edition with 102 medals. Maharashtra came first in the 2020 edition with 256 medals.
Khelo India:
i.The Khelo India programme has been introduced to revive the sports culture in India at the grass-root level.
ii.The Talented players identified in priority sports disciplines at various levels by the High-Powered Committee will be provided annual financial assistance of Rs 5 lakh per annum for 8 years.
Recent Related News:
i.India to host Asian Football Confederation(AFC) Women's Asian Cup 2022.
ii.4th Asian Youth Para Games to be Held in Bahrain in December 2021. The event will be organised in partnership with the National Paralympic Committee(NPC) of Bahrain with the support of the local government.
About Haryana:
Capital- Chandigarh.
Governor– Satyadeo Narayan Arya.
Two time Oscar winner and actress, Olivia de Havilland passed away at the age of 104 in Paris, France
On July 24, 2020 Olivia de Havilland, two time Oscar Winner died at the age of 104 in Paris, France. 
She was known as a doe-eyed actress. She was born on 1st July 1916, in Tokyo, Japan. She served as the last surviving lead of the movie 'Gone with the Wind'. 
About Olivia de Havilland
Career
i.Notable works: Captain Blood (1935), The adventures of Robin Hood (1938), Gone with the Wind (1939), The Snake pit, The Heiress.
ii.Warren Bros chose de Havilland in 1934 to act with Mickey Rooney who played Puck. 
iii.She unchained the Hollywoods contract system which was later called as "De Havilland Law"  
Awards
i.On March 13, 1946, Olivia won an Oscar award for the movie 'To Each His Own' under the category Best supporting actress.
ii.Again in the year 1949 she won the second Oscar award for the movie "The Heiress'
iii.In the year 2008, Olivia was honored with, National Medal of Arts and France's Legion of Honor (Légion d'honneur) award after two years. 
American Actor John Saxon passed away at 83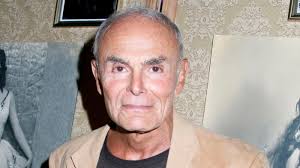 On 25th July 2020, the American actor, John Saxon passed away at the age of 83 at his residence in Murfreesboro, Tennessee due to pneumonia. He was born on 5th August 1936 as Carmine Orrico in Brooklyn, New York, United States of America.
Career:
i.John Saxon debuted in 1954 and starred in detective and horror shows like "A Nightmare on Elm Street".
ii.His first credited role was in the movie Running Wild (1955).
iii.He starred in around 200 movies and TV shows.
iv.He was best known for his role in "Enter the Dragon" (1973) starring Bruce Lee.
v.He also starred in westerns like Death of a Gunfighter, Joe Kidd (1972) and films like Rock, Pretty Baby (1956), Summer Love (1958) and The Reluctant Debutante (1958).
Awards:
He won the Golden Globe Award for the new star of the year in 1958 for the movie "This Happy Feeling".
Popular Jazz Singer and actor Annie Ross passed away at the age 89 in New York
On July 21, 2020, Annabella Allan Short popularly known as 'Annie Ross,' a British-American jazz vocalist, and actress of the 1950s, passed away at the age 89 in New York. She suffered from emphysema and heart disease.  She was born on 25 July 1930, in London, England.
About Annie Ross
i.Annie Ross was a lead vocalist of one of jazz's trio groups Lambert, John Hendricks and Ross. The team became famous after the hit of "Twisted" in 1952.
ii.In 1962, the group won a 'Grammy award' for the album, 'High Flying'.
iii.She married an English actor Sean Lynch who later died in a car crash. 
Career
i.Ross appeared in small plays like, "A view from the Bridge" with the musical production "The Pirates of Penzance". 
ii.Best known works– Yanks (1979), Superman III, Throw momma from the train, Short Cuts. 
iii.In 2014, Annie Ross released an album 'To Lady with love' – a tribute to Billie Holiday 
Awards and honors
i.In 2009 she received the ASCAP (American Society of Composers, Authors, and Publishers) Jazz Wall of Fame award. 
ii.In 2010 she received The National Endowment for the Arts Jazz Master's Award. 
iii.In 2011, the MAC (Manhattan Association of Cabarets & Clubs) Award for Lifetime Achievement was given to her. 
A new book "The India Way: Strategies for an Uncertain World" authored by External Affairs Minister Dr.S Jaishankar was published by HarperCollins, India
The India Way: Strategies for an Uncertain World, a book authored by External Affairs Minister Dr. S Jaishankar, argues about the standards of India in the global order. The book was published under the HarperCollins India publications. The book centers about the three burdens that India's foreign policy carries.
He insisted that India should not only visualise its interest but also try to communicate effectively.
The e-version of the book is available on Amazon.
About the book:
i.Three burdens, partition, delayed economic reforms and prolonged exercise of the nuclear option were listed in the book.
The three burdens in detail
The 1947 partition has reduced the nation demographically and politically.
The economic reforms took a decade and a half after those of China, the 15-year gap still puts India at its great disadvantage that delays economic reforms of India.
Prolong exercise of the nuclear option stands as another burden.
ii.India should have a bolder and non-reciprocal approach to its neighbourhood as the global financial crisis changed the international relations and rules. 
About the Author Dr. S. Jaishankar:
i.Dr. S. Jaishankar is currently the External Affairs Minister of India (Preceded by Sushma Swaraj)
ii.he served as the 31st Foreign Secretary from 2015 to 2018.
iii. He served as the Ambassador to the United States of America from 2013 to 2015, to China from 2009 to 2013 and to the Czech Republic from 2000 to 2004.
iv.He also served as the High Commissioner to Singapore from the year 2007 to 2009
v.He served as a president of the Tata Sons Private Limited.
A new book titled "Quest for Restoring Financial Stability in India"authored by former RBI deputy governor Viral V.Acharya
The book titled "Quest for Restoring Financial Stability in India"authored by former Reserve Bank of India(RBI) deputy governor Viral  V.Acharya. The book portrays his quest to restore financial stability in India and offers a concrete plan for sustained improvement. The book is published by SAGE Publications India Pvt Ltd.
Essence of the Book:
i.The book is a compilation of his speeches, research and comments as a member of the Monetary Policy Committee, mostly concerned with central banking.
ii.He shares a feasible plan to address the recapitalization needs of public sector banks, providing solutions on how to improve credit allocation by credit intermediaries and establish potential and efficient capital markets.
iii.The book also mentions the implicit pressure on the monetary policy committee to cut rates.
Note:
Viral V. Acharya is the C. V. Starr Professor of Economics in the Department of Finance at New York University Stern School of Business (NYU Stern).
He served as the deputy governor RBI(23rd Jan 2017 to 23rd July 2019)
82nd CRPF Raising Day: July 27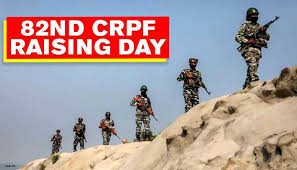 The Central Reserve Police Forces(CRPF)'s raising day is observed annually on July 27. This year marks the 82nd year of its existence. The CRPF came into existence as Crown Representative's Police on 27th July 1939.
It was renamed as CRPF on the enactment of the CRPF Act on 28th December 1949 by the country's 1st home minister Sardar Vallabhbhai Patel.
Note– This is the first time the force skipped its mega Raising Day event this year due to COVID-19 pandemic and physical distancing protocols.
Key Points
i.Union Home Minister Amit Shah released 3 documentaries prepared by the CRPF which depicts the role of its 'corona warriors', environment protectors and troops who were involved in internal security.
ii.CRPF in total has 3.25 lakh personnel. They have 3 main combat theatres namely, counter-terrorist operations in Kashmir Valley, counter-insurgency in north eastern states and anti-Naxal operations in Left Wing Extremism affected states.
About CRPF:
i.It is India's largest Central Armed Police Force and considered as India's largest paramilitary force.
ii.It functions under the Ministry of Home Affairs (MHA) of the Government of India.
Headquarters– New Delhi, India
Director General– A P Maheshwari,IPS
21st Kargil Vijay Diwas 2020 – July 26
26th July 2020 is celebrated as the 21st Kargil Vijay Diwas which marks the 21st anniversary of India's victory against Pakistan under Operation Vijay, launched to recapture the Indian Territories captured by the Intruders of Pakistani army in the Kargil Drass sector in 1999.
Background:
26th July of every year is observed as the Kargil Vijay Diwas in the honoured memory of the soldiers who sacrificed their lives in the 1999 Kargil war which took place from 3rd May to 26th July at Kargil, Kashmir and along the Line of control(LoC).
Kargil War:
i.As a part of the Operation Vijay Indian Army evicted the Pakistani intruders from Tiger hill and other posts.
ii.More than 500 officers, soldiers and jawans of Indian army lost their lives in the 3 months conflict.
2020 Events of Kargil Vijay Diwas:
i.Amit Shah, Union Home Minister paid tributes to the martyrs and stated that Kargi Vijay Diwas as the symbol of India's self-respect, bravery and leadership.
ii.The armed force and the civilians paid tribute to the Indian Army in the Union Territories of Jammu Kashmir and Ladakh.
iii.Floral tributes were paid to the soldiers at the war memorials across the nations.
About Indian Army:
Chief of Army Staff– General Manoj Mukund Naravane
About Ministry of Defence:
Union Minister– Rajnath Singh
Minister of State– Shripad Yesso Naik
Income Tax Day 2020 – July 24
24th July 2020 is marked as the 160th Income Tax day or Aaykar Diwas by the Income Tax Department. The Income Tax Day has been celebrated in India on 24th July since 2010. 
In 2010, The Income Tax Department declared July 24th as the annual Income Tax Day to mark the 150th year of this levy, the income tax was first imposed as a duty and came into force on 24th July 1860.
History:
Income tax was introduced in India by Sir James Wilson on 24th July 1860, to compensate for the losses of the British government due to the First war of Independence in 1857 
Events:
i.The regional offices of the Income Tax department conducts various activities in the week preceding the Income tax day.
ii.The best performing Indian Revenue Service and other officials of the Income tax department will be awarded on the income tax day.
Karnataka Cabinet Approved the New Industrial Policy for 2020-2025
On July 23, 2020 Karnataka Cabinet approved the new Industrial Policy for 2020-2025 that aims to attract Rs 5 lakh crore investment and create about 20 lakh employment over the next 5 years to help mitigate the economic impact of the COVID-19 crisis. The policy will introduce significant fiscal, labour, and land reforms and will focus on facilitating investments to the state by offering fresh incentives and easing regulatory processes.
The policy adopts a production turnover based incentive system instead of tax based incentives, a first such initiative in India
Key Cabinet approval
"The Industrial Disputes and Certain Other Laws (Karnataka Amendment) Ordinance"2020
To set up the Karnataka Digital Economy Mission under section 8 of the Companies Act, 2013 to promote 7,000 start-ups, e-commerce and other gig economy companies. 49% of the share will be held by the state and remaining 51% by the industries.
New Industrial Policy for 2020-2025
Purpose
The policy will help the state to emerge as a global leader in advanced manufacturing, research and development and innovation. It will also aid the state to create an ecosystem for an inclusive, balanced and sustainable development of the state.
Upgrades Tier 2 and Tier 3 cities- It will promote Tier 2 and Tier 3 cities as engines of economic growth.
Grouped districts into 3 zones
It has grouped districts of the State into three zones, to incentivise investments in the industrially backward districts.
The Industrially backward districts are classified in Zone-1 & 2 and Bengaluru Urban and Rural districts are classified in Zone-3.
Industries promoted– New industrial policy promotes automobile, auto components, pharmaceutical,machines and tools, surgical equipment, defence, electrical vehicles and mechanical based industries.
Note– The policy also outlines the target of the state to reach 3rd position in merchandise exports in the next 5 years.
Industrial Disputes and Certain Other Laws (Karnataka Amendment) Ordinance 2020
This ordinance will address the challenges faced by industries due to the COVID-19 pandemic.
The ordinance will amend some provisions under the Industrial Disputes Act, 1947 the Contract Labour (Regulation and Abolition) Act, 1970 and the Factories Act, 1948
Provisions
Industrial Disputes Act, 1947
As per the Amendment made to Section 25(K) of the act, the worker threshold will increase from 100 to 300. ie., those establishments that employ 300 or more people will have to seek the government's permission for closure, retrenchment, or layoff.
Contract Labour (Regulation and Abolition) Act, 1970
This will allow factories that hire less than 20 contract workers for electrified units and less than 50 contract workers for non-electrified works to function without government nod or inspections.
Factories Act, 1948
i.The overtime limit per quarter is increased from 75 to 125 hour.
ii.Earlier, those factories, with electricity connection and employing over 10 workers or factories without power hiring over 20 workers, came under the Act. Now the limit has been raised to 20 and 40 respectively.
Other Amendments
The periodicity of the revision of minimum wages will be fixed under the Minimum Wages Act, 1948 and will be linked to factors like inflation and the consumer price index.
Note– The amendments were based on the recommendations made by the Ministry of Labour and Employment in May.
Recent Related News:
i.The Jammu & Kashmir Administration approved the Agriculture Production Department's proposal to change its nomenclature to "Agriculture Production & Farmers Welfare Department" and announced new rules for appointments to various posts.
ii.the Himachal Pradesh (HP) state government has decided to launch employment guarantee scheme called "'Mukhya Mantri Shahari Rojgar Guarantee Yojna" that will provide 120 days of employment to those living in urban areas.
About Karnataka:
Capital– Bengaluru
Chief Minister– B. S. Yediyurappa
Governor– Vajubhai Vala
Delhi CM Arvind Kejriwal, launched a free website portal named 'Rozgaar Bazaar' for job seekers, employers 
On July 27, 2020 the Delhi chief minister, Arvind Kejriwal launched a free website http://jobs.delhi.gov.in named 'Rozgaar Bazaar 2020' via video conference. The portal connects the job seekers and the recruiters on one platform.
Aim- To boost the economy and employment in Delhi.
About Rozgaar Bazaar
i.In this website, the employers and companies can post their jobs and vacancies.
ii.Also, those who are searching for a job can update their information of their qualification, experience and area of interest.
iii.The job portal is free of cost and no fee for registration would be required.
iv.Traders and industrialists are requested to join hands under 'Rozgaar Bazaar' to boost the economy of Delhi.
v.These measures are finalised by a 12-member committee headed by the vice chairman of Dialogue and Development Commission of Delhi (DDC), Jasmine Shah.
Recent related news
i.HRD &Urban development ministries & AICTE jointly launches 1st of its kind student internship programme, "The Urban Learning Internship Program (TULIP)" to provide opportunities for ULB and Smart Cities.
ii.Under the joint initiative by the MSDE, MoCA and MEA, the Union govt. has launched a new initiative Skilled Workers Arrival Database for Employment Support(SWADES) to conduct a skill mapping exercise of the returning citizens under the Vande Bharat Mission (VBM).
About Delhi
Chief Minister – Arvind Kejirwal
Lt. Governor – Anil Baijal 
Road in Lucknow named after former MP Governor Lalji Tandon: UP
The Lucknow Municipal Corporation,Uttar pradesh(UP), has named a road Lucknow-Hardoi as Tandon Marg and a crossing Chauk Chauraha as Lalji Tandon Chauraha after former Madhya Pradesh(MP) Governor Lalji Tandon.