Prahlad Singh Patel virtually inaugurated 1st golf course of Mizoram, "Thenzawl Golf Resort"
Union Minister of State for Culture & Tourism (Independent charge) Prahlad Singh Patel virtually inaugurated the first golf course of Mizoram i.e. "Thenzawl Golf Resort" Project, implemented under the Swadesh Darshan (SD) Scheme of Ministry of Tourism, from New Delhi.
The Project was sanctioned under the "Integrated Development of New Eco Tourism" of Swadesh Darshan project and was constructed by Edufice Infraservices Private Limited of New Delhi.
It should be noted that the centre has sanctioned Rs.92.25 Crore for development of the North East Circuit at Thenzawl & South Zote, District Serchhip and Reiek, Mizoram out of which an amount of Rs.64.48 Crore was sanctioned for various components at Thenzawl including the Golf Course.
India has more than 230 golf courses in all.
About Thenzawl Golf Resort:
The Golf Course at Thenzawl is designed by Graham Cooke and Associates, a Canada based Golf Course architectural firm, which is at par with international standards. The total site area is 105 acres and the play area is 75 acres, where there is 18 Hole Golf Course with Sharing Fairway and automated sprinkler irrigation system by Rain Bird, USA (United States of America).
There are also 30 Eco log huts with the woods imported from Russia.
This golf resort will provide quality golfing experience and international facilities at a fair price.
Other Participants at virtual ceremony: Tourism Minister of Mizoram, Robert Romawia Royte and Commissioner and Secretary for Tourism Department of Government of Mizoram, Smt. Esther Lal Ruatkimi
Recent Related News:
On May 23, 2020, Mizoram state cabinet cleared the proposal of the Sports and Youth Service department to grant sports an industry status to boost the sports sector, generate employment, increase value of sports & to attract private companies to invest in sports which will benefit in terms of subsidy, loans and concessions. It becomes the 1st state to do so.
About Mizoram:
Chief Minister (CM)– Zoramthanga
Governor– P.S Sreedharan Pillai
eVIN to Strengthen Immunisation Supply Chain, reached 32 States & UTs
The Electronic Vaccine Intelligence Network (eVIN), which is used for efficient vaccine logistics management has reached 32 States and Union Territories (UTs) and will soon be rolled-out in the remaining State of Sikkim and Union Territories (UTs) of Andaman & Nicobar Islands, and Chandigarh, an Ladakh. Currently, 23,507 cold chain points across 585 districts of 22 States and 2 UTs routinely use the eVIN technology.
eVIN provides real-time information on vaccine stocks and flows, and storage temperatures across all cold chain points in the country amid COVID-19.
About eVIN:
Aimed at strengthening immunization supply chain systems in India, eVIN is being implemented under National Health Mission (NHM) by Ministry of Health and Family Welfare (MoHFW). It ensures continuation of the essential immunization services to protect children and pregnant mothers against vaccine preventable diseases.
Since April 2020, 8 States (Tripura, Nagaland, Manipur, Meghalaya, Arunachal Pradesh, Haryana, Punjab and Maharashtra) are using the eVIN application with 100% adherence rate to track State specific COVID-19 material supplies, ensure availability and raise alerts in case of shortage of 81 essential drugs and equipment.
Notably, with eVIN Vaccine availability at all times has increased to 99% in most health centers. Also there is an activity rate of more than 99%, instances of stock-outs have reduced by 80%, and the time taken to replenish stocks has also decreased by more than half, on an average.
Over 41,420 vaccine cold chain handlers provided training on eVIN and nearly 23,900 electronic temperature loggers have been installed on vaccine cold chain equipment for accurate temperature review of vaccines in storage.
Recent Related News:
On June 12, 2020, Shri Rajesh Bhushan, the officer on Special Duty of Ministry of Health and Family Welfare has launched a National Healthcare Supply Chain Portal Aarogyapath (https://www.aarogyapath.in) to provide real-time availability of critical healthcare supplies with the involvement of manufacturers, suppliers and customers.
About Ministry of Health and Family Welfare (MoHFW):
Union Minister– Dr. Harsh Vardhan
Minister of State (MoS)– Ashwini Kumar Choubey
Uttarakhand to develop India's first snow leopard conservation centre in Uttarkashi forests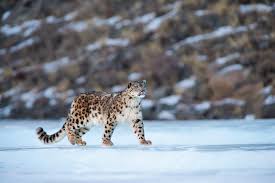 On August 01, 2020 Chief minister of Uttarakhand Trivendra Singh Rawat chaired a meeting along with State forest minister Harak Singh Rawat and other officials to look into the setting up of the conservation centre.
i.The conservation centre is set to come up at a place named Lanka, near Bhaironghati bridge in Uttarkashi district.
ii.It will be built by the Uttarakhand forest department along the United Nations Development Programme (UNDP) as part of its six-year long project Securing livelihoods, conservation, sustainable use and restoration of high range Himalayan ecosystems (SECURE) Himalayas.
iii.Dutch Conservation Architect Anne Feenstra shared the details of the conservation centre.
iv.The conservation centre is expected to create awareness of the Big Cat among the people.
Snow Leopard in Uttarkhand:
i.According to several researches, Uttarakhand is home to 86 snow leopards at present.
ii.In Uttarakhand, snow leopards are found in Nanda Devi Biosphere Reserve, Gangotri National Park, Askot Wildlife Sanctuary and other places of altitude between 3000-4500 meters.
About Snow Leopard:
According to the World Wild Fund for Nature India (WWF), India is home to 450-500 snow leopards.
Snow Leopard is listed under Schedule – I of Wildlife Protection Act of India which gives the big cat absolute protection against hunting and poaching .
It is listed as "vulnerable" by the International Union for Conservation of Nature (IUCN) Red list.
SECURE Himalayas:
i.Securing livelihoods, conservation, sustainable use and restoration of high range Himalayan ecosystems (SECURE) is a programme which aims to ensure conservation of locally and globally significant biodiversity in the high himalayan ecosystem.
ii.The programme aims to enhance the lives and livelihoods of local communities.
iii.It was launched by the Union Ministry of Environment, Forests and Climate Change (MoEFCC) in association with the United Nations Development Programme (UNDP) in January, 2017.
About Uttarakhand:
Capital – Garsain (Summer), Dehradun (Winter)
Chief Minister – Trivendra Singh Rawat
Governor – Baby Rani Maurya
Northern Railway runs the first-ever Vyapar Mala express train for small traders
On August 1, 2020 the Northern Railway ran its first Vyapar Mala Express train from Kishanganj in Delhi bound for Jirania in Tripura. It will help small traders to move their cargo in short time, cost effective, convenient and environment-friendly mode of transportation.
The train has 46 wagons and It is an express service where piece-meal stock will reach its destination in a shorter time.
Other facts about the train:
i.The train departed at Kishanganj, Delhi to reach Jirania and It will cover 2673 Km from Punjab to Tripura.
ii.Wheat was loaded in 34 wagons at Guniana station of Firozpur Division by Food Corporation of India and Rice and Pulses have been loaded in the remaining wagons.
iii.The Railway board has earned more than ₹ 94 lakh from this Vyapar Mala Express train.
iv.It will help the smaller traders to move their cargo in short time, cost effective, convenient and environment-friendly mode of transportation.
About Northern Railway
Headquarters – New Delhi railway station
Division – Ambala (Haryana), Delhi railway division, Firozpur (Punjab), Lucknow (Uttar Pradesh), Moradabad (Uttar Pradesh)
India contributed USD 15.46 mn to India-UN Development Partnership Fund of UNOSSC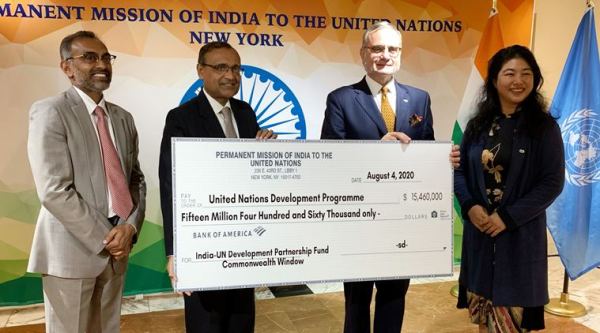 On August 5, 2020, the Government of India (GoI) has contributed USD 15.46 million to the India-UN (United Nations) Development Partnership Fund as a support to fellow developing nations for their 2030 Agenda for Sustainable Development and related projects.
In this regard, a cheque of USD 15.46 million handed over by India's Permanent Representative to the UN Ambassador T S Tirumurti to the United Nations Office for South-South Cooperation (UNOSSC) Director Jorge Chediek at a ceremony held within social distancing guidelines at the Permanent Mission of India to the UN.
Out of USD 15.46 mn, USD 6 million is contributed to the overall fund, in which all the developing countries are eligible for partnership, and USD 9.46 million dedicated to the Commonwealth countries.
About India-UN Development Partnership Fund
Initiated in 2017, it is a dedicated facility within the UNOSSC which is supported and led by the GoI, managed by the UNOSSC, and implemented in collaboration with the partner developing countries of UN system.
Since the fund's inception, 55 projects and proposals have been approved to date with a total contribution of USD 41.8 million towards a USD 150 million multi-year pledge.
Recent Related News:
India with 12 other countries lead the "Verified" initiative launched by the United Nations (UN) on 21st May 2020, to fight the spreading of misinformation (Infodemic) about COVID-19 with fact-based accurate information.
About United Nations Office for South-South Cooperation (UNOSSC):
Envoy of the Secretary-General on South-South Cooperation– Jorge Chediek
Headquarter– New York, United States (US)
Aditya Birla Health Insurance Launches New Services and Products for COVID-19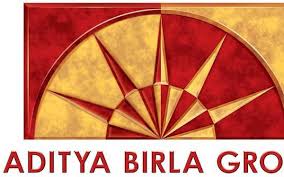 Aditya Birla Health Insurance Company Limited (ABHICL), the health insurance arm of Aditya Birla Capital Limited, has introduced new services, product solutions & add-ons to the existing products to enable customers to safeguard their health during COVID-19 i.e., from the 1st stage of virus detection to post-recovery phase covering pre and post-hospitalization expenses.
New Offerings
i.Minimise the Initial waiting period– ABHICL to minimise the Initial waiting period from 30 to 15 days for all the policyholders for COVID-19 related Inpatient Hospitalization claims. This offering will be launched for policyholders soon.
ii.Extending the Home Treatment Facility– Another new key offering to be introduced is to extend the Home Treatment Facility to policyholders, otherwise who require hospitalization and where policyholders have been advised Home Treatment by the treating Doctor as per the Indian Council of Medical Research (ICMR) guidelines.
Add- ons
i.All the indemnity products of ABHICL, namely, Activ Health, Activ Assure and Activ Care offer hospitalisation covers, in-patient treatment, pre-hospitalisation, post-hospitalisation, and ambulance cover for COVID-19.
ii.Hospi cash products like the Group active health and Group active secure also cover COVID-19 treatment on indemnity and on a fixed benefit basis.
Corona Kavach Policy
Recently ABHICL has launched 'Corona Kavach Policy', a compensatory health insurance product that covers COVID-19. It covers hospitalisation expenses in case of inpatient admission due to COVID-19 infection and any other co-morbidity which a patient may have.
Key Info– To ensure proper service to policyholders and customers during COVID times, ABHICL has initiated several alternate processes.
Other initiative & campaign launched by ABHICL
i.ABHICL has launched an initiative 'Active [email protected]' during the lockdown to facilitate seamless healthcare to patrons during the lockdown.
ii.It has also launched a campaign #HealthFromHome that re-imagined a healthy lifestyle for Indians during the lockdown.
Recent Related News:
i.IndiaFirst Life Insurance Associates with BOB Financial to Offer COVID-19 cum Hospital Cash Cover to BOB Credit Cardholders.
ii.Karnataka Vikas Grameena Bank(KVGB) launched 'Vikas Abhaya' a loan scheme to provide some relief to Micro, Small and Medium Enterprise(MSME) borrowers whose business activities are disrupted on account of the COVID-19 pandemic in Dharwad.
About ABHICL
Headquarters– Mumbai, Maharashtra
CEO– Mayank Bathwal
Airtel Announced the Multi Year Strategic Collaboration with Amazon to Tap Startups and SME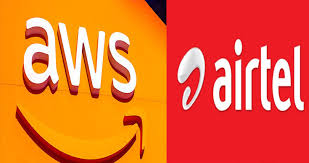 On 5th August 2020, Bharti Airtel announced the multi-year Strategic Collaboration Agreement (SCA) with Amazon Web Services(AWS) to provide a comprehensive set of cloud solutions to the large enterprises and Small and Medium Enterprises(SME) customers in India.
Features of the agreement:
i.Bharti Airtel will act as a channel partner for AWS to tap startups and SMBs and sell the products of AWS and bundle them with its public cloud offerings.
ii.The products linked to artificial intelligence and Edge among others will be offered to the SMBs.
iii.The Airtel cloud will build an AWS cloud practice supported by AWS professional services and will also develop differentiated Airtel Cloud products and capabilities that enhance AWS services, Airtel's data center capabilities and Airtel's network and telecommunications offerings.
iv.The integrated sale, consulting and support approach from Airtel and AWS and the enhanced security, scalability and cloud management will benefit the customers of Airtel.
v.Airtel Cloud will offer customers a range of AWS services including Windows on AWS, SAP on AWS, VMware Cloud on AWS, database migration, and security and risk governance solutions.
vi.This partnership may extend to the collaboration around the Internet of Things(IoT) segment and machine learning (ML) to support the customers to adopt new services.
Key Points:
i.International Data Corporation(IDC) Semiannual Public Cloud Service Tracker Forecast 2019 H2 stated that the public cloud services market in India will reach around 7.1 billion USD in 2024 with a compound annual growth rate (CAGR) of 20.3% from 3.4 billion USD in 2020.
ii.Airtel serves more than 2500 large enterprises and numerous emerging businesses with an integrated product portfolio.
iii.Airtel provides data centre services, managed services, and cloud services to top India and global enterprises, start-ups, SMEs, and governments with multiple strategic alliances.
About Bharti Airtel Limited:
MD & CEO– Gopal Vittal (India and South Asia)
Headquarters– New Delhi
Recent Related News:
i.Deendayal Antyodaya Yojana- National Urban Livelihoods Mission (DAY- NULM) functions under the Ministry of Housing and Urban Affairs(MoHUA) signed MoU with Amazon for electronic marketing (e-Marketing) of products made by Self Help Groups across the Country.
ii.United Nations Children's Fund (UNICEF) partnered with Bharti Airtel's Africa Arm to support the school children in the coronavirus affected areas and provide them access to remote learning.
US conducted test flight of unarmed Minuteman 3 missile
On August 4, 2020, the United States (US) Air Force conducted a scheduled test launch of an LGM-30G Minuteman III, an intercontinental ballistic missile (ICBM) carrying a load of three unarmed reentry vehicles, from Vandenberg Air Force Base in California, US to a target in the Pacific Ocean. Missile's three reentry vehicles traveled 4,200 miles (6,759 kilometers) to the Kwajalein Atoll in the Marshall Islands as part of a developmental test.
This launch was an essential test to sustaining the aging Minuteman 3 nuclear weapon system.
The launch calendars are developed three to five years in advance, and planning for individual launches takes six months to a year.
About Minuteman III:
Minuteman III, an Intercontinental ballistic missile manufactured by Boeing is a long-range, solid-fuel, three-stage ICBM with the capability to carry single or multiple nuclear warheads. It has a range of more than 6,000mi (5,218 nautical miles) and speed of approximately 24,000km/h (15,000mph) at burnout.
Recent Related News:
On April 14, 2020, According to the Defense Security Cooperation Agency, the US (United States) President Donald Trump's administration has approved the sale of Harpoon Block II air-launched anti-ship missiles & MK 54 lightweight torpedoes priced a total of $ 155 million to India to combat regional threats and increase the security of its soil.
About United States (US):
Capital– Washington, D.C.
Currency– United States Dollar
President– Donald John Trump
CPCB Developed COVID19BWM App to Track Biomedical Waste: Recommended by SC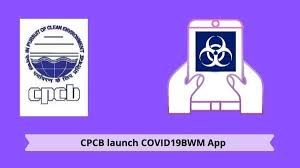 The Supreme Court (SC) has made it mandatory for all municipal corporations and state pollution control boards to use the 'COVID19BWM App' to track biomedical waste on a daily basis. This ensures that the waste is collected, transported and sent to a registered common biomedical waste treatment facility.
The app was developed by the Central Pollution Control Board (CPCB) in May 2020 following the directions from the National Green Tribunal(NGT).
Background
The direction came on recommendations made in a report by the Environment Pollution (Prevention and Control) Authority (EPCA).
Key Info
i.The bench of Justices Arun Mishra, BR Gavai and Krishna Murari directed the municipal corporations to send the biomedical waste to the common biomedical waste treatment facility (CBWTF).
ii.The court also directed the Centre and CPCB to create a national barcode system or portal to track biomedical waste
iii.The municipal corporations and state pollution control boards have been asked to ensure that the common facilities have online continuous emission monitoring systems installed in the plants and that the data from this is transmitted to both the state board website as well as CPCB.
Note– It is not mandatory for the municipal corporations to register on the app.
About the app
The app allows the generator of waste (urban local body in the case of home care and hospital or laboratory), the picker of the waste (transport of the ULB or the waste treatment facility) and the waste treatment operator to enter the data so that COVID-19 biomedical waste can be tracked and monitored.
Recent Related News:
i.The Government of India (GoI) has officially launched its 1st comprehensive coronavirus (COVID-19) tracking app called 'Aarogya Setu'. The app has been developed by the National Informatics Center (NIC) in collaboration with the Ministry of Electronics and Information Technology (MeitY) in just 4 days.
ii.The Government of India has launched a Coronavirus risk-tracking Application (app) called "CoronaKavach". The app was jointly developed by the Union Ministry of Electronics and Information Technology (MeitY) & the Union Ministry of Health and Family Welfare (MoHFW).
About CPCB
CPCB was constituted in September, 1974 under the Water (Prevention and Control of Pollution) Act, 1974. It functions under the Ministry of Environment, Forest and Climate Change (MoEFC).
Chairman- Shri Shiv Das Meena, IAS
New twighopper species named Cladonotus bhaskari after Kerala researcher Dhaneesh Bhaskar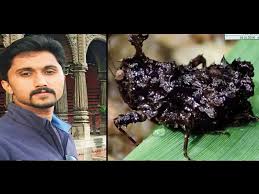 After a span of 116 years, a first new species of twighopper, genus Cladonotus Saussure, was discovered from the Sinharaja rainforest of Sri Lanka by Croatian and German researchers. The interesting fact is that this cockcomb-shaped twighopper has been named as Cladonotus bhaskari after Dhaneesh Bhaskar, a young conservation biologist and grasshopper expert from Kerala Forest Research Institute (KFRI).
A twighopper is a pygmy grasshopper which has resemblance to tiny twigs.
Notably, this newly discovered species is also the first known female of the genus, and its photograph is the first photo of the member of this genus in the natural habitat.
The new species is clearly distinguished from other species of the genus by its long and spine-like frontomedial projection and cockscomb-shaped promedial projection.
Recent Related News:
On May 25, 2020, Professor Mathews Plamoottil, head of the Department of Zoology at the BJM Government College, Chavara (Kerala), has detected a new species of silver colored small freshwater fish "Puntius sanctus" of the Cyprinidae family in Velankanni ,Tamil Nadu(TN).
Polar Bears in Arctic will become extinct by 2100: The Study published in Nature Climate Change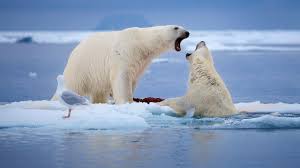 The new study of University of Toronto Scarborough published in the journal of Nature Climate Change titled "Fasting season length sets temporal limits for global polar bear persistence" on 20th July 2020, states that climate change is starving the polar bears into extinction and concluded that the Polar bears in the Arctic will become extinct by 2100.
The study is the first of its kind to offer a timeline on the loss of arctic sea ice that will affect the reproduction and survival ability of the polar bears.
Péter Molnár, assistant professor in the department of biological sciences at the University of Toronto Scarborough was the lead author of the study.
Note:
Polar bears are listed as vulnerable to extinction by the International Union for Conservation of Nature (IUCN), with climate change a key factor in their decline.
Decline in Sea Ice:
i.The sea ice of the arctic region has been declining at the rate of 13% per decade since 1970, which provides a vital habitat for the wild lives like polar bears, seals and walruses.
ii.The study shows the declining sea ice forces the carnivores to cover more hunting areas.
iii.The report states that the animals have reached their survival limits due to the shrink of arctic sea ice.
Survival of Polar Bears:
i.The bears face a longer fasting period before the ice refreezes impacts the survival of the cubs and adults.
ii.The male bears weigh around 20% less than their normal body weight.
iii.The female bears and the cubs are affected due to the reduced body fat of the female bears which is necessary to produce milk.
iv.The female bears without cubs have capacity to last a long period without food than the females with cubs.
v.The decreasing body weight reduces the chance of their survival in the Arctic winters without food.
vi.The study concluded that the high greenhouse gas emission, and declining reproduction and survival will jeopardize the high arctic subpopulations by 2100.
Recommendation:
The moderate reduction in the emission of greenhouse gases will increase the life expectancy of the polar bears.
Key Points:
i.Earth's average surface temperature rising 3.3 degrees Celsius above the preindustrial benchmark.
ii.Out of all the animals classified as threatened with extinction only polar bears are endangered primarily by climate change.
iii.The polar bears in 12 of the 13 subpopulations will have been decimated within 80 years due to increasing arctic temperature.
iv.Only around 25,000 polar bears are there in the wild and if the current scenario continues the polar bears will only be found in the Queen Elizabeth Islands – an archipelago in Canada by the end 2100.
Recent Related News:
i.80% Indian bird species population on decline in past 5 yrs: State of India's Bird 2020 report.
ii.Genetic study revealed the endangered red panda is actually two separate species.
Spanish Footballer Iker Casillas announces retirement at 39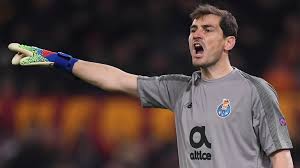 On 4th August, 2020 Spain's World Cup-winning Captain and Goalkeeper Iker Casillas announced his retirement. In 2014, Casillas became one of four players to represent Spain at four World Cups. Iker Casillas was born 20 May 1981 in Móstoles, Spain.
i.As Captain, he helped Spain lift the 2010 World Cup in South Africa and win two successive European Championships in 2008 and 2012.
ii.With 167 International Caps, Casillas has the second most International appearances for Spain.
iii.Casillas has played for Real Madrid for 16 years, winning three champions league titles and five la liga crowns.
iv.He joined Portugese club Porto in 2015 and made 156 appearances winning two Primeira Liga titles and one Portuguese Cup.
Iker Casillas hadn't played for Porto since May last year, after he had a heart attack during a practice session.
Honors:-
i.In 2008, Casillas finished fourth overall in the Ballon d'Or.He was named as the World's best Goalkeeper for a record 5 times by International Federation of Football History & Statistics(IFFHS).
ii.Casillas won the Yashin Award (FIFA World Cup Golden Glove) in 2010 World Cup after he kept a joint–record five clean sheets.
iii.He received the Gold Medal of Royal order of Sporting Merit in 2009 and Royal Order of Sports Merit Cross in 2015. The order is intended to recognize distinguished service in sports and physical education, it is awarded by his Majesty the King of Spain.
Former Maharashtra CM, Shivajirao Patil Nilangekar passed away at 88 in Pune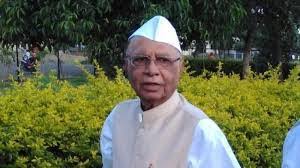 On August 5, 2020, Senior Congressman and former Maharashtra Chief Minister(CM) Shivajirao Patil Nilangekar passed away at the age of 88 in Pune, Maharashtra. He Was born on 1 September 1931 in Nilanga, Hyderabad state (British India).
About Dr. Shivajirao Patil Nilangekar
i.He had served as the 10th Chief Minister of Maharashtra for a year between 3rd June 1985 and 6th March 1986.
ii.He also served as the member of Maharashtra Legislative Assembly from 1962 to 2014 in the constituency of Nilang.
iii.He established the Maharashtra Educational Trust in the year 1968.
About Maharashtra:
Capital – Mumbai
Chief Minister – Uddhav Bal Thackeray
Governor – Bhagat Singh Koshyari
Father of Modern Indian theatre & Padma Awardee Ebrahim Alkazi Passed Away at 94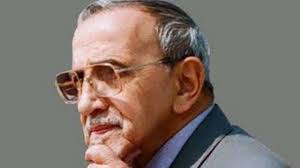 On August 4, 2020 The Father of Modern Indian theatre, Ebrahim Alkazi passed away at the age of 94 in Escorts Hospital, New Delhi due to a massive heart attack. He was a theatre director, drama teacher, and the longest-serving director of the National School of Drama(NSD) i.e., from 1962 to 1977. He was credited for revolutionising India theatre. He was born on October 18, 1925 in Pune, Maharashtra.
He won the Padma Vibhushan in 2010, Padma Bhushan in 1991, Padma Shri in 1996.
Note- In his tenure as director of NSD he mentored students who became great actors, including Naseeruddin Shah, Nadira Babbar, and Om Puri.
Key Info
He was also a noted art connoisseur, collector and gallery owner. He founded the Art Heritage Gallery in Delhi with his wife, Roshan Alkazi.
Gist About Ebrahim Alkazi
Personal Info– He has a son Feisal Alkazi and a daughter Amal Allana, both well known theatre directors. He was also described as, "last of the Romans"
Contribution to Modern Indian Theatre
Ebrahim Alkazi's contribution towards modern Indian theatre includes the following: bringing in technical aspects of the craft and making the NSD the premier training institute for theatre among others.
Plays Directed
i.He directed over 50 plays including famous productions of: Girish Karnad's Tughlaq and Dharamvir Bharati's Andha Yug and numerous Shakespeare and Greek plays.
ii.He staged Oedipus Rex (1964), King Lear (1964) and Moliere's The Miser (1965) in Hindi.
Awards
1st recipient of Roopwedh Pratishtan's the Tanvir Award (2004) for lifetime contribution to the theatre, Sangeet Natak AkademiAward in Direction(1962) and the Sangeet Natak Akademi Fellowship for lifetime contribution to theatre among others.
Recent Related News:
i.National awardee and Veteran filmmaker Basu Chatterjee passed away.
ii.Padma Shri Ved Prakash Marwah, former governor and Delhi police commissioner passed away at 87.
About Padma Awards
The Padma Awards are one of the highest civilian honours of India announced annually on the eve of Republic Day. The award seeks to recognize achievements in all fields of activities or disciplines where an element of public service is involved.
3 categories of the Award: Padma Vibhushan (for exceptional and distinguished service), Padma Bhushan (distinguished service of higher order) and Padma Shri (distinguished service).
Padma Awards Committee– The Padma Awards are conferred on the recommendations made by the Padma Awards Committee, which is constituted by the Prime Minister every year.
Nomination– The nomination process is open to the public. Even self-nomination can be made.
William English, co-creator of computer mouse, passes away aged 91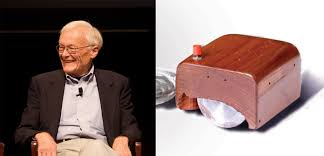 On July 26, 2020 the co-creator of the mouse, Mr. William English died at the age of 91 in California due to respiratory failure. He was born in 1929, Kentucky and studied electrical engineering at university before joining the US Navy.
He built the first mouse in 1963, with the help of the sketches made by Doug Engelbart while they were working on early computing.
About his invention
i.The first prototype of the mouse was built at the Stanford Research Institute (SRI) which was a wooden block with a single button, two rolling wheels underneath at 90-degree angles that would record vertical and sideways movement.
ii.In 1968, at the San Francisco's Civic auditorium, the mouse was put out to public view with demonstration using a video, and a NASA-owned projector, the size of a car. The demo was later called as "the mother of all demos."
iii.In 1971, English left the Stanford Research Institute and joined Xerox's Palo Alto Research Centre (PARC) where he replaced the wheels of the mouse to a rolling ball.
iv.English, also created the graphical desktop user interface system which is used by all modern computers.
Union Ministers Gajendra Singh Shekhawat & Smriti Irani Launch the book 'Swachh Bharat Kranti'
On 4th August, 2020 Union Minister for Jal Shakti, Gajendra Singh Shekhawat & Union Minister for Women & Child Development Smriti Zubin Irani launched the book 'Swachh Bharat Kranti' (Hindi) in New Delhi.
'Swachh Bharat Revolution' which was released in October 2019 has been translated into Hindi and published as "Swachh Bharat Kranti".
i.It has been edited by Parameswaran Iyer, Secretary of the Department of Drinking Water and Sanitation.
ii.The book captures the remarkable journey of Swachh Bharat Mission (SBM) and looks into the process behind the social revolution.
iii.Swachh Bharat Kranti contains 35 Essays from various stakeholders and contributors of Swachh Bharat Mission who share their perspective of the cleanliness mission.
Key Points:
i.The Book contains 4 key sections which are considered as the pillars of Swachh Bharat Mission's success
Political Leadership
Public Financing
Partnerships
People's Participation
ii.The book contains compilation of essays written by Arun Jaitley, Amitabh Kant, Ratan Tata, Sadhguru, Amitabh Bachchan, Akshay Kumar, Tavleen Singh, Bill Gates and others.
iii.Union Minister Smriti Irani commended the role of women in making the Swachh Bharat Mission, a true "Jan Andolan(People's movement )".
About Swachh Bharat Mission:
Swachh Bharat Mission was a country wide campaign to eliminate open defecation and improve solid waste management.
i.It was launched on 2nd October 2014 at Rajghat, New Delhi by Prime Minister Narendra Damodardas Modi.
Slogan – One step towards Cleanliness.
ii.The mission was split into two: rural and urban.
In rural areas "SBM – Gramin" financed and monitored through the Ministry of Drinking Water and Sanitation.
"SBM – urban" is overseen by the Ministry of Housing and Urban Affairs.
World Lung Cancer Day 2020: August 1
World Lung Cancer Day is observed annually on August 1 to raise awareness about the causes and treatment of lung cancer and its global impact, creating an educational movement to understand the risks of lung cancer and early treatment around the world.
The day highlights the problems that can arise due to lack of adequate research funding.
The World Lung Cancer Day campaign was initiated in 2012 by the Forum of International Respiratory Societies(FIRS) in collaboration with the members of the international lung health community such as the International Association for the Study of Lung Cancer (IASLC) and also including the American College of Chest Physicians (CHEST) in the U.S.
Significance of the day
The day reminds us that lung cancer continues to be one of the most common cancers worldwide, claiming more lives yearly than breast, colon and prostate cancers combined.
Facts about Lung Cancer
i.According to the World Health Organization(WHO) lung cancer is responsible for nearly 1 in 5 cancer deaths.
ii.The most frequently diagnosed cancer is lung cancer (11.6%), followed by female breast (11.6%) and colorectal cancers (10.2%)
iii.The lung cancer incidents around the world will increase by 38% to 2.89 million by 2030.
iv.Lung cancer is the leading cause of death from cancer at 1.74 million (18.4%), followed by colorectal (9.2%) and stomach cancers (8.2%).
v.The Lung cancer mortality is estimated to reach 2.45 million worldwide by 2030, a 39% increase since 2018.
Cancer survival rate in middle-income countries
The five-year cancer survival rate in middle-income countries for all types of lung cancer (19%) is lower than many other leading cancer sites, such as the colon (71%), breast (85%) and prostate (98.9%).
Access to treatment for Low-income & high-income countries
i.Low-income countries(where survival rates are significantly below the average) report only 15% availability of treatment through public health systems.
ii.More than 90% of high-income countries report vital access to care.
About Lung Cancer
Causes
Cigarette smoking(the biggest cause i.e., 80% ), Passive smoking, or secondhand smoke, Air pollution, Chemical Exposure, Genetic Mutations, Family History, Lung diseases, such as tuberculosis (TB) and chronic obstructive pulmonary disease (COPD), also create a risk for lung cancer.
Symptoms
The symptoms include change in mucus, chest or back pain, Spitting or coughing up blood, Cough, Difficulty in breathing, Hoarseness or problems of swallowing.
Diagnose
Tests that may be used to diagnose lung cancer include chest x-rays, CT and PET scans, bronchoscopy and needle biopsies
Treatment
i.Early-stage lung cancer is treated with curative-intent surgery or radiation therapy. Selective patients may benefit from chemotherapy after surgical resection.
ii.Molecular-targeted therapy against epidermal growth factor receptor (EGFR) mutations and anaplastic lymphoma kinase (ALK) re-arrangements attain tumor response rates of around 70%.
iii.Immunotherapy for lung cancer alone, or in combination with conventional treatments, can also improve outcomes for patients fighting lung cancer
iv.Environmental causes of lung cancer, such as radon and asbestos, can be monitored and reduced.
Note– The advanced stage lung cancer is not curable, many patients may have symptom improvement and survival prolongation by effective treatment.
Key Info
The IASLC World Conference on Lung Cancer (WCLC) is the largest organisation in the world of its kind that only deals with lung cancer.
Recent Related News:
i.World NoTobacco Day 2020: May 31
ii.World Brain Tumor Day 2020: June 8
About FIRS
The FIRS was established in 2001 by the international professional respiratory societies, CHEST, American Thoracic Society (ATS), Asian Pacific Society of Respirology (APSR), Asociación Latino Americana De Tórax (ALAT) among others.
Headquarters– Lausanne, Switzerland
International Plastic Bag Free Day 2020 – July 3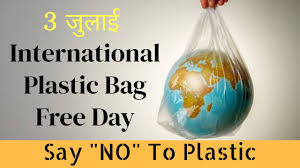 The International Plastic Bag Free Day is a global initiative by the activists from activist associations like Zero Waste Europe's Bag Free World and German Institute of Global and Area Studies (GAIA), observed on 3rd July every year to create a worldwide awareness about the Plastic pollution and the contribution of the single use plastics to the global catastrophe.
The first International Plastic Bag Free Day was observed on 3rd July 2009.
Background:
The day is dedicated to highlight the critical issues caused by that disposable single use carry bags and to create awareness on the effects of these plastics on nature, marine life and animal life.
Events:
i.To celebrate the International Plastic Bag free Day, more than 2000 organisations from all over the world participates in the #BreakFreeFromPlastic movement, global movements to eliminate the use of single-use plastics.
ii.These organisations work on the need for alternative to the disposable plastic bags to reduce the plastic pollution.
Key Points:
i.The plastic bag takes more than 100 to 500 years to completely decompose.
ii.More than 100000 marine lives are affected by the plastic bags.
Haryana CM Manohar Lal Khattar launched Parivar Pehchan Patras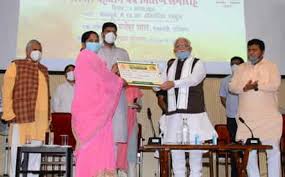 On 4th August 2020, Manohar Lal Khattar, the Chief Minister of Haryana launched a unique identity card, the Parivar Pehchan Patras (PPP), an initiative of the state government developed by the team CMO (Chief Minister's Office) for effective and efficient delivery of central and state schemes to the people in a transparent way.
Aim:
To monitor each family (around 54 Lakh) living across Haryana.
Parivar Pehchan Patras(PPP):
i.Under PPP each family will be considered as a single unit and will be allotted a 8 digit unique identification number.
ii.The 8-digit number will enable seamless delivery of state government services.
iii.The PPP will hold the data like the head of the family, name, age, income, contact number along with the information about the family's sector, city, district, village, tehsil, block and district.
iv.Every city and village will have unique code.
Features:
i.The Mukhya Mantri Parivar Samridhi Yogna (MMPSY) along with three pension schemes – Old Age Samman Allowance Scheme, Divyang Jan Pension Scheme, and Widow and Destitute Women Pension Scheme are integrated with the Parivar Pehchan Patra.
ii.Manohar Lal Khattar announced that the welfare schemes of all the departments will be linked with PPP within the next three months.
iii.The migrant workers registered with the Labour Welfare Board of Haryana has been synced with PPP.
Benefits:
i.The effective delivery of services and the reduction in corruption and red-tapism in the system will be achieved by integrating the schemes of all the departments with PPP.
ii.Under this initiative, Ration Cards of all those families would be prepared, which do not have a ration card but are eligible to have one of the appropriate category.
Key Points:
i.The golden data of around 18.19 lakh families out of the 56.20 lakh families of the state has been prepared and the PPP cards for them are being provided.
ii.An addition 20 Lakh cards will be provided by the end of August and the verification process for the remaining family IDs which are to be distributed in September will be completed by the end of August.
Note:
From 27th – 30th August 2020 special camps at villages and ward level will be organized to collect and verify data
Other events:
i.Manohar Lal Khattar distributed the Parivar Pehchan Patras, The Family Identity card to the eligible families at an event organised at Panchkula.
ii.He also announced that the State Government of Haryana has decided to celebrate 2020 as Susashan Sanakap Varsh.
iii.The PPP cards were distributed in the 21 districts of the state on 4th August 2020. He also inaugurated a portal for the registration of unorganised workers through PPP.
About Haryana:
Chief Minister– Manohar Lal Khattar
Governor– Satyadeo Narain Arya
Capital– Chandigarh
Recent Related News:
i.Chief Minister Mr.Manohar Lal Khattar and Deputy Chief Minister Mr.Dushyant Chautala of Haryana jointly launched Mukyamantri Parivar Samridhi Yojana scheme, providing financial assistance of Rs.6000 to the families below the poverty line.
Haryana Minister Anil Vij Launches "Works Management System" Web Portal to its ULBs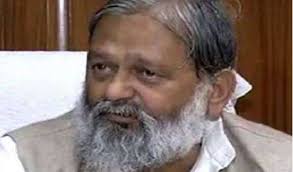 On 4th August 2020, Haryana's Urban local bodies and Home Minister Anil Vij launched the first of its kind, "Works Management System", a web-based, paperless and centralised web portal for the management and monitoring of the development works in the Urban Local Bodies(ULB) in Haryana.
Key Points:
i.This centralised web portal will bring in all the workings of ULB in Haryana under a single platform and any kind of delay in the completion of works will be displayed on the portal.
ii.The portal will enable transparency and reduce corruption in the state.
iii.The direction for the allotment of development projects in the municipal bodies and the completion of the entire process over online through this portal are provided.
iv.The training for the officers and employees are provided to ensure the seamless functioning of the system.
v.The portal will enable the Chief Minister, Additional Chief Secretary and the Director of the Department to access the progress of the development works on their dashboard and mobile phones.
Andhra Pradesh Government signed an MoU with ISB to drive economic growth of the state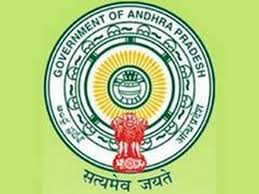 On August 5, 2020 the Andhra Pradesh Government virtually signed the Memorandum of Understanding (MoU) through the Economic Development Board, with the Hyderabad-based Indian School of Business (ISB) in order to work with various economic departments in the state.
The MoU was signed by the (CEO) Chief Executive of Andhra Pradesh Economic Development Board, J V N Subramanyam and ISB Dean Rajendra Srivastava signed in the presence of Industries and Commerce Minister Mekapati Goutham Reddy.
Objective: To recover the economy and to monitor the growth of the state during the COVID-19 phase.
About the MoU
i.The MoU has been signed to provide particular concentration on financial growth and job creation in Andhra Pradesh.
ii.The state government has collaborated with ISB in developing indicators for: monitoring economic recovery in the state, project on Visakhapatnam as growth engine, focus on food processing in Rayalaseema region, improving e-governance, data analytics unshackling informal sector growth and reshaping the skilling programs.
iii.According to the MoU, a laboratory called "GoAP-ISB Policy Lab" would be set up to drive the evidence-based policy decisions.
About the GoAP-ISB Policy Lab
Aim: To create a knowledge for strategic planning, policy analysis, data analytics and action-research essential for sustaining higher growth rate.
i.The lab is modelled by the lines of Policy Lab in the UK that works towards the objective of economic monitoring, recovery, and development.
ii.The data analytics is designed to move from mere descriptive analytics to predictive and prescriptive policy analytics which helps to conclude the economic conditions.
Other facts:
i.Data will be generalized using Randomized Control Trials (RCTs) that gather evidence to measure the impact of our policies.
ii.The Nobel Prize winners of the year 2019, were recognized for pioneering the RCT approach to the development of the economy.
Recent Related News:
i.On June 10, 2020 Andhra Pradesh(AP) Chief Minister(CM) Yeduguri Sandinti(YS) Jagan Mohan Reddy launched the 'Jagananna Chedodu' scheme to provide financial assistance to tailors, barbers and dhobis(washermen). Under the scheme, Rs 10,000 per person was provided to 2.47 lakh washermen (82,347), barbers (38,767) and tailors (1,25,926).
ii.On May 22, 2020 Andhra Pradesh(AP)'s Chief Minister(CM) Y.S. Jagan Mohan Reddy has launched Rs 1,110 crores 'ReStart' a new programme to support & boost the Micro, Small and Medium Enterprise(MSME) sector in the State.
About Andhra Pradesh:
Capital – Amaravati
Chief Minister – Y. S. Jaganmohan Reddy
Governor – Biswabhusan Harichandan
About Indian School of Business (ISB)
Chairman – Harish Manwani
Location – Hyderabad Telangana and Mohali
A device named "AJO-Neo" developed : SNBNCBS
S.N. Bose National Centre For Basic Sciences (SNBNCBS), Kolkata, an autonomous research Institute under the Department of Science and Technology (DST), Government of India,has developed a No-touch & Painless device named "AJO-Neo" for non-invasive screening of bilirubin level in new-borns.
KVIC and ITBP sign MoU to supply mustard oil
In a bid to support the "Atmanirbhar Bharat Abhiyan" initiative, Khadi and Village Industries Commission (KVIC) and Indo-Tibetan Border Police(ITBP) have signed a Memorandum of Understanding (MoU) to supply mustard oil
Note: ITBP became the first Central Armed Police Force (CAPF) to have supplies from the KVIC.
About KVIC:
Chairman– Vinai Kumar Saxena
Headquarters– Mumbai, Maharashtra