This GATE Mechanical Engineering Video Course. Is developed by the Experienced Faculty of Well Academy and is Latest updated with the best explanation. This course is useful to Prepare for GATE. & ESE Exam, Also this will help you to crack Exams like BARC, ISRO and Many more PSU Exams.
Opportunity After GATE ME
Post Graduate(M.TECH)

Better job opportunities.
Higher pay packages.
Subject specialisation.
Handsome stipend.
Research opportunities abroad.
Public Sector Undertaking (PSU) Entrance.

High pay packages (above ₹50,000 per month).
Work-life balance.
Extra benefits such as oil or electricity at a subsidised rate.
Support for higher education such as MBA.
Other Benefits

BARC Recruitment
Scholarships through GATE
A career in Top MNCs
Study Visa Through GATE
Why Well Academy
700+ hours Content
Complete Coverage of GATE Syllabus
Dedicated Doubt & Discussion Support
Chapter-wise E-books
Mock Test
2000+ Practice Question
Batch Language For GATE ME
Teacher will teach in: English And Hindi
Quizzes/Mock Test: English
Study material: English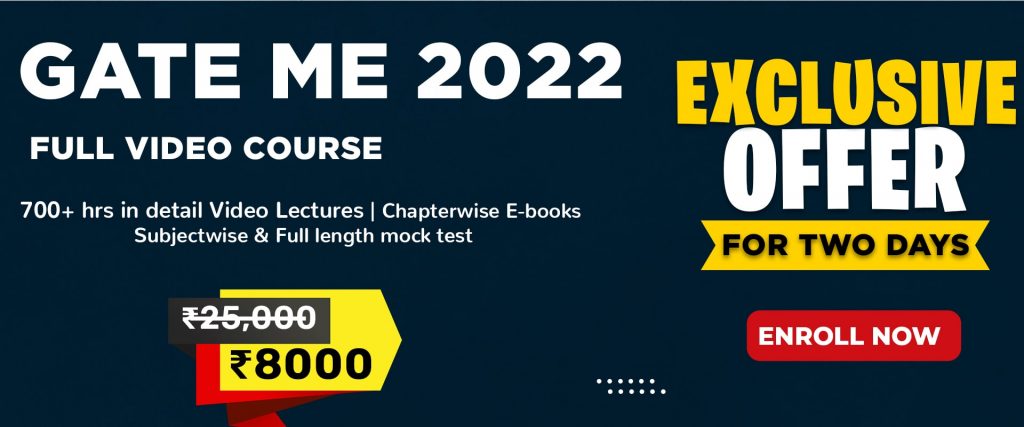 Syllabus of GATE ME:
GATE ME Full Mock test
GATE ME Subject wise test Aptitude
Prelims Package (Quantitative Aptitude + Reasoning)- Included
Reasoning Test Series
Aptitude Test Series
Fluid Mechanics Video Courses
Thermal Engineering Video Courses
Strength of Materials (SOM) Video Course
Engineering Mechanics Video Courses
Machine Design Video Courses
Theory of Machine Video Courses
Heat Transfer Video Courses
IM & ORVideo Courses
Production & Material Science Video Courses
Engineering Mathematics Video Courses
HYDRAULIC MACHINE Video Courses
Fluid mechanics
Materials Thermal Engineering E-Book
Materials Quantitative Aptitude Notes E-Book
Materials Reasoning Ability Notes E-Book
MaterialsStrength of Materials (SOM) E-Book
Materials ENGINEERING MECHANICS-Book.
MaterialsMachine DesignE-Book.
Materials Theory of MachineE-Book.
Materials Heat transfer E-Book.
Materials IM & ORE E-Book.
Materials Production & Material science E-Book.
MaterialsEngineering Mathematics E-Book Materials.
Click here to get Demo Lecture of GATE ME.
GET FULL COURSE OF GATE ME In Just ₹25,000/- Only ₹8,000. (For 2 Days Only)