International Women's Day: Every year, International Women's Day is celebrated on March 8. The day is celebrated to mark the achievements of women in various aspects of their lives as well as of society. From economic and political fields to social and cultural arenas, women have made a mark in all areas of the world.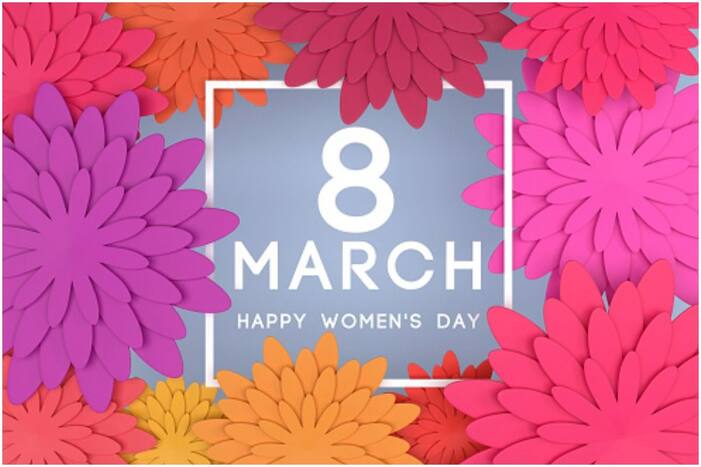 The theme of the year 2022:
This year, the theme for the occasion is #BreakTheBias in an effort to create a world that treats genders equally and is inclusive, diverse as well as equitable. Hence, the IWD 2022 is looking to celebrate women's achievements. Along with raising awareness against the bias that women face.
UN about International Women's day.
Meanwhile, the United Nations has also started an initiative for International Women's Day 2022. The UN has called for "Gender equality today for a sustainable tomorrow". Women and girls experience the greatest impact of climate risks. The UN said that the latest data has shown that there is a vital link between climate change and gender and social equity and without gender equality, a sustainable future would not be possible. Hence, this year, the UN is celebrating all the different ways in which women and girls are taking climate action.
This Women's Day be the financial boss lady for a sustainable tomorrow.
Gone are those days when the sole breadwinners were the males of the family. Society still doesn't view it as a woman's role to earn money, or her right to make financial decisions. Women of today are no less, giving equal competition to men in every sector. It is no doubt that women excel at almost everything, especially multitasking.
While juggling between work and personal life, women tend to forget to take care of themselves. Especially in the case of single parents, widows, divorcees, they have much more responsibility of taking charge and running their houses. Of late, women have started focusing on being self-dependent and financially secure.
Irrespective of being a man or a woman, one should always prepare for uncertainties in life. From fighting stereotypes to taking care of their loved ones, women are rather superheroes. Financial freedom is a form of personal empowerment, but a variety of roadblocks make it difficult for women to navigate and partake equally in the financial world.
It's high time that women should take the charge and be financially independent. Even if you are not interested in managing finance. It is necessary to take small steps to understand various financial instruments that can help grow the money. Also, don't abruptly close your individual account after your marriage.
This Women's day the best you can do is gift yourself a life insurance policy. Thus, this day, let us all take a pledge to fight gender inequality for a sustainable tomorrow.
Reasons why women should invest in life insurance:
Women and their Investments.
Survey says nearly 70% of women want to buy real estate; Prefer ready homes for end-use
Nearly 70 percent of women prefer to invest in real estate, mainly in residential properties, according to a survey of 9,000 women by unicorn startup NoBroker.
In November last year, proptech NoBroker had raised USD 210 million from investors at USD 1 billion valuations. It caters to all property-related needs like renting, buying, home services, financial services, and social management.
Property Investments:
NoBroker said 69 percent of women preferred to invest in property compared to gold, SIPs/stocks, and luxury fashion.
The survey was conducted in Delhi-NCR, Hyderabad, Bangalore, Chennai, Mumbai, and Pune.
Around 94 percent of respondents were looking to invest in housing, while 6 percent in commercial properties.
Over 80 percent wanted to buy for end-use.
As per the survey, 73 percent of women were looking to purchase a property within Rs 40-75 lakhs, 20 percent between Rs 75 lakhs to 1 crore, and the rest 7 percent over Rs 1 crore.
Among other findings, 63 percent of women preferred ready-to-move-in properties.
Godrej Housing Finance in a statement on Monday said that "one in two women strongly agree that over the past year, they have become much more inclined towards asset building and property purchase for investment purposes".
"34 percent of women believe that buying a new house is the best investment option at present. 52 percent of women have already started looking for a new house," according to Godrej Housing Finance Post 'Generation-Rent' study.
In another survey, digital wealth manager Scripbox said that women are taking money matters into their own hands, with 70 percent being involved in making financial decisions.
"1 in 5 women started investing for the first time, amidst the pandemic," it said in a statement.
In another statement, Strata, which facilitates fractional ownership of the real estate, said it has reduced the minimum investment ticket size to Rs 15 lakh from Rs 25 lakh to attract more women, retail investors.
Strata's investor base currently comprises 25 percent women and aims to increase to 50 percent by 2025.
Neobanking platform Stashfin co-founder Shruti Aggarwal said the company dedicatedly works towards the financial independence of women customers and has introduced offers for credit line card customers on this International Women's Day.