All types of pollution result from different sources and have specific effects on the ecosystems. These types of pollution are interlinked.
Pollution is a complex environmental issue of various types. All types of pollution result from different sources and have specific effects on the environment, human health, and ecosystems.
However, These types of pollution are interconnected and can have cascading effects on the environment and human health.
What is pollution?
Pollution is the introduction of harmful substances or contaminants into the natural environment, causing adverse effects on living organisms, ecosystems, and the environment.
These harmful substances, often called pollutants, can be in various forms, including chemicals, particulate matter, energy (e.g., heat or light), or noise.
Indeed pollution can occur in air, water, soil, and even the atmosphere beyond the Earth's surface.
All types of pollution are interlinked and can harm the environment and human health. Here are four main types of pollution described below.
Air Pollution
Noise Pollution
Water Pollution
Soil Pollution
Air Pollution
Generally, Air pollution refers to the presence of harmful substances or pollutants in the Earth's atmosphere at concentrations that can harm human health, the environment, and the climate.
These pollutants can be in the form of gases, particulate matter, or even biological materials. Air pollution is a major global environmental problem and can result from various human activities and natural processes.
Sources of Air Pollution
Air pollution originates from a variety of sources, both human-made and natural. Major sources include:
Transportation: Emissions from vehicles, including cars, trucks, and aeroplanes, are a significant source of air pollution, especially in urban areas.
Industrial Processes: Factories and manufacturing facilities release pollutants into the air due to combustion, chemical reactions, and other industrial activities.
Power Generation: The burning of fossil fuels, such as coal, oil, and natural gas, in power plants contributes to air pollution.
Agriculture: Agricultural activities release ammonia, methane gases, and particulate matter into the air.
Construction and Demolition: Dust and emissions from construction and demolition activities can cause localized air pollution.
Natural Sources: Undoubtedly, Volcanic eruptions, wildfires, dust storms, and pollen are examples of natural sources of air pollution.
Water Pollution
Generally, water pollution refers to the contamination of water bodies, such as rivers, lakes, oceans, groundwater, and even drinking water sources, by substances or pollutants that adversely affect the quality and usability of the water.
These pollutants can be chemicals, microorganisms, or other materials, harming aquatic ecosystems, human health, and the environment. Water pollution can result from various human activities and natural processes.
Sources of Water Pollution
Water pollution can originate from various sources, including:
Industrial Activities: Discharging untreated or inadequately treated wastewater from factories and manufacturing facilities is an important source of water pollution.
Agricultural Practices: Runoff of fertilizers, pesticides, and manure from farms into water bodies.
Municipal Wastewater: Sewage and wastewater from homes and urban areas can contain a variety of pollutants.
Mining Operations: The release of chemicals and heavy metals from mining sites can contaminate nearby water bodies.
Oil and Chemical Spills: Besides, accidental spills from oil tankers, pipelines, or chemical storage facilities can lead to large-scale water pollution incidents.
Construction and Land Development: Erosion from construction sites and changes in land use can result in sediment and other pollutants entering water bodies.
Stormwater Runoff: Besides, rainfall can wash pollutants from roads, parking lots, and rooftops into storm drains and waterways.
Natural Events: Volcanic eruptions, wildfires, and natural erosion can introduce pollutants into water bodies.
Health and Environmental Effects:
Water pollution has numerous adverse effects:
Human Health: Contaminated water can cause waterborne diseases, gastrointestinal illnesses, skin problems, and long-term health issues if consumed or used for personal hygiene.
Aquatic Ecosystems: Pollution can disrupt aquatic ecosystems by killing fish and other aquatic life, depleting oxygen levels, and causing harmful algal blooms.
Biodiversity: Loss of biodiversity can occur when pollution harms species that are part of intricate food webs in aquatic environments.
Economic Impact: Water pollution can lead to the loss of fisheries, tourism revenue, and property values, affecting local economies.
Soil Pollution
Usually, Soil pollution, also known as soil contamination or land pollution, refers to introducing harmful substances or pollutants into the soil environment in concentrations that can adversely affect the quality, fertility, and usability of the soil.
These pollutants can include various chemicals, heavy metals, organic compounds, and biological agents that contaminate the soil and can harm ecosystems, agriculture, and human health.
Sources of Soil Pollution
Usually, Soil pollution can originate from various human activities, including:
Industrial Processes: Improper disposal of industrial waste, chemical spills, and leakage from storage tanks can contaminate the soil.
Agricultural Practices: Besides, the use of pesticides, herbicides, and synthetic fertilizers, as well as the disposal of agricultural runoff and animal manure, can lead to soil pollution.
Mining and Smelting: Extractive industries can release heavy metals and toxic substances into the soil.
Waste Disposal: Landfills, dumpsites, and improper disposal practices can contaminate the soil with hazardous waste.
Urbanization and Construction: Undoubtedly,  urban development, construction activities, and the deposition of construction materials can disturb and pollute the soil.
Transportation: Roadside contamination from vehicle emissions and hazardous materials spills can contribute to soil pollution.
Effects of Soil Pollution:
Here are the effects of Soil pollution, which can have a range of detrimental effects:
Impaired Soil Fertility: Pollutants can disrupt nutrient cycles, reduce soil fertility, and inhibit plant growth.
Contaminated Food: Soil contamination can lead to the uptake of pollutants by plants, potentially affecting the safety and quality of food crops.
Water Pollution: Pollutants in the soil can leach into groundwater, contaminating drinking water sources and surface waters.
Ecological Impacts: Soil pollution can harm soil organisms, disrupt ecosystems, and reduce biodiversity.
Health Risks: Exposure to contaminated soil can pose health risks to humans, including the risk of toxic chemical absorption and the spread of disease.
Noise Pollution
Noise pollution refers to unwanted or excessive environmental noise that disrupts the normal acoustic balance and adversely affects human health, well-being, and the natural environment.
Noise pollution can be caused by various sources, including transportation, industrial activities, construction, recreational activities, and social events.
However, It is considered a form of environmental pollution because it can have negative impacts on both physical and psychological health, as well as on ecosystems.
Sources of Noise Pollution
There are various sources of Noise pollution, including:
Transportation: Road traffic, aircraft, trains, and ships are major sources of noise pollution, especially in urban areas.
Industrial Activities: Factories, manufacturing facilities, and construction sites can produce high noise levels.
Recreational Activities: Recreational vehicles (e.g., motorcycles and off-road vehicles), music festivals, and sports events can pollute noise.
Urbanization: Noise from urban development, including traffic congestion and construction, contributes to city noise pollution.
Household and Community Noise: Household appliances, lawnmowers, and loud neighbours can also contribute to noise pollution.
Effects of Noise Pollution:
Here are some of the effects of noise pollution.
Health Impact: Prolonged exposure to high noise levels can lead to various health issues, including stress, hearing impairment, sleep disturbances, elevated blood pressure, and increased risk of cardiovascular diseases.
Psychological Effects: Noise pollution can cause annoyance, irritability, and reduced concentration, reducing overall well-being and quality of life.
Social and Economic Impact: Noise pollution can disrupt social interactions, affect educational outcomes, and reduce property values in noisy areas.
Ecological Effects: Noise pollution can adversely affect wildlife, disrupting natural behaviours such as breeding, communication, and foraging. This can lead to population declines and ecosystem imbalances.
Also read: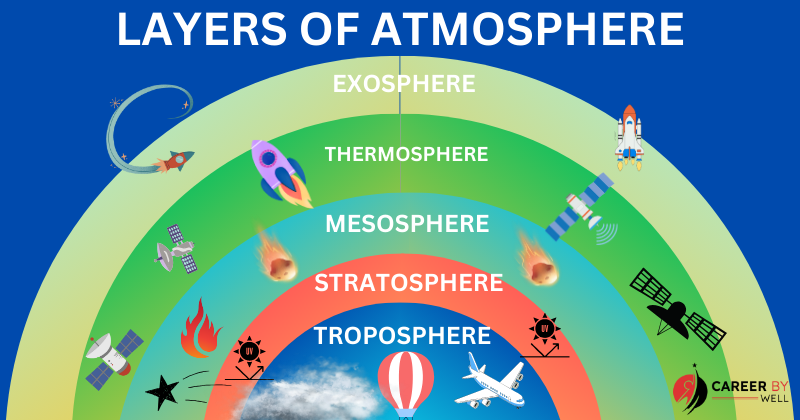 The Earth has five layers of atmosphere, each with its own unique characteristics. Here is a detail of all layers and their unique position.
How to Control Various Types of Pollution?
Pollution is a global problem today. All these types of pollution are causing major problems such as global warming, the greenhouse effect, increased sea levels, uncertain climate change etc.
Further, all these changes have affected biodiversity as well as the ecosystem. Indeed protection of the environment and reduction of the effects of all types of pollution in necessities of today.
Here are the steps that we can take to control environmental degradation.
Controlling pollution is essential for our planet's health and its inhabitants' well-being. Pollution can take many forms, including air, water, and land. Here are some strategies to help control pollution:
5R's  Strategy:
The three R's should be practised to minimize waste production. This includes recycling materials like paper, plastic, glass, and metal and reusing items whenever possible.
Refuse:
The first and most important "R" is to reduce. This involves minimizing the generation of waste, pollution, and resource consumption in the first place. We can significantly reduce our environmental footprint by using resources more efficiently and consuming less.
Reuse:
The second "R" encourages the reuse of items and products whenever possible. Instead of discarding items after a single use, consider how they can be repurposed or used again.
For example: Reusing shopping bags, repurposing old furniture, and using refillable containers.
Recycle:
Recycling involves collecting and processing materials like paper, plastic, glass, and metal to create new products. This reduces the need for extracting and processing raw materials, conserving energy and resources.
Examples: Recycling paper and cardboard, plastic bottles, and aluminium cans.
Responsible Disposal:
When waste cannot be reduced, reused, recycled, or recovered, it should be disposed of responsibly. This means ensuring that waste is properly managed to minimize its impact on the environment and human health.
Examples: Landfilling non-recyclable and non-compostable waste, disposing of hazardous waste in specialized facilities, and following legal guidelines for waste disposal.
Use Clean Energy Sources:
Transition to clean and renewable energy sources like solar, wind, and hydropower produce less pollution than fossil fuels.
Besides, Improve energy efficiency in your home, workplace, and transportation. Use energy-efficient appliances and vehicles, and turn off lights and electronics when not in use.
Choose fuel-efficient vehicles, carpool, use public transportation, and consider electric or hybrid vehicles.
On the other hand, regular maintenance of vehicles is also important to reduce emissions. Industries should adopt cleaner production processes and technologies. Implement emission control devices like scrubbers and catalytic converters to reduce pollution.
Proper Waste Disposal:
A well-organized waste disposal system is crucial for controlling pollution and minimizing improper waste disposal's environmental and public health risks. It ensures that waste is managed, treated, and disposed of to reduce pollution and promote sustainability.
Besides, an effective waste disposal system not only controls pollution but also conserves resources reduces greenhouse gas emissions and promotes a circular economy where materials are reused and recycled, contributing to a more sustainable and environmentally friendly society.
Conservation of Water:
Undoubtedly, Conserving water is a critical component of protecting the environment. Water is a finite resource, and as the global population grows and climate change affects water availability, it becomes increasingly important to use water wisely.
Conserve water by fixing leaks, using water-saving appliances, and being mindful of water usage. Pollution of water bodies through industrial and agricultural runoff should also be controlled.
Especially, Conserving water not only helps protect the environment by preserving this vital resource and reduces the energy required for water treatment and transportation. Moreover, It contributes to a more sustainable and resilient ecosystem for future generations.
Protect Natural Habitats:
To protect natural habitats effectively, it's essential to establish and enforce conservation policies and regulations.
Additionally, supporting conservation organizations, participating in habitat restoration efforts, and promoting sustainable land use practices in your community can contribute to preserving these vital ecosystems.
Protecting natural habitats is a holistic approach to controlling pollution and promoting environmental sustainability.
Reduce Chemical Usage:
Reducing chemical usage is a crucial step in preventing pollution and protecting ecosystems.
Additionally, it benefits the environment and contributes to the health and well-being of communities.
Further, by adopting more sustainable and responsible practices, individuals, industries, and governments can collectively reduce the impact of harmful chemicals on our planet.
Advocate for Change:
Support policies and regulations that promote pollution control at the local, national, and international levels. For that, get involved in environmental organizations and engage in advocacy efforts.
Besides, support initiatives to reduce air pollutants, such as smog and particulate matter.
Promote the use of clean transportation options and reduce the burning of fossil fuels. Here is a list of acts made by the government of India to protect the environment:
The Wildlife (Protection) Act, 1972
 The Water (Prevention and Control of Pollution) Act, 1974
 The Air (Prevention and Control of Pollution) Act, 1981
 The Environment (Protection) Act, 1986
Education and Awareness:
Usually, education and awareness are powerful tools for controlling pollution and fostering responsible environmental behaviour. When individuals and communities are informed about the causes and consequences of pollution, they are more likely to take action to mitigate its effects.
By investing in environmental education and awareness programs, societies can empower individuals to make informed choices, reduce pollution, and contribute to protecting the environment for present and future generations.
Undoubtedly, Education is a fundamental tool for building a more sustainable and environmentally conscious world.
Sustainable Practices:
Sustainable practices are essential for controlling pollution and minimizing the environmental impact of human activities.
These practices promote responsible resource use, waste reduction, and environmental stewardship.
However, sustainable practices are interconnected and play a crucial role in reducing pollution, conserving natural resources, and mitigating the effects of climate change.
Besides, individuals, businesses, and governments all have a role in adopting and promoting these practices to protect the environment for current and future generations.
Remember that pollution control is a collective effort, and everyone can play a role in reducing pollution. Small individual actions can significantly impact protecting our environment when multiplied across communities and nations.